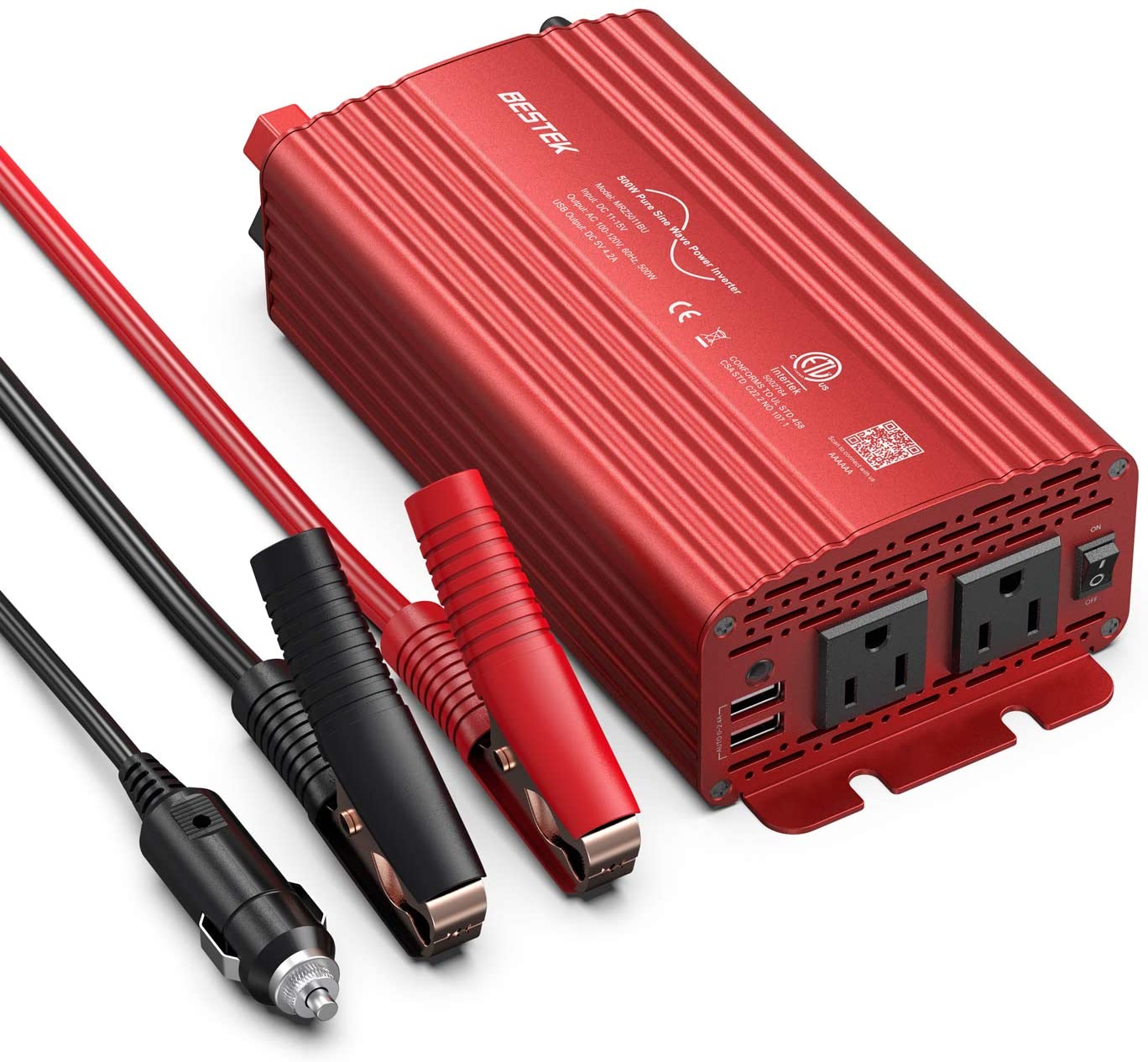 Bestek is one of the popular inverter brands. If you decided to buy a Bestek inverter then it is really a good decision. You can check the 500-watt Bestek inverter that delivers pure sine wave output. The 12V DC to 110V AC power inverter has good features. This inverter is perfect for the vehicle applications.
The top brand inverter comes at a low price. You hear it rightly. You can acquire a low price inverter in less than $100 price tag. The pure sine wave inverter by BESTEK is also available in different colors. You can choose a color based on your choice. Currently, this BESTEK power inverter is available in three colors such as red, grey and blue.
The portable and lightweight BESTEK inverter measures 8.7-inch long, 4.3-inch wide and 2.4-inch high; it weighs just 2.2 pounds. In case, you need to buy it now, please buy it from Amazon. At the time of writing this review, the inverter was available to purchase from Amazon at a discounted price.
The Bestek 500W power inverter is also recommended by cordless toolmakers because it is a pure sine wave inverter. It has low THD, powerful induction and low interference with radios and communication devices. I think there is no need to explain pure sine wave power. It is the best electricity that is required by most sensitive electronics. In fact, pure sine wave is preferred over modified sine wave.
As mentioned earlier, the DC to AC power inverter is perfect for cars, RVs and other vehicles. It draws power from a 12V car battery and converts into the AC power. After the power conversion, the inverter delivers pure sine wave output that can be used to power devices, home appliances etc. For the battery connection, you can use the provided cigarette lighter plug or connect with the battery using the provided alligator clips.
The Bestek 500 watts power inverter features two 110V AC sockets and two USB ports of 2.4A capacity. The usb ports have fast charging and automatic device detection capabilities.
In case, you are connecting this inverter with the car battery via the cigarette lighter plug, please know that you will not be able to use the full rated 500W output. With the cigarette lighter plug, you will get output up to 150W.
Additionally, with the purchase of this 500W power inverter, you also get a user manual, two battery clamps and cables, 12V cigarette lighter plug cable and two extra fuses. Read more…