Bestek is not only a popular brand, but also a reliable manufacturer that makes countless power inverters. In case, you are already familiar with Bestek inverters and want to buy an inverter, please check BESTEK 300Watt Pure Sine Wave Power Inverter. This is an ETL listed inverter, which means it is not harmful to the connected devices.
Since this is a pure sine wave inverter, so it delivers the highest quality electricity to power almost all electronic devices. In fact, pure sine wave output is perfect for sensitive electronics. The output waveform is of the same quality that of main power grid.
Pure Sine Wave Output for Precision Electronics
The output waveform that comes from a pure sine wave inverter is perfect for sensitive electronic devices. It is good for powering radios, communication tools, cordless devices and sound systems. Consequently, this can be used for strong inductive loads, off-grid system and various others.
Since, pure sine wave output is supplied smoothly to the connected devices, so it is perfect for musicians to power their instruments, precision cordless tools, radio devices, sound systems and many others. In fact, pure sine wave is superior to modified sine wave.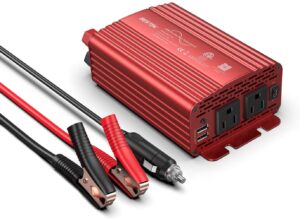 Connection between Inverter and Battery, Inverter and Devices
The 12V DC to 110V AC Inverter features two USB ports and two 110V AC outlets, which are good to connect not only USB devices, but also 110V AC devices. In total, you have four connection sockets, which mean you can power four devices simultaneously.
First, you need to connect the BESTEK inverter with your car battery or other battery. For the connection with a car battery, you may connect via the cigarette lighter or the alligator clips. Second, after successful inverter to battery connection, you can start using its output AC power. Then, the AC power can be used to charge various devices like laptops, music devices, sound systems, smart phones and many others. Since, it is a pure sine wave inverter, so it is perfect for audio devices, music instruments, radios, DVD players etc.
Amazingly, the Bestek 300W inverter has 4.2A dual USB, which can automatically detect the connected devices. After the successful device detection, the USB connection starts charging the devices at a fast speed. Each USB port is of 2.4 Amps capability.
Protection Capability of BESTEK 300W Power Inverter
Since, Bestek is a reputed brand, so it makes sure that all the Bestek inverters are highly protective. Consequently, the ETL listed Bestek inverter comes with various protection capabilities. First, it comes with thermal protection because it features an aluminum alloy housing, which is protective from both inside and outside. Additionally, it comes with integrated cooling fan, which is programmed to run automatically based on certain load and heating points. The pure sine wave inverter also comes with two external fuses, which are replaceable.
Moreover, the Bestek 300W inverter has isolated voltage protection capability. This unique capability greatly protects the connected devices from various electrical faults. These faults may be over-current, under-current, short-circuiting, reverse polarity, load abnormality and many others. In addition, this inverter is very safe to the connected battery; it will not damage the connected battery because it comes with under-voltage protection capability.
Personally, I liked one of the protection capabilities, which is auto-sensing capability. The inverter will automatically detect overload more than 300W. In this condition, the Bestek 300W pure sine wave inverter will automatically stop AC power supply. Next, you have to reset the inverter by using the On/Off power switch.
Precaution
The provided 12V plug is for connection with car cigarette lighter. From this 12V plug, you will not be able to get 300W full output. To get 300W output, you need to connect the inverter using alligator clips. In case, you are connecting with the car cigarette lighter, please limit the wattage under 150W.
What Does the Package Contain?
The Bestek 300W pure sine wave inverter comes included with all the required accessories. Which means, you don't have to buy any accessories separately. When you receive the shipment, you will get:
Bestek 300W Pure Sine Wave Inverter
Owner book
Two battery clamps and cable
One cigarette lighter plug cable
Two spare fuses
Using the above-mentioned accessories, you will comfortably connect the Bestek inverter with your car battery and start using its output power. Since it comes with 4 output sockets (dual 110V AC sockets and dual USB ports), so you will be charging multiple devices simultaneously.
From Users
One – according to a customer on Amazon, this is an excellent inverter. He is very impressed with the design and quality of the inverter. Further, he says that PCBs are used on fuse holder and 5-15R receptacles. Which means it facilitates wire connection instead of soldering the wires directly to the connectors. Additionally, he liked the FETs and diodes in the inverter, which use actual heat sinks instead of being thermally bonded to the chassis.
Two – one customer says that the Bestek 300W pure sine wave inverter is a good buy for him because it outputs clean AC power compared to the modified sine wave. Additionally, he says that the On/Off switch is on the front, which is good for the handy use.
According to him, it is a durable and high quality inverter. Actually, he uses both modified sine wave and pure sine wave inverters in his truck. He has hard-wired the Bestek pure sine wave inverter in his truck to use in camping and road trips.
Three – this customer quoted this Bestek inverter as efficient, silent inverter that delivers more than 300W output. Further, he says that the inverter has approx. 85% efficiency. Further, he noticed that the inverter's fan has variable speed based on the temperature. The fan runs quietly, which is perfect.
FAQs of Bestek 300W Inverter
Q: what are the dimensions of this Bestek 300W inverter?
A: the dimensions are 7.5-inch length, 4 3/8-inch width, 2.5-inch height.
Q: can I use this inverter for 300W usages?
A: yes, it delivers 300W pure sine wave output, which can be used to power several gadgets.
Q: why is rattling sound coming from this Bestek inverter?
A: it doesn't give rattling sound, if you are getting such sound, please contact the manufacturer. Normally, the inverter runs noiselessly.
Q: is it a good inverter to run audio devices?
A: yes, of course! Since this is a pure sine wave inverter, so it is capable to deliver smooth output that is good for sensitive electronics.
Q: where is this inverter made?
A: the inverter is made in China.
In case, if you have a question related to this Bestek 300W pure sine wave inverter, please refer to the list of FAQs. The list contains frequently asked questions, which may help get an answer to your question.
Pros
Pure sine wave output for sensitive electronics
Affordable price
Highly rated on Amazon and other market places
Solid inverter
On/off switch on front side for a handy use
Variable speed fan
85% efficiency
Good for musician to power their sensitive electronics
It comes included with all accessories.
Clean AC output
Noiseless operation
Good for both vehicle and home use
Cons
It stores energy even after unplugging the battery, please be careful to it.
Made in China
In fact, pros and cons show overall picture of a product. Therefore, it is advisable to read the list of pros and cons. in regards to the Bestek 300W pure sine wave inverter, the inverter falls in a win-win spot, which means the Bestek 300W inverter is buyable without any doubts. The inverter delivers clean power, which is good for those small audio devices and sensitive devices. Further, a great protection mechanism has been used to make this inverter, so the inverter is undoubtedly safe to use in any environments.
Conclusion
To conclude, the Bestek 300W pure sine wave inverter passes all the tests. Most importantly, this is an ETL approved inverter, so you shouldn't have any doubts to the quality and safety level the inverter offers. From the performance side, the 110V inverter scores high. According to some reviewers on Amazon, it has approx. 85% efficiency while some reviewers say that it has 100% efficiency. Even the 85% efficiency is very good because it is a low-price inverter.
On a precaution note, I would like to tell that this inverter is made in China but it is qualitatively made. I'm saying so because the inverter as well as other Bestek products have earned good respect on Amazon and other selling platforms.