You can see a wide range of inverters from this EGSCATEE brand. I researched about these EGSCATEE inverters, and I found that not all the EGSCATEE inverters are good. However, please read EGSCATEE 2000W Pure Sine Wave Power Inverter Review because the 2000W model looks good to me.
The main advantage of buying this EGSCATEE 2000W inverter is that it is a pure sine wave inverter. A pure sine wave inverter is considered superior to all kinds of inverters available on the market. Of course, it can be way better than a modified sine wave inverter.
For varieties, EGSCATEE inverters are available in different output power capacities. These are 800W, 1500W, 2000W, 2500W, 3000W and 4000W inverters. The 2000W inverter is available in 12V and 24V, so you can go with either the 12V inverter or 24V inverter as per your choice. Apart from this 2000W EGSCATEE inverter, I will not recommend buying other models.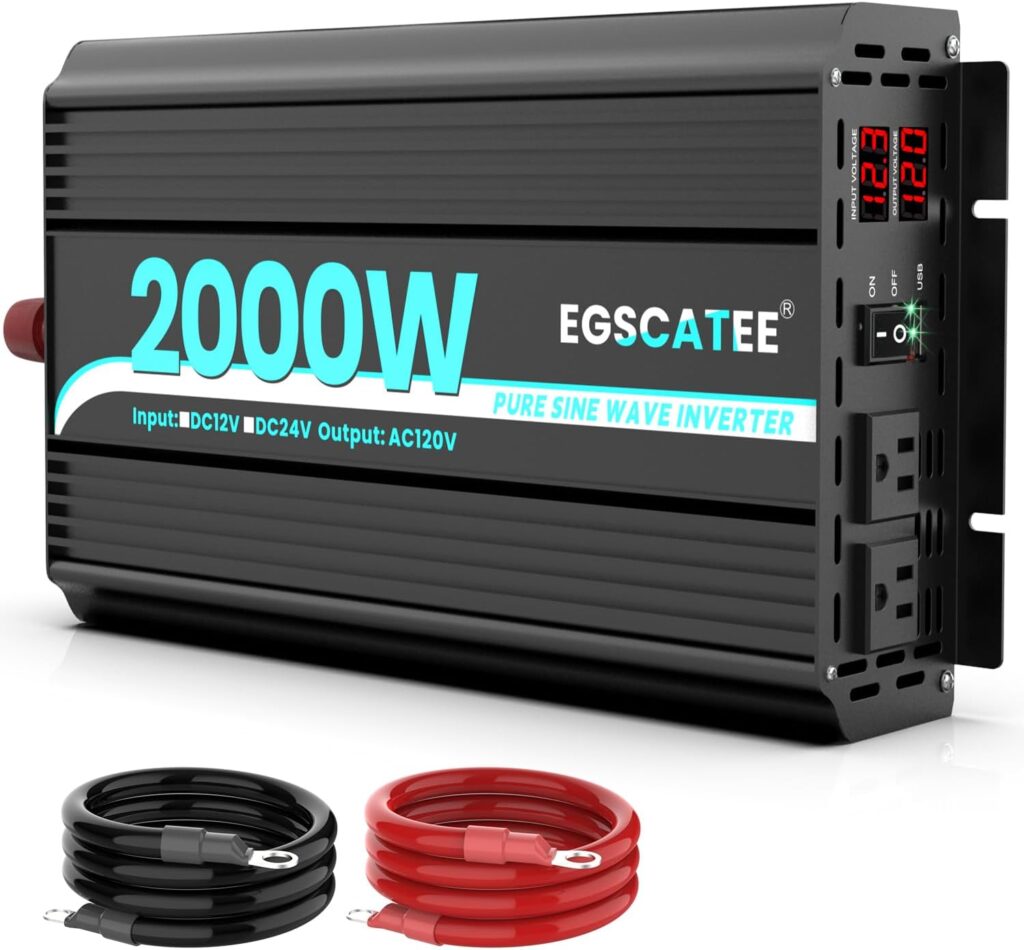 The inverter features a 3.1A USB port and 2 x 110V AC outlets, you can use these connection outlets to connect with your devices. The 2000W inverter has 4000W peak power, so it is great for those large appliances requiring extra startup power. The power inverter takes 12V power from the connected battery and converts into 110V AC power to power your appliances.
The EGSCATEE inverter has many good features like high-grade capacitors, LED display, large internal aluminum heat sinks and efficient transformers. The aluminum heat sinks are very helpful to get rid of the heat build-up and to increase the working life.
Great for the Vehicle Use
A user wrote in his review that it was very easy to install. He had to buy a long cable to connect to his second battery. As per his experience, the EGSCATEE 12V inverter runs quietly. He was happy with the USB port as he could connect devices without starting the unit. However, as per his comment, the socket was a bit loose, so it was difficult a bit when you plug or unplug. He said that he bought this inverter to power his TV, fan and other small appliances.
Another user said that the EGSCATEE 2000W inverter was too bulky, so it was not good for his travel purposes.
As per a user, the EGSCATEE inverter was solidly built. Physically, it looks like a good quality inverter. However, this user didn't use this inverter for a long time so he was unable say anything about the durability. He has installed this inverter in his boat; it was great for his purpose.
Key Features – EGSCATEE 2000W Inverter
2000W output power
4000W peak power
2 AC 110V outlets
12V DC input
110V AC output
Black color
LED display
Aluminum heat sinks
High efficiency transformers
Pure sine wave waveform
3.1A USB port
More than 90% efficiency
7.87 x 4 x 2.28 inches product dimensions
EGSCATEE brand name
2000W pure sine wave inverter model number
The EGSCATEE 2000-watt inverter has almost all the features that you require to run your devices under the 2000W input power. It has all the features found in a normal inverter. It has features like LED display, high efficiency transformers, 12V input power, 110V output power, pure sine wave waveform, 2 x AC 110V sockets and a USB port.
PROS
Great value for the money
It works well.
Easy to install
Great for running TVs, fans and other home and vehicle appliances
Solidly built
A good medium-duty inverter
It looks pretty cool.
The cooling fan runs quietly.
It handles the load as advertised.
CONS
The sockets are a bit loose.
The instructions should have more details.
Cables are short.
You can buy the EGSCATEE 2000W inverter, which works well. Most of its users are quite happy, so please go with this unit. The price is quite reasonable and it is a well built inverter that runs silently. The main thing is that it handles the load as advertised. On the downside, a user reported that the sockets are a bit loose and cables are short. It should come with a detailed manual too. I hope EGSCATEE 2000W Pure Sine Wave Power Inverter Review was helpful to you.