A portable inverter is very useful because you can do so many things using a portable inverter. You can power your mobile phones, tablets, computers and other devices by connecting it with your car's battery. Please read Pro Chaser Inverter Review, if you are looking to buy a portable power inverter in a low price.
The Pro Chaser inverter can be the best friend of travelers because it is highly portable and made in a Smartphone's design. It can power almost all appliances that require less than 400W input power. Consequently, you can use the Pro Chaser car inverter to charge tablets, mobile phones, kindle devices, breast pumps, laptops and more.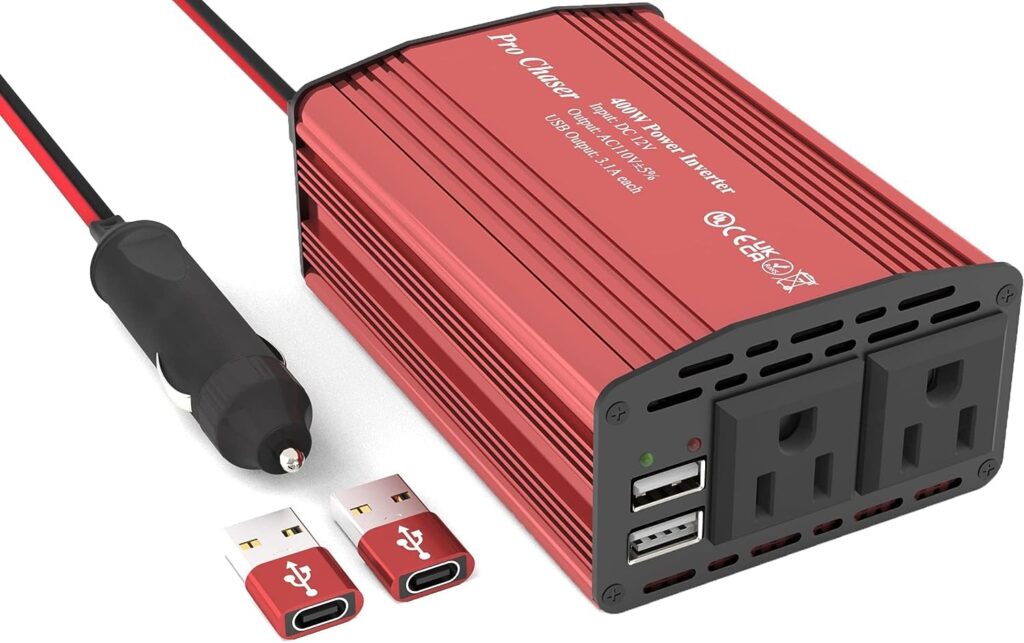 If I talk about the key features then the Pro Chaser inverter has all the features found in a normal power inverter. However, since it is a low price inverter, so your expectations should be accordingly.
First, I liked the dual USB ports (USB Type-C), these ports are very powerful as they have 6.2A output capacity. It has dual 110V AC outlets to connect with all those devices that have an AC 110V socket.
Second, it has a good-power cooling fan that works for the heat removal job and keeps the inverter cool for a safe operation.
Third, it has many protection features to protect the inverter from over-voltage, short-circuit, over-temperature and other electrical problems.
Finally, it has an aluminum alloy body, which makes the unit strong enough to survive in any environment. Therefore, the users don't have to worry about the collisions and other similar stuffs. In fact, the heavy-duty design of this inverter is highly protective to the internal components.
Great Portable Power Inverter
On Amazon, a musician wrote a review on this Pro Chaser inverter. He said that he bought this inverter to supply power to amplifiers, keyboards and other devices in his car. Actually, he used to give a demo of some electronic products like guitars, keyboards for sales and purchase.
He said that this portable inverter was a great device to help him sell their musical electronic products. As per him, with a power inverter, he can discuss about his products anywhere he want, so he doesn't have to meet the buyers at home.  So, it was a great assistant for him.
For another user, the Pro Chaser 400W inverter worked well in his boat. He said that the USB ports worked but not the 110V outlets. He was not sure why they didn't work. But, after some time, the 110V outlets started working. So, he was quite impressed with this little inverter.
Another user used the Pro Chaser inverter for work and travel. He liked this 400W inverter because it had 2 USB-c adapters for his Apple products.
Key Features – Pro Chaser 400W Power Inverter
400W output power
Dual 110V AC sockets
Dual USB ports
Built-in cooling fan for heat dissipation
Built-in protection features
Aluminum body
2 fault indicators
On/off switch
Loop shaped opening for easy ventilation
UL certified product (UL 458 standard)
Red color
110V output power
12V input power
4.8 x 3.07 x 1.81 inches size
1.02 pounds weight
Pro Chaser brand name
PCIV400-SRD model number
I wrote a list of key features that are an important part of the Pro Chaser inverter review. As per the list of features, it is a 400W small-size power inverter, which is good for cars and other vehicle as it would be sufficient to charge all those devices in your car. I liked that it has an aluminum body rather than a plastic body found in most power inverters. An aluminum body is much more protective than a plastic body. Most importantly, it is a UL certified product, so you are supposed to receive a level of quality from this product.
PROS
Highly portable
Quick and easy operation
Everything works properly.
Very useful to charge small electronics under 400W
A quality product undoubtedly
Many users loved the USB-c adaptors
Built sturdy
CONS
A user complained that it heats a little.
It doesn't deliver the rated 400W power.
The main purpose of writing the Pro Chaser inverter review is to tell you how the product works from a user's point of view. The pros and cons written above are taken from users' reviews. Please read the pros and cons carefully to understand the actual capability of the product. You can see it has too many pros, which mean most of the users are happy with this Pro Chaser 400W unit. Of course, it is a high quality product, which is an UL certified product too. On the downside, the unit heats a little and it may deliver less than the rated output power.