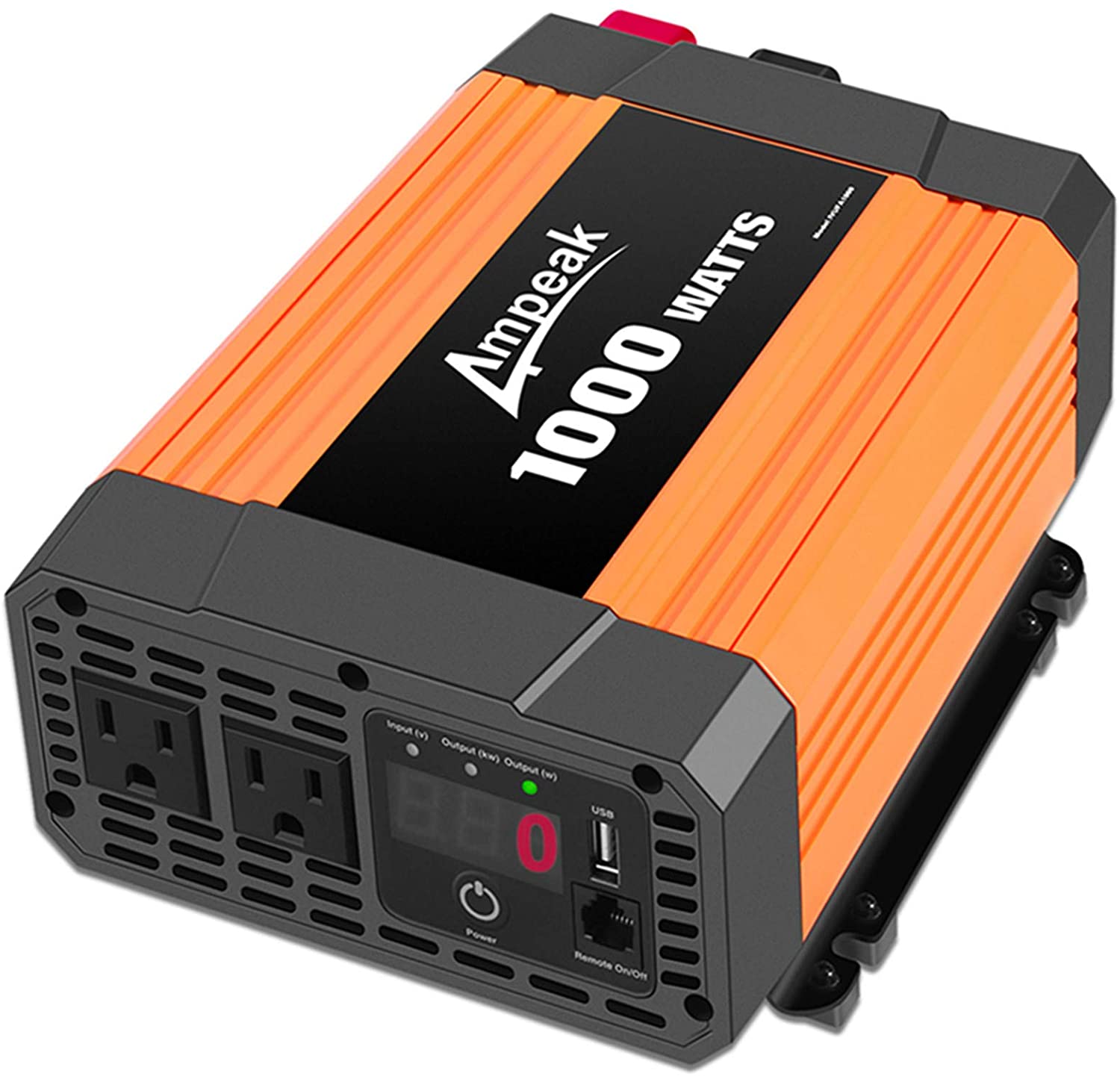 Ampeak 1000W power inverter is one of the bestsellers on Amazon. This inverter is also available in 2000 watts. Based on the requirement, you can choose either 1000W or 2000W inverter. The price seems appropriate if you buy it from Amazon. Confidently, I advise people to shop from Amazon because it is a trusted market place.
Well, coming to this Ampeak inverter; it delivers 1000 watts continuous and 2000 watts serge power. It converts 12V DC power into 110V AC power. So, you can use this inverter to power most of your electronic appliances in homes, vehicles and in camping. Before you buy this Ampeak 1000W inverter, please make sure how much power you need to charge your devices and then buy accordingly.
PROS:
Works great
Can run TVs, lights, fans and cordless drill etc. with no trouble
Wired remote is nice.
Current draw meter is helpful.
Great value for the price
Can charge phones, tablets, etc.
No noise
Can provide power in remote areas
Low maintenance
CONS:
The battery terminal cables could be longer.
Not as efficient as a pure sine wave inverter.
The indicator does not show 100% when the battery is fully charged.
The Ampeak inverter can be used anywhere you want because it features both 110V AC sockets and USB port. You can use the USB port to charge some small devices that require USB connection. And, use the 110V AC outlets to power your home appliances and other electronics that require 110V AC connection. In short, this 12V to 110V inverter is perfect for mobile phones, laptops, cameras, DVD players, televisions, kitchen appliances and gift as well.
Ampeak 1000W inverter is full of useful and important features. It offers the latest safety protection. The inverter has LCD display, alarms, cooling fan, LED indicator, several built-in fuses. With all these features, easy operation and high protection are guaranteed. Like several inverters on the market, it also protects the connected devices from the electronic faults such as short circuits, over-voltage, over-heat and over-load. Many parts of this inverter are made of high-grade ABS materials so it is strong and highly protective.
The 12V DC to 110V AC converter is perfect for both homes and outdoor usages. You will require a 12V battery to operate this inverter. After the battery connection, you will be able to use it power your home appliances. Apart from powering your home appliances, you can use it for emergencies such as Hurricane, snowstorm and power outage as well.
Well, Ampeak not only provides just this inverter, but also provides an 18-month warranty and friendly customer service. Most importantly, the Ampeak 1000W inverter is also approved from ETL so you are always safe. Read more…