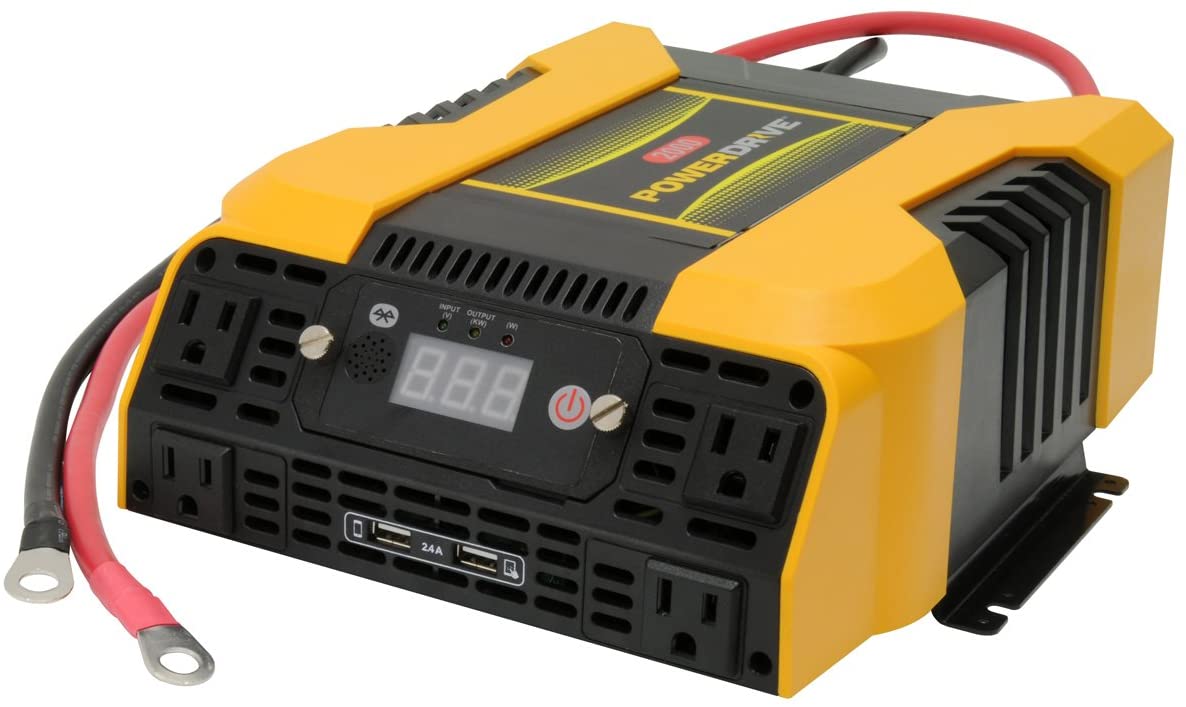 Our main aim is to give you as much information as possible on various inverters sell on Amazon and other market places. Now, please check PowerDrive PD2000 power inverter. The power inverter comes with Bluetooth capability that you may not find in the majority of inverters on the market.
The outer look of PowerDriver inverters sets them apart from the crowd. These PowerDrive inverters have gotten beautiful and slim looks. I am sure you will like the look of these power inverters.
Most importantly, Power Drive is a trusted name for a wide range of inverters that deliver good performance to their users. In case, you are ready to buy a power inverter, please check this Power Drive 2000 watts inverter. The feature-rich inverter delivers good performance. It has received impressive ratings on Amazon too.
PowerDrive 2000W inverter features four 3-prong AC sockets. You can use these 3-prong sockets to operate heavy appliances that require AC input power. Using these output sockets, you will be able to run most of your home and kitchen equipment. The beautiful Power inverter also features two USB ports that have high charging speed. You can use these USB ports to charge your mobile phones, tablets, media players and other USB-enabled devices.
The Power inverter has 200% surge power. Those electronics that require up to 4000W power at the startup, they can run smoothly on this power inverter. Only, please make sure that the total output power does not exceed the rated 2000W power. Also, the Bluetooth based power inverter can also be controlled remotely, which is a good capability in this PowerDrive inverter. Personally, I liked this capability. For the Bluetooth operation, you need to download PowerDrive app on your mobile phone. After downloading it, please pair your mobile phone with this PowerDrive inverter to access settings of this power inverter.
Most importantly, the PowerDrive 2000 watts inverter has reliable safety features. It has audible alarms, protection shut-off capability. It is also highly protective against all common electronic problems that usually occur in a power inverter. Additionally, the inverter housing is made of high-grade ABS and PVC materials that make it stronger than other inverters. The strong cabinet is very protective against abrasion and other external damages. The robust housing is somewhere protective to the internal components also. Read more…