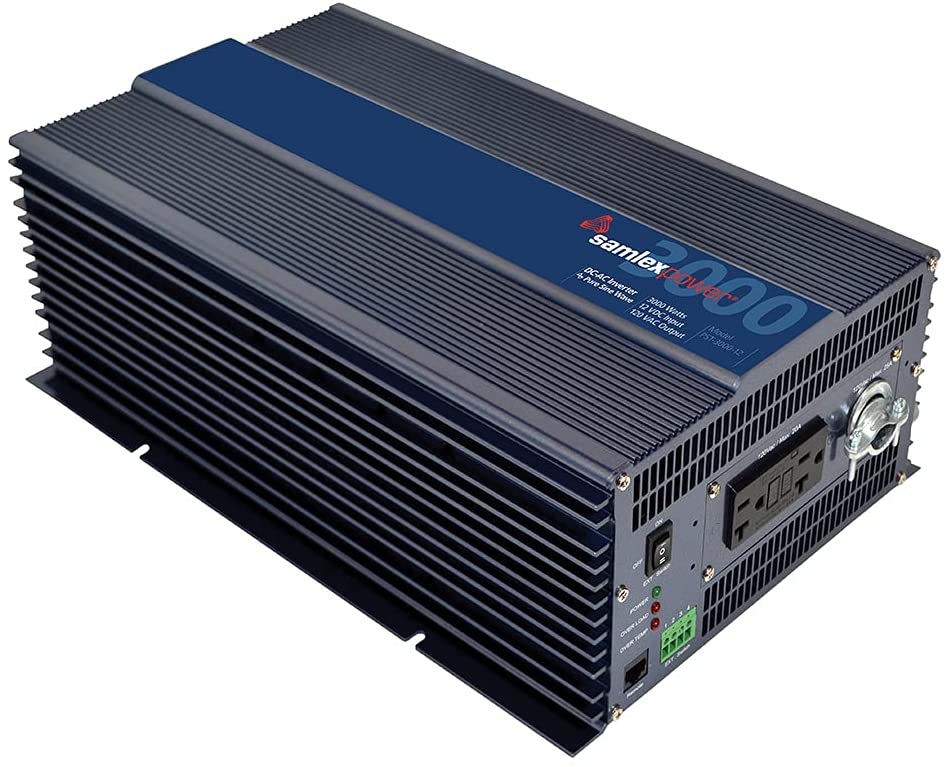 If you are looking to buy a high-power inverter, you can check Samplex PST-3000-12 power inverter. The PST series inverter from the popular Samplex America brand has received impressive reviews and ratings so this product is recommendable here.
According to the manufacturer, the industrial-class power inverter runs silently and it has all the features and capabilities that you need for the smooth power supply to your devices. Additionally, the power inverter by the Samplex America brand has low interference so it will not disrupt the reception of your devices.
Of course, the well-made 3000-watt power inverter by Samplex America is highly protective to the connected devices. It has GFCI outlets, gotten safety certification from FCC to UL standards and has multi-protection capabilities.
If you are looking to buy a pure sine wave power inverter, the Samplex America can be the best inverter for you because it delivers pure sine wave output. You should know that sensitive electronics require pure sine wave current to run smoothly so you will not have any problems for running your sensitive electronics and other devices. The PST series inverter from Samplex is perfect for powering high-precision devices like televisions, laser printers, office equipment and many others. Moreover, you are going to buy a commercial-grade power inverter, so you will not have any problems to run any heavy commercial appliances including variable speed power tools and many others.
Samlex PST-3000-12 PST Series Pure Sine Wave Inverter delivers 3000-watt output and it is very suitable for the heavy-duty loads, long-time operations, emergencies and remote power needs. The 12V DC to 110V AC power inverter is also protected with a 2-year warranty so you do not have to worry of the money you are going to invest to purchase it.
Features & Specifications
Simplex America brand
PST-3000-12 model number
PST series inverter from the popular Simplex America manufacturer
3000W output power
Pure sine wave output
Industrial-class power inverter
Perfect for emergencies, running variable speed power tools and others
2-year warranty
GFCI outlets
Made in Taiwan
FCC approved
Low interference
Temperature-control cooling fan
Pros
A well-made power inverter as confirmed by many customers
Heavy-duty pure sine wave inverter
Flawless operation
Reliable performance
The unit remains cool all the times
Good price
Cons
The fan is a little lauder than expected