If you want to buy a 1200-watt power inverter, you can check AIMS Power PWRIX120012SUL. The AIMS 12V power inverter is a pure sine wave unit and it comes with many rich features for the easy of transferring DC power to AC power.
The 1200W AIMS inverter is an ETL certified product so it is highly safe and productive. People use this high-grade power inverter in their RVs and other vehicles to run their devices because it converts the battery power in household AC power.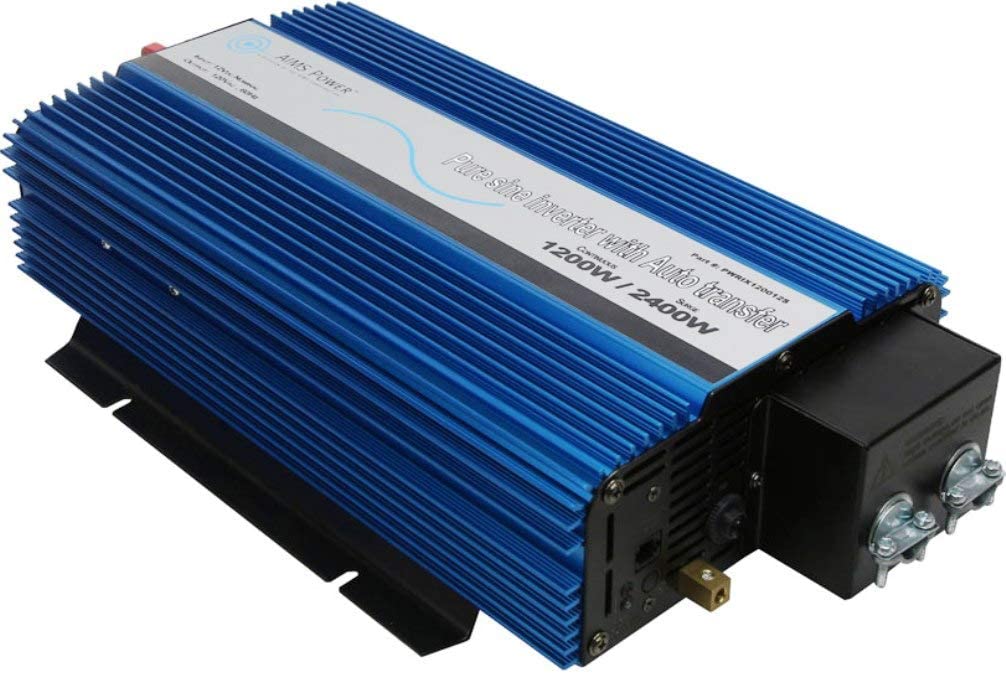 AIMS 1200W power inverter is easy to install because it comes with all the installation components. The 12V DC to 110V AC power inverter will switch between shore power and battery power and you will not require any extra wires for the power switches. If you want to use it in your RV, you can easily use it because you will be able to run a standard size refrigerator and other appliances in your RV.
In case, you need to have remote power access, the AIMS 1200W power inverter can be the perfect power converter for you. You just need a 12V battery to get AC 110V power to run your appliances. The 1200W power inverter by AIMS can run most of the home and kitchen appliances such as microwaves, coffee makers, blenders and many others.
The 12V DC to 110V AC power converter has many advanced features that make it an advanced power inverter. It features an intelligent cooling fan that maintains appropriate temperature to protect it from over-heating and other electrical faults. The AIMS power inverter is highly protective because it has features such as over-voltage shutdown, under-voltage shutdown, intelligent cooling fan and many other protective features.
Main Features and Specifications
1200-watt output power
2400-watt peak power
Pure sine wave output
Under/over-voltage protection
Smart cooling fan
12V DC to 110V AC power converter
Hard wire terminal block
Automatic transfer switch
Remote switch
Transfer time: < 20 milliseconds
ETL certification
10V to 16V DC input voltage
120V AC output voltage
60Hz output voltage
1.2A no-load current
10.2 lbs weight
17.25 x 9.31 x 3.8 inches dimensions
Pros
Soft start feature
Pure sine waveform
Many people are able to run many power tools such as skill saws, miter saw etc.
Delivers the rated 1200W power as advertised
It can be switched from battery power to line power without interruptions
UPS feature
Easy to install
For many people it worked flawlessly
Cons
Small power button
The fan runs even on no-load
Conclusion
In short, the AIMS 1200-watt power inverter has rich features that are good for varieties of applications. The AIMS power inverter works flawlessly and many people have confirmed that it worked as advertised. The power inverter is capable to deliver the full rated power. The 12V power inverter is easy to install and it is perfect for running any appliance that require up to 1200W input power.