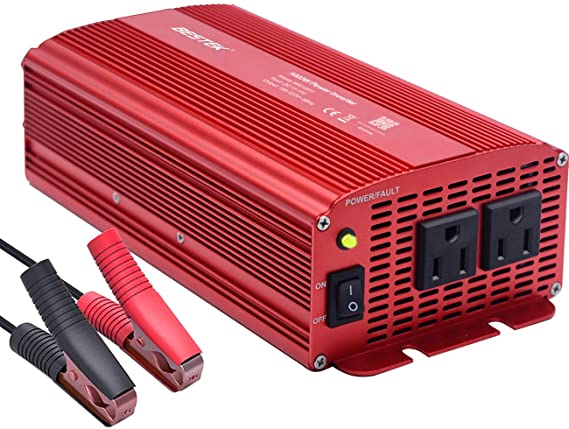 For a medium level power requirement, 1000W power inverters are very appropriate because 1000W is neither too low nor too high. Such powerful inverters have multiple applications in homes, offices, vehicles and other outdoor power consumptions.
In case, you are looking to buy a 1000W power inverter, Bestek 1000W car power converter can be the best product for you. Personally, I do not ignore BESTEK inverters because BESTEK is a leader in manufacturing power inverters. The brand has a high level of trust among their users globally. In fact, BESTEK says that they are available in 23 countries and their customer service team is available to assist their customers 24 hours.
The BESTEK 12V power converter is solid enough so it will survive in any weather conditions. Such robust power inverters are ideal for vehicles, car trips, outdoor activities and remote power demands. Using the 1000W Bestek power inverter, you will be able to power and charge a wide range of devices including some of the home and kitchen appliances too.
When it comes to its overall capacity, the 12V power inverter supplies 1000W output and 2400W peak power. In fact, the 1000W power is the actual power that can be considered to run several appliances. The 2400W peak power is for some large appliances that require some extra startup power. The Bestek 1000W power inverter features two 110V AC outlets; you can use these AC outlets to supply electricity from the inverter to your appliances.
Further, I will say that BESTEK 110V power inverters are highly safe to use because these inverters are based on advanced protection technology. You will not experience any protection related issues because the power inverter has three external fuses and built-in cooling fan that take care of all the electrical faults and temperature issues. In fact, BESTEK claims that the 1000W power inverter has 8 protection mechanisms to ensure the safety of your vehicle and family.
Additionally, who does not want a compact and user-friendly power inverter? Luckily, the BESTEK power inverter is both compact and user friendly because it is made with advanced aviation materials. The high-tech design of this power inverter facilitates ease-of-use, handiness, portability and the required performance.
Important Features and Specifications
Bestseller product on Amazon
Bestek is a leading power converter manufacturer.
It converts DC 12V battery power to 110V AC power
1000W continuous power and 2400W peak power
Two AC outlets
Isolated input and output
Soft start
Surge protection
MCU
Bestek's professional customer service team is always ready to assist you.
18-month warranty
Three external fuses are easy to replace.
Pros
The cooling fan runs silently
Solid aluminum construction
People are using this power inverter for multiple purposes such as using in vehicles and running some industrial tools.
Cons
No-load power consumption is a little higher than expected.