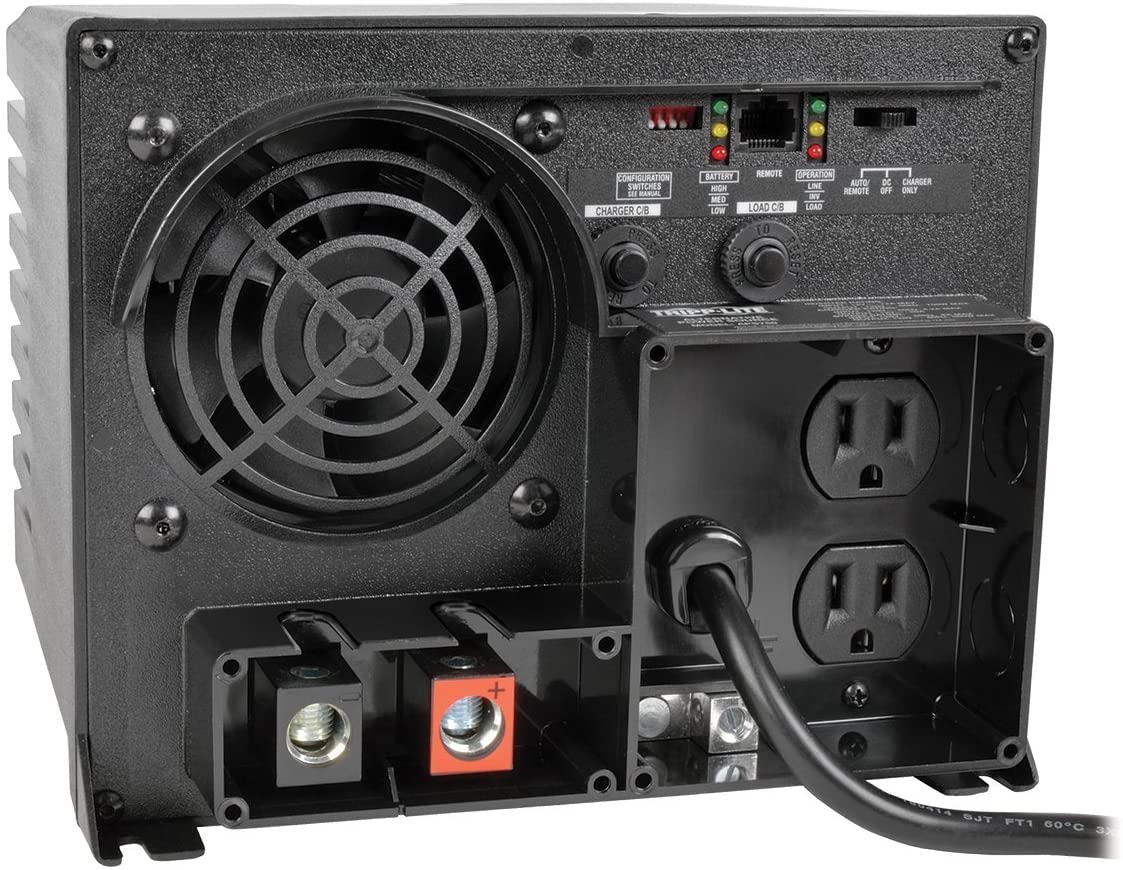 In case, you want to buy a medium-size power inverter to convert DC power to AC power, you can use Tripp Lite 750W power inverter. The DC to AC converter has received good ratings and reviews so it can be purchased to convert the battery power to AC 110V power.
For the varieties, the Tripp Lite 750W power is available in different sizes to choose from, you can buy either a 750W power inverter, 1250W or 2000W power inverter.
The Trip Lite 12V DC to 120V AC power inverter delivers 750W continuous and up to 1500W instantaneous power. Since the Tripp Lite power inverter comes with extended peak power so it is perfect for running heavy appliances that require extra start-up power for few seconds.
For the UPS capability, the Tripp Lite 12V power inverter comes with an auto-transfer switch that lets you switch from battery backup to UPS for the uninterrupted operation of your devices.
The 120V Tripp Lite power inverter is a multi-function unit because it has two AC outlets to run two 110V/120V AC appliances at the same time. On the other hand, the Tripp Lite power inverter is a strong unit because it is made of moisture resistant polycarbonate housing so you do not have to worry of the drops and bumps. This product is also supported with a one-year warranty.
In case, you need clean power to run your industrial tools then the Tripp Lite power inverter is the best unit for you. It delivers clean and reliable power for many applications such as vehicles, remote jobsite, industrial applications and many other. With this 120V Tripp Lite power inverter, you will be able to power the common household appliances too. You will be able to power portable lights, power tools, pumps, computers, refrigerators and many others. The Tripp Lite 750 watts power inverter features two 5-15R outlets, which are good for the reliable connection. You know that the Tripp Lite power inverter is not a portable generator so it will not produce any noise or fumes. You will live in a silent environment with this high quality power inverter running your tools and appliances. In case, you become a Tripp Lite customer, you are entitled to receive friendly customer support based in Chicago. The customer service team can be reach via email, phone or chat for the instant solution to the technical problems and other general queries.
Features & Specifications
750W capacity
Tripp Lite brand
Clean output power
Perfect for running industrial tools
One-year manufacturer warranty
Auto-transfer feature for the UPS operation
Extended peak power
Two 110v/120v AC outlets
Polycarbonate housing
Pros
The UPS feature is good for the unentrapped operation
Good price
One-year warranty
Solid housing
Solidly built
Tripp Lite has good reputation
Cons
Many people complained about the overload issues