People need a power inverter to run their important equipment when the utility line is not available in a particular area or in some situations. In this case, you need to convert the battery power to AC 110V power to run your electronics. Since most electronics require 110V AC input power so you should have a way to convert the DC power to AC power. To convert the DC power, you can use Tripp Lite 375W car power inverter. The inverter comes in a compact size and features two AC outlets and it has other important features.
As soon as you configure a power inverter in your vehicle, you will start powering office and entertainment equipment on the go. You can use the Tripp Lite power inverter that supplies up to 375 watts AC 110V/120V power via its two AC outlets. Of course, first you need to connect the inverter with your car battery. For the inverter and battery connection, the Tripp Lite 375W inverter comes with a cigarette lighter jack with a cable.
A future buyer should read the Tripp Lite 375W Inverter Review. The Tripp Lite power inverter comes in a compact size. The compact inverter has rugged construction and metal body. So, the power inverter is capable to survive in almost all environments.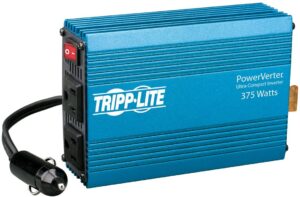 Protection Capability of Tripp Lite PV375 Power Inverter
Most importantly, the power inverter is very conservative and protective. To save the battery power, it features a low-battery alarm so when the inverter detects low battery voltage, it has the alarm to alert the user and it has the auto shutoff capability. This feature is mainly to preserve the battery power.
On the other hand, the Tripp Lite power inverter features an overload alarm with an auto shutoff function. This feature is useful to deal with overload issues. Additionally, the inverter has a replaceable fuse that is also very protective to prevent overload. It safeguards the inverter and connected devices.
Brand and Model Number – Tripp Lite PV375
In case, you want to buy this inverter later, you need to remember the brand name and model number. As mentioned above, the name of this inverter is Tripp Lite PV375. Tripp Lite is the brand name and PV375 is the model number.
Historically, the Tripp Lite manufacturer has a good record. It has decades of experience in manufacturing a wide range of electronic products that include power inverters, USB hubs, network equipment, data center equipment, fiber optic cables, signal extenders and many others. Most importantly, a dedicated customer service team is situated in Chicago, USA to help their consumers. Of course, you can expect a friendly customer service.
You can use the Tripp Lite PV375 power inverter to power a wide array of electronics. However, it is perfect as a car inverter. If you plan to use the inverter in your car, you would be able to power all those devices that are commonly used in a car. Of course, you can use the Tripp Lite 375W power inverter to power gaming machines, cell phones, laptops, printers, televisions, small fans, lighting equipment and other devices that require less than 375 watts power.
Tripp Lite Inverter's Features
375-watt rated power
600-watt peak power
2 x 120V AC outlets (NEMA 5-15R AC outlet)
One-year warranty
Compact and portable
Cigarette lighter plug with 3 feet cable
One-year warranty
Various protection features such as automatic low-voltage shutoff
Rugged construction
PV375 model number
Tripp Lite has years of experience in the industry
USA based technical support
The important features of Tripp Lite PV375 are shown above. One needs to scan the features carefully because a list of features gives an overall idea about the product, its performance. People try to picture how it will perform after the purchase by looking at the features and reading previous customers reviews.
FAQs on the Portable Power Converter
Is Tripp Lite PV375 is a pure sine wave or modified sine wave inverter?
Tripp Lite PV375 is a modified sine wave inverter. For powering sensitive electronics, the modified sine wave inverter may not be very good. So, if you need to run sensitive electronics such as laser printers, multi-speed DIY tools, you need a pure sine wave inverter.
What type of fan does this inverter have?
The Tripp Lite 375W inverter has a continuous fan as confirmed by some of the users at Amazon.
Will I be able to power an air compressor that requires 120V 10A power?
No, you will not be able to run the air compressor because it requires 1200W power (120V x 10A). This inverter has only 375W rated power so you cannot.
Can I power a compact 3.1 Cu. Ft. refrigerator that requires 115 watts input power?
Yes, you will be able to run the refrigerator that require less than 375W power. Your refrigerator requires only 115W power so there should not be any issues.
Please read the list of frequently asked questions that are only applicable to the Tripp Lite power converter. In the list, you can find some of the common questions and answers about this product. I hope the questions and answers may be a little helpful to those future buyers of this product.
Pros & Cons of Tripp Lite Modified Sine Wave Inverter
Pros
Reputed manufacturer (Tripp Lite)
Competitive price
Rugged housing to work in difficult environments
Many users are already using it for years without any malfunctions and other typical issues.
Build quality is very good as mentioned by some of the previous users on Amazon.
Good assembly inside that enables it deliver the best performance.
Small and compact size
The modified sine wave inverter powers some of the sensitive electronics as well.
Cons
A user complained that the switch interferes when plugging in devices.
To get more than 150W power from this inverter, you need to connect it with the battery directly. The cigarette lighter plug will not handle more than 150W power.
The Tripp Lite 375W inverter has numerous happy users. I checked it on Amazon. Most of the inverter users are happy with the performance, the lightweight and portable profile of this power converter. If you plan to buy a power inverter, most probably the Tripp Lite 375 watts inverter, please read the pros and cons mentioned above.
Tripp Lite PV375 has many pros and a few cons that make it a popular and high-demand product. I am sure, you will not complain of its build quality, compactness, portability and the price as well. Read more…