Popularity of WZRELB inverters is growing day by day so we should not ignore the inverters produced by WZRELB. This inverter manufacturer makes the power converters that have extensive usages. Most importantly, the inverter maker has a wide range of such units. Each unit has separate requirement because some of the WZRELB power inverters are for 12V batteries, while some of them are for 24V batteries and so on.
On this page, you will learn about WZRELB 24 inverter reviews. The product review is not only based on the product description, but also based on reviews by existing users.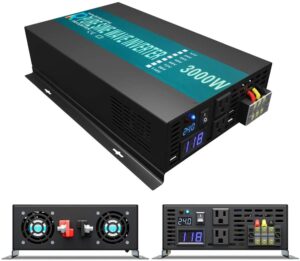 The best attribute in the 24-volt inverter is the capable PCB thickness and an HF transformer. Well, the PSB or Printed Circuit Board thickness is a vital part of a power inverter because it relates to the current circulation and overall burden proficiency. On the opposite side, an HF transformer is responsible to convert DC to AC power. Consequently, the unit is capable to deliver smooth AC output that you require for your AC equipment.
In the product title on Amazon, the word "reliable" is included because the 24V WZRELB delivers reliable performance. We should not ignore the credibility and skills of WZRELB because it is on the inverter market with the state-of-the-art technology. It uses uniquely designed hardware and software that result in the reliable performance.
In fact, the manufacturer claims that their products are centered on exclusive technology that helps deliver pure sine wave current. The advanced technology is very proficient to convert 24V battery power to useable AC power.
The Capacity of WZRELB 24V Power Converter
To know the capacity of an inverter, you need to depend on its rated power. You also have to ensure that the rated power is claimed by the manufacturer is true or false. I have done extensive research on the WZRELB 24-volt 3000W power inverter; I found that it allows its users to use the full rated power that is 3000W.
On the other hand, the unit transports 6000W peak power that is 200% of its rated power. As explained earlier, you will not get any issues related to its power transformation capability because it has 2mm PCB and an HF transformer. These two main components in an inverter are responsible for the power conversion.
Pure Sine Wave Output from WZRELB 24V Power Inverter
I think no need to explain pure sine wave. In short, pure sine wave is meant to be pure power. It should be same as the utility power. Therefore, I want to say that you are on the right track of owning a power inverter that delivers pure sine wave current. It is perfect for sensitive electronics because they get the cleanest electricity.
More importantly, the pure sine wave output will surely protect the devices that draw the power. It is perfect for the sensitive devices such as medical equipment, variable speed tools, high precision electronics, microwaves and other electronics that are very sensitive to the electricity they receive.
To deliver the best quality current, the WZRELB 3000W power inverter uses a strong copper inductor. The main job of an inverter inductor is filtering the waveform. So, the inverter inductor ensures that the output current is pure sine wave or not. More importantly, if your devices are receiving clean power so they are highly secure. So, you do not have to be anxious of any sort of damages.
WZRELB Solar Inverter
According to the WZRELB 24V inverter review, this unit is perfect for the solar panel configuration. After it is connected with the solar panel, you will be able to power your home appliances and other devices. Please do not ignore its huge 3000W capacity. You will be able to run all those devices that require up to 3000 watts power. Therefore, if you need a 3000-watt reliable power inverter to connect with your 24-volt battery, please buy the WZRELB 3000W power inverter.
Less than 3% Harmonic Distortion
According to the product description and WZRELB 24V inverter review, the unit has less than 3% harmonic distortion. So, in any inverter, if you find less than 3% harmonic distortion and more than 90% effectiveness then the power inverter is good. It can deliver good performance.
Consequently, the WZRELB 3000W power inverter has the proficiency to create unpolluted electrical wave without any excess temperature. Well, to deal with the system heat, the 24V power converter has the capability to minimize temperature radiation. On the other hand, the inverter's cooling fan is also another cooling component that is liable to maintain appropriate inverter temperature.
Energy Saving Capability of the WZRELB Inverter
In this power inverter, you find less than 1Amp current draw in the idle mode. Which means, if the inverter is not loaded, it will consume just 1A electricity. Thus, the battery will not drain very quickly because you are using a power efficient inverter. Impressively, the 24V power inverter works with many 24-volt batteries so you will not get any issues related to the inverter battery compatibility.
In case, you are much concerned about the energy consumption, you can buy a small size power inverter as well. The WZRELB 24V DC to AC converter is also obtainable in other suitable sizes. At present, this inverter comes in many sizes like 300W 12V inverter, 300W 24V inverter, 800W 12V, 3000W 12V & 24V. So, you can choose a size that is best suitable to your power consumption needs.
FAQs
Q: Does WZRELB 24V power inverter really deliver pure sine wave current?
A: Yes, it is a pure sine wave power converter. I confirmed the answer by scanning some of the users' reviews. Users are happy with the current electricity quality that comes from this 24V power inverter. On Amazon, a user answered that he is running ceiling fans, televisions, washing machines, cameras and other sensitive equipment without a problem. So, you can depend on this WZRELB 24V 3000W power inverter.
Q: Sometimes, the inverter blinks red light, what does it mean?
A: According to the customer service team at WZRELB, there is something wrong in the inverter, please contact the customer service team. You can always reach the customer service team via the email: info@powerreliable.com
Most probably, it may be an overload issue or the power inverter needs some sort of troubleshooting. If you have an owner manual, please try to look in the troubleshooting section of the manual.
Wide Applications of WZRELB 3000-Watts Inverter
The 24V WZRELB inverter can meet varied electricity requirements. Preferably, it is perfect for mobile power, distant power requirements, camping, road travel and many others. In short, you can use the 3000W power inverter everywhere because it is a special inverter with the demanded pure sine wave output.
Many people use the WZRELB reliable power inverter for the renewable energy generation. As mentioned earlier, you can easily configured it with your solar panels to get energy from the solar panels if you do not have the utility line access. In case, you are new to installing an inverter with a solar panel, please take help of an experienced technician.
Most importantly, it is not a 300W power inverter but 3000W power inverter. It delivers pure sine wave output. Therefore, it has various uses. You will be able to power all the common electronics used in a home.
Additionally, the pure sine wave power inverters are in high demand today because most electronics need it. Therefore, a PSW inverter is perfect for sensitive electronics such as TV, fridge, air conditioners, DIY tools and many others. It delivers 6000W peak power that will ensure smooth startup of the equipment.
WZRELB 24V Inverter Specifications
24V DC input
110V/120V AC output
85% to 90% efficiency
3% AC regulation
60Hz frequency
15A sockets
19.5V to 21.5V low voltage alarm
18.5V to 20.5V low voltage shut down
3.5V overvoltage shut down
1.5A no load current consumption
In an electronic product, specifications are very important. They give an overall picture of the product. The specifications of WZRELB inverter look fine. I liked that it has approx. 90% efficiency and the idle power draw is very low. So, the connected battery will not drain quickly. If you follow the precautions, you will be able to use the WZRELB 24V inverter for a long time.
Pros
Many users confirmed that it consistently delivers 120V power.
Reliable customer service team
Comes well packaged
No fan noise
Low-price
WZRELB is a reliable inverter brand.
Cons
It does not have an outside fuse because it is complicated to replace the internal fuses.
Many people complained that it failed to deliver the rated output.
Customers have complained that the WZRELB inverter did not last for a long time, only for four months.
In the WZRELB 24V power inverter review, the Pros & Cons section is an important part. Please read each point of Pros & Cons. I am sure it helps you decide whether the product is good or not. It is good to your requirement or not. Personally, I feel that it is an average quality and average performance product. It did not attract many customers that say Wow!
Finishing Words
As per the WZRELP 24V inverter review, the power inverter has all the features that are often found in a good inverter. Please note that it is a 3000W 24V inverter so it is perfect for huge power consumption requirements. People use such power inverters to fulfill various needs.
The 3000W power inverter has various applications. It can be used in a full-size family home, offices, travels, camping, emergency power requirements and many others. Most importantly, the WZRELB power inverter is fine with the solar panel connection. The price of this inverter looks good because you are going to acquire a 3000-watt inverter in a low price.