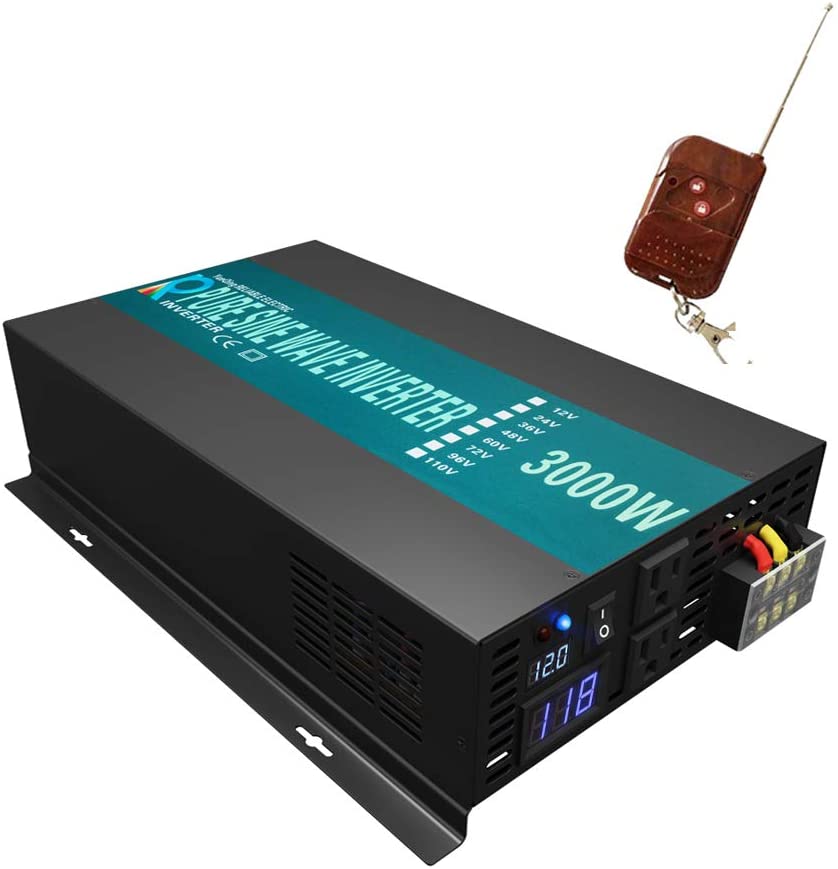 WZRELB is slowly becoming a popular inverter brand. It has a wide range of power inverters that sell on best prices. Most of the WZRELP power inverters are available on Amazon so if you want to buy it now, please check with Amazon.com as well.
WZRELB RBPRC300012 is a popular model that delivers 3000W output power. The 12V to 110V power inverter delivers pure sine wave output. Using this clean power, you will be able to connect any device you want because pure sine wave is perfect for even sensitive electronics.
The WZRELB 12V power inverter has received good reviews, ratings and users comments on Amazon so this is the reason to recommend here.
In case, the 3000W size is not suitable to your needs then you do not have to worry because WZRELB has several power inverters in different sizes. It has 1000W, 1500W, 3000W and 3500W power inverters so please choose a size that meets your power consumption needs.
Since WZRELB RBPRC300012 is a pure sine wave power inverter, so it is as good as Grid power. The power inverter features an LED display that shows status of battery current and other protection related information.
The WZRELB 12V power inverter has many protection mechanisms. The highlighted protection it offers is the ground protection that protects from the electricity leakage. Apart from the ground protection, the power inverter is highly protective against over-current, over-load and short circuits. In its protection features, reverse polarity protection is also available. It features a smart cooling fan that runs on certain level of temperature. With this power inverter, the connected battery is always safe and it will have a long life too.
Optionally, you can use the provided remote control to access this power inverter at a 100 feet distance in room and 166 feet distance outside the room. Such 12V power inverters are perfect to use in vehicles, homes, offices and on other places where emergency power is required.
Additionally, to safeguard the connected appliances, the WZRELB 3000W power inverter has a high-class inductance that scans wave form and supplies pure sine wave output. The high-class copper inductor in this power inverter is very good to protect the linked devices.
Pros
Quick to respond customer care team
Pure sine wave output
High-quality copper inductor to safeguard appliances
Cons
Some customers complained that the remote control stopped working after few uses.
Not a UL listed product