Audiotek 2500w power inverter is good for those who are looking for a low-price unit. The 12V power inverter does the good job of power conversion. It converts DC 12-volt to AC 110-volt. You can use this unit in homes, vehicles, boats and emergencies.
From the outside, the inverter looks impressive. Personally, I liked the slim design of this Audiotek power inverter.
One thing, I want to clarify here is that it is not a 2500W unit; rather it is a 1200W inverter. On Amazon, a seller has written 2500-watt in the product title so people may think that this is a 2500W inverter. I read the product description and I found that it has 1200W rated power, 2400W maximum power and 2500W peak power.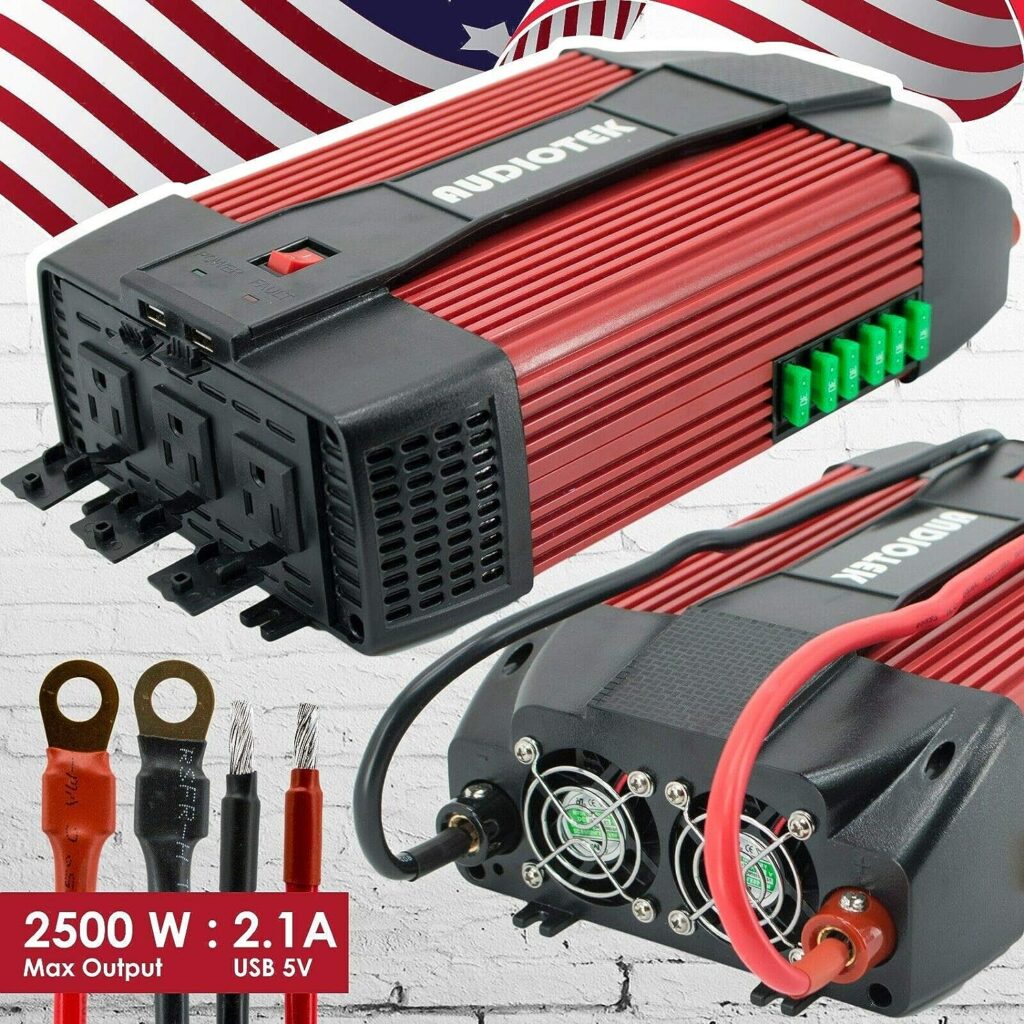 AudioTek 2500W – https://amzn.to/3KvmdmG
It has two USB port. Each USB port has 5VDC/2.1A capacity. It has three 110V AC outlets that you can use to power heavy appliances. You can use the USB ports to charge those devices that have USB connections.
AudioTek 2500W power inverter has six built-in fuses. These are replaceable fuses so if any fuse is blown, you can easily replace it. It also comes with a cooling fan that does the great job of maintaining the inverter temperature.
The lightweight and portable unit measures 12 x 7 x 3.5 inches (LWH).
12VDC to 110V AC Power Converter with Good Protection Features
If you want to use this inverter in your vehicles, this is a good power inverter for vehicles because it converts DC 12V battery power to AC 110V power. After successful battery connection, depending upon the battery capacity, you will be able to power all those appliances that have an AC 110V power requirement. Please make sure that the total power taken by your appliances does not exceed its rated 1200W power. The inverter has 2500W peak power so the peak power will be used by the appliances that require extra power at the startup.
For the safety concern, the manufacturer says that you keep the inverter away from heating elements and direct sunlight. Otherwise, the inverter will get warm and it may not perform as per the expectations. Also, please note that if the connected device draws more than 150W power then the car cigarette lighter plug will not work. You need to connect it with the battery directly using the battery clamps.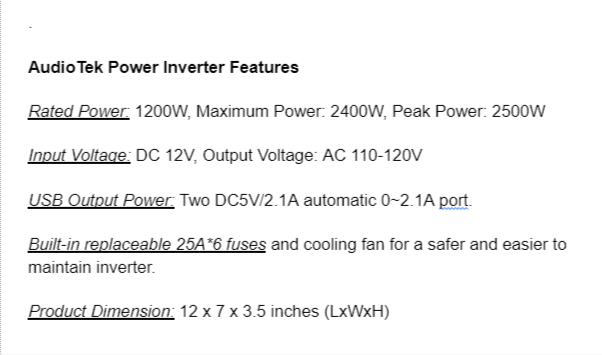 The key features of the AudioTek inverter are written above. It has 1200-watt continuous power, 2400w peak power. And it converts 12V DC power to 110V AC power. It has built-in fuses to protect the unit from from over-current and short circuits.