Please read GearGo 400W Power Inverter Review. I am going to reveal many things about this power inverter.
First, the GearGo power inverter fits well with the words like popularity, low-price, lightweight, portable, car charger and more.
Second, it is available in two varieties in regards to the output power: 400W and 600W. You can go with either one as per your requirement.
Third, every product has its own pros and cons, so the GearGo inverter is also a product: it can't be excluded from the universal truth.
Lastly, it has scored well on the positive side. Yes, most of its users are happy, so I assume you would be happy too.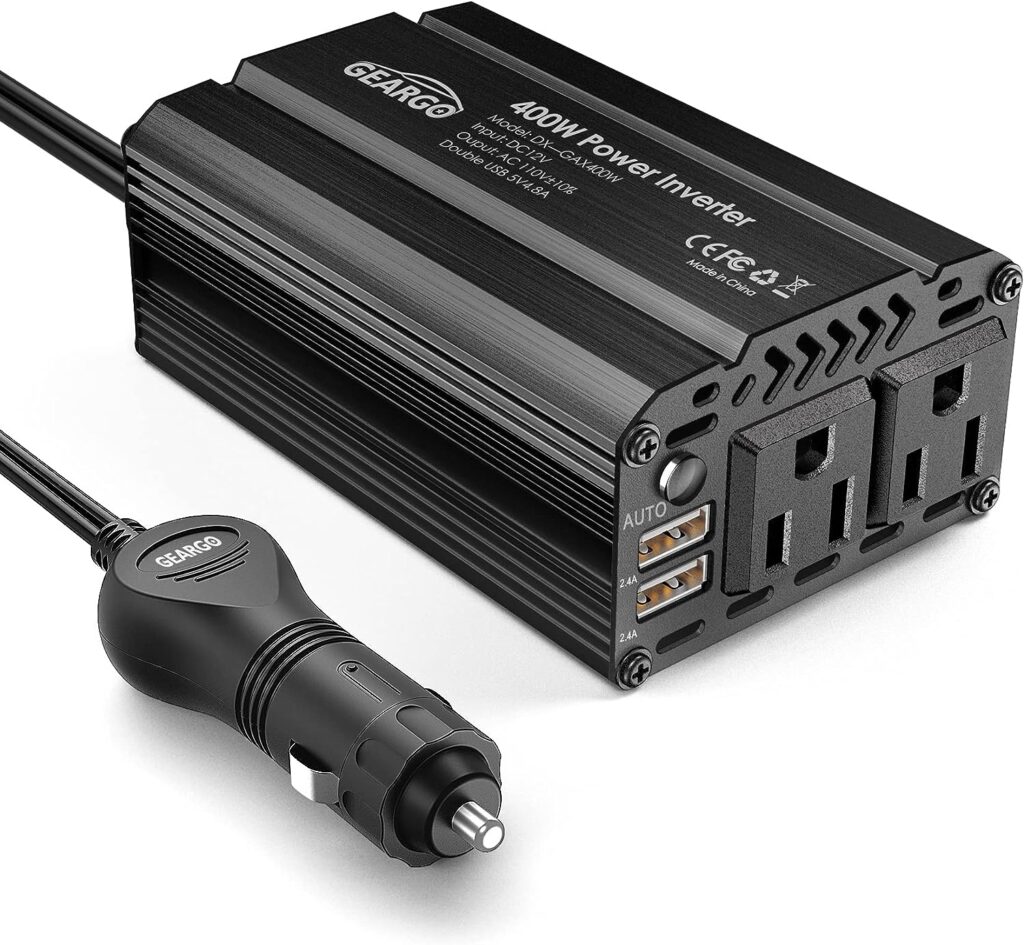 Protective Design & Cigarette Lighter Cord
I write reviews on power inverters, so I would say that every inverter is advertised as a protective inverter, so I don't care much about such general information. What I care about is the reality. Is it really safe, really protective? I ask many such questions from myself and I try to find answer by reading reviews using various sources.
Anyway, about its protectiveness, what I would say that it is safer than several other inverters, which are falsely advertised. The GearGo power inverter is claimed as an inverter with double protection mechanisms. That is approx 90% correct. In this inverter, the double protections mean smart chip and built-in fuse. Therefore, the inverter is safer than others on the market. It will surely get rid of over-charging, under-charging, short-circuit, over-voltage, under-voltage and more.
Cigarette lighter cord – it is claimed by the manufacturer that the cigarette lighter plug is quite durable. It will deliver the great performance for up to 5000 insertions and extractions. It has USB ports and a buckle design for stable current. Impressively, a 19-inch long cable is attached with the cigarette lighter plug for the added flexibility.
Great Cooling Fan
A user purchased the GearGo 600W power inverter for his laptops and other devices in his car. He said that the cooling fan worked impressively because the inverter didn't get hot even after the whole day use. The dual USB ports were great for his applications.
However, he didn't like the 120V sockets because there was not much distance between these two 120v ports. So, it was a bit hassle to use some charges simultaneously.
He said that the 12V power plug in his car was not working, so he had to use an extension cord to connect with the car battery with the help of alligator clips.
Key Features – GearGo 400W Power Inverter
Slim design
Built-in silent cooling fan
400W output power
12V input power
110V AC output (+/- 10%)
400g weight
46.06 x 30.71 x 18.9 inches size
Durable cigarette lighter plug
Smart chip + built-in fuse double protection mechanism
2 x AC 120 outlets
2 x USB charging ports
Aluminum alloy housing
GearGo brand name
SGR-NX3011SK-6 model number
High speed charging capability
Multi-protection features
Black colors
The key features and capabilities of the GearGo power inverter look impressive. The inverter is lightweight and portable, made in a slim design, so it is a great travel friendly inverter. It delivers a silent operation because the cooling fan runs silently. Most importantly, the GearGo brand inverter is highly popular on the internet as it works as expected.
PROS
It does not get hot.
The cooling fan runs silently.
The dual-USB ports are quite useful for charging small devices.
Great for travelers
High quality and very powerful
Very low price
Easy to use
It arrives well packaged.
CONS
The 120V AC sockets are located closely, so it creates a bit difficulty.
Short power cord
The pros and cons of the GearGo inverter tell that it is a high quality inverter. It delivers the best charging performance. The unit does not get hot like other inverters. It runs quietly. The power inverter has total 4 ports: 2 x 120V AC sockets, 2 x USB ports. Therefore, you will be able to connect multiple devices at the same time. Impressively, it is a great travel-friendly power inverter that is lightweight and portable in an iPhone size design.