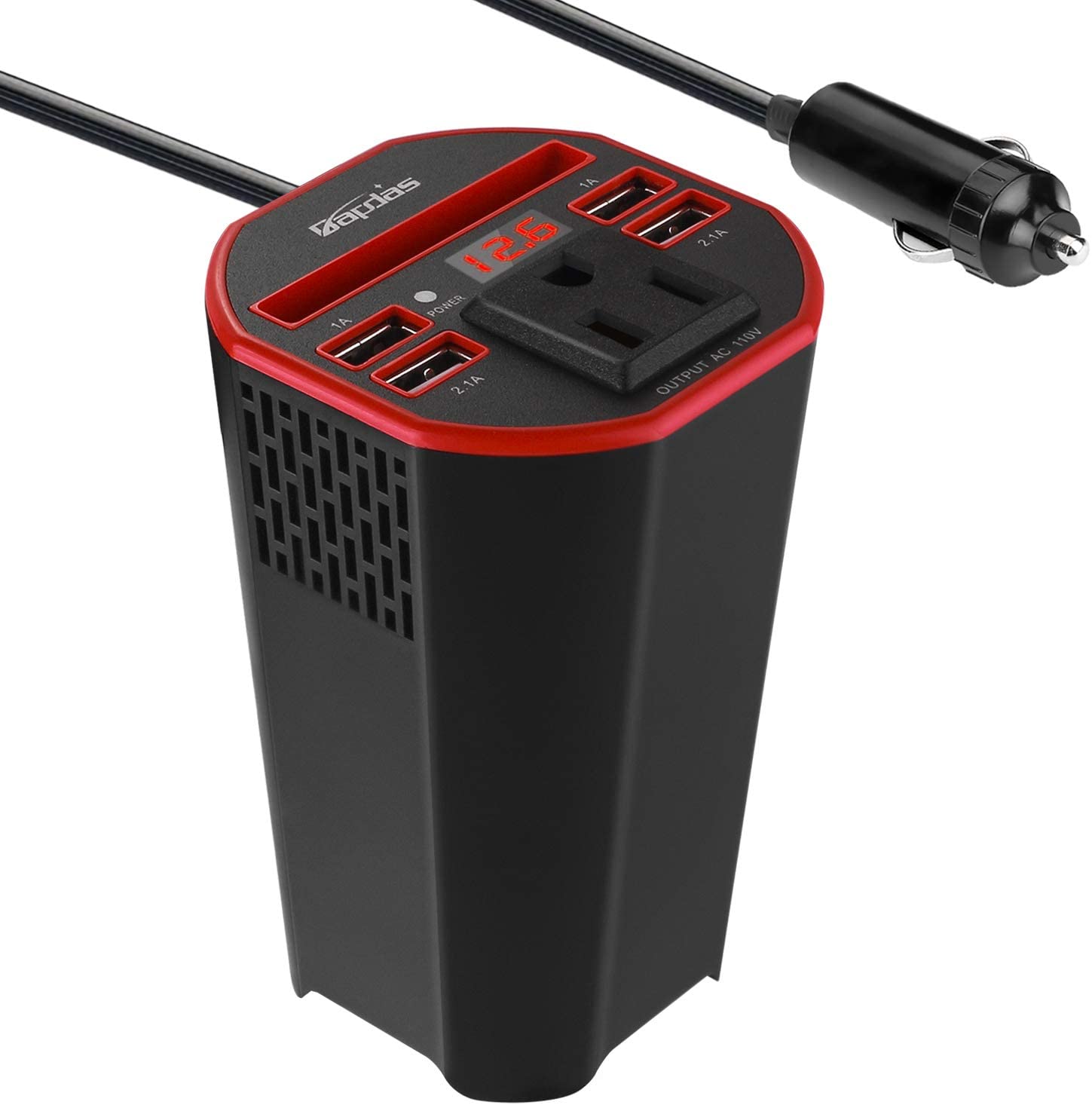 Bapdas is a well-known inverter brand. From Bapdas, the 150W car-cup power inverter is highly popular. You can see its popularity by visiting Amazon and other selling platforms. Therefore, if you need a 150-watt power inverter, that is uniquely design, you can go for the Bapdas 150W car power inverter. The car-cup inverter design makes it unique and keeps it apart from the crowd.
As a precaution, for charging iPad and large devices, please use the 2.1A USB port and do not use other USB ports because it is just a 150W power inverter. Before you power any device, please know how much wattage required by that specific device. The inverter manufacture warns that you should not power some appliances such as hair dryers, curling iron and electric heaters. Please do not use the Bapdas 150W power inverter for a long time if the car is not running. The Bapdas 12DC to 110VAC power inverter comes included with a user manual, please read the user manual thoroughly to understand features, capabilities and other facts about this little car inverter that delivers 150W output.
The Bapdas power inverter 150W is based on a strong protection system and has a user-friendly design so it is a perfect power conversion tool for travelers and mobile power requirements. Such portable inverters are ideal for many devices such as laptops, lamps, mobile phones, music players and some power tools as well. Today, using an inverter in car is a basic need because you have to run your personal devices. To run your personal devices, you need 110V AC power so an Inverter is a useful tool because it converts the 12V DC battery power to useable 110V AC power.
For the safety, the Bapdas 150W power inverter features a silent cooling fan that runs silently and conditionally. The cooling fan runs faster when the power inverter gets warmer to reduce the system temperature. On the other hand, the Bapdas power inverter has a built-in fuse that protects the connected devices from known electrical issues such as high-load, high-temperature, short-circuit, electricity irregularity, abnormal current flows and other similar issues. In the safety features, you can count the LED indicator as a safety component because it notifies with two colorful lights such as green and red. Here, green means operation and red means fail.
The Multi-function power inverter comes with four USB charging ports. You can use the USB charging ports to charge your USB-enabled devices such as iPhone, iPad, smartphone and other electronic devices. Please know that two USB ports have 2.1A capability and two USB ports have 1A capability.
Features & Specifications
Bapdas brand
150W output power
110-volt output voltage
4.88 x 3.54 x 3.07 inches size
8.8 ounces weight
Cup holder design
Perfect for charging USB-powered devices like tablets, smartphones, laptops etc.
Four x USB ports
DC 12V to AC 110V power converter
Ultra-compact
Smart cooling fan
Multi-functional power inverter
Comes included with a user manual and 18-month warranty
Green, Red LED indicators
Made of ABS material
300W surge power
Pros
Easy to plug in a car
4 USB ports for wide applications
It fits in the cup holder
18-month warranty
Ultra-compact size
Cons
Many customers complained that it is not very sturdy!