Aproca is a big brand that manufactures a wide range of travel bags. Most of the travel bags from Aproca are to provide safety to electronic devices such as cameras, projectors, hair dryers, inverters, audio devices and many others.
This Aproca hard case is made for Bestek 300W and Foval 150W car inverters. The hard case is made of climate-friendly material using denser EVA & 1680D material.  In case, you are looking to buy a durable hard case for your Bestek or Foval inverter, Aproca hard case can be the best product for you. It is made to last for a long time. Surprisingly, the long-lasting hard case is priced lower than that of other brands.
Best Fitting
For the perfect fit, Aproca hard case for inverters is only designed for Bestek 300W and Foval 150W inverters. Since, it is already made considering the sizes of these inverters; you will not get any issues related to the fittings. In fact, you will not only put your inverters in this bag, but also put the related accessories. Which means, this is a good helper to provide utmost portability to go anywhere with your inverters and the accessories.
Further, Aproca travel case for Bestek inverter is appropriately designed, which provides comfort, ease-of-use and of course portability. It features a mesh pocket, which can be used to store some accessories. Additionally, it features a beautiful zipper, which is good to open and close the case. Well, the smooth zipper is good for the ease-of-use.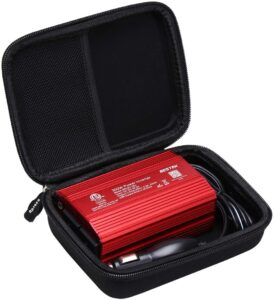 The Protective & Stylish Aproca Hard Case for Inverters
Undoubtedly, this is a durable, stylish and protective hard case. It is greatly protected from any sort of scratches, bumps, drags etc. Moreover, it does a good job of securing your Bestek 300W inverter and related accessories. You can carry this beautiful hard case during the travel time without any hesitations.
Please make sure that Aproca hard case is only for sale. It doesn't include the inverter shown in the picture. I wanted to warm you of this, because I saw many customers on Amazon complaining that they didn't receive the inverter.
Additionally, please make sure that the Aproca hard case is only for Bestek 300W and Foval 150W inverters. This storage case is not made for other inverters. Even you will try to fit your Bestek 500W inverter; you will not be able to do that.
FAQs
Q: Does the travel case come with the inverter?
A: No, it doesn't come with the inverter; it is just the travel case to keep your Bestek 300W or Foval 150W inverter.
Q: Can Bestek 500W inverter fit in this travel case?
A: No, the Aproca travel case is only for Bestek 300W and Foval 500W inverters.
Q: Can I use this case for Quesvow 300W inverter also?
A: No, it is for Bestek 300W inverter.
Q: Is this travel case also for Bestek 300W pure sine wave inverter?
A: No, it is just for Bestek 300W plain inverter.
User Experience
According users on Amazon, the inverter case fits the compatible inverters very well. They also don't have any problems fitting the extension cords as well.
Many users say that this is a useful travel case, which protects the inverter from dirt. It will surely increase the overall life of the inverter. Some users stored this travel case in their car to use them when needed.
A customer on Amazon says that this is a well-made inverter case, which is strong, beautiful with smooth zipper. It doesn't have the annoying plastic or glue smell.
On a negative note, one customer on Amazon says that this fits well but not perfect. Most inverter cases from other brands have been customized for the specific inverter.
Pros
Inverter and cables fit perfectly.
Good to protect the inverter from contaminants
It can extend the life of the inverter.
The case can be stored in vehicle's compartment as well.
Very sturdy and well made
Durable and stylish
Best price
It comes from the popular Aproca brand, which means high quality.
Basing the pros and cons, this can be a good buy without any doubts. The Aproca hard case for Bestek inverter is easy to use, easy to store, durable and protective. This is a good travel case to store the Bestek and Foval inverters securely. The inverter case features zipper, which facilitates easy opening and closing. The price seems very affordable to me. On the negative side, the Bestek inverter smells a little according to some customers' complaints on Amazon.