For a lightweight inverter, Foval 150W inverter can be the best unit. In fact, Foval car inverter looks god from all aspects. The low-price inverter is lightweight, small and performance oriented.
To focus, Foval doesn't make too many inverters. Instead, it makes few inverters that outperform its competitors.
Actually, three Foval inverters are very popular. They are:
The Foval inverters listed above have received impressive ratings from thousands of happy customers on Amazon and other shopping places. That is why; it is advised to check each inverter before you decide to buy a power inverter from other brands.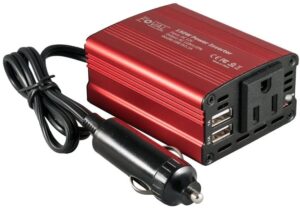 Features of Foval 150W Car Inverter
Connectivity – the premium Foval inverter features dual USB ports and AC 110V outlets. You can use the USB ports for charging phones and tablets at a fast speed. The USB ports have maximum 3.1A output.
With the 110V AC outlets, you will be able to power laptops, Christmas lights, gaming consoles, TVs and many others.
Travel size – For a handy use, the Foval inverter comes in a credit card size. Therefore, it is a space-saver unit measures just 3.2 x 2.5 x 1.5 inches and weighs just 8 oz.
In fact, the 150W inverter is a portable unit that uses an aluminum shell design. Additionally, it meets the demand of a lightweight use because of the just 8 oz. weight.
Sturdy exterior – externally, the Foval car inverter is very safe from any drops and bumps. It comes in a high-grade metal cabinet.
Built-in cooling fan – in fact, most inverters on the market have noisy cooling fans. The Foval 150W inverter has a silent cooling fan. The cooling fan prevents heat and short-circuits issues.
Highly protective – the Foval power inverter has an internal fuse, which provides protection from over-current. Actually, the built-in fuse protects the connected devices because it prevents short-circuits, over-voltage and other electrical faults.
For the safety, the unit has a stable charging design, which takes care of many common problems such as overheating, short-circuiting, voltage abnormality and over charging.
The Package – with Foval 150W Car Inverter, you get a user guide, an 18-month warranty and reliable customer service.
The Versatile Foval 150W Inverter for Outdoor & Indoor Use
As mentioned earlier, Foval 150W inverter is a versatile, portable and lightweight unit. Such small inverters are perfect for outdoor and indoor uses. Which means, you can undoubtedly use Foval Power Inverter for vacations, road trips and even in houses.
In fact, just few inverters on the market are versatile, protective, solid and portable. Foval inverters are one of them.
For connection convenience, the Foval 150W inverter features dual USB (3.1A) and dual 110V outlets. Using these connection sockets, you can connect your desired devices for charging. Even, you can connect multiple devices simultaneously, please make sure that these devices don't take more than 150-watt power.
Super versatile – in fact, many factors of Foval Inverter make it a versatile unit. You can't doubt the capabilities such as lightweight, small-size, high-protection and solid design.
With all these positives, the Foval 150W inverter is perfect for outdoor uses such as camping, road trips, vacations, business trips, job sites and home appliances.
Amazingly, the dual USB ports charge two devices (any phones and tablets) smoothly. For the 110V appliances, the inverter features two AC 110V outlets. Which means, the Foval inverter is a perfect tool to add to your travel emergency kit.
Features & Specifications of Foval 150W Car Power Inverter
Features:
Silent cooling fan (runs faster when it gets warmer)
Built-in fuse for protection
Cigarette lighter plug with 16-inch cable
Dual USB ports (3.1A) and dual 110V AC outlets
LED light: green & red
8-oz weight
Dimensions: 3.2 x 2.5 x 1.5 inches
18-month warranty
24-hour email support
Specifications:
150W total output
12V/40A DC input
110V AC output
USB output: DC 5V/3.1A
8 oz. weight
Color: red
To make it a powerful unit, the above features and specifications are very helpful. Actually, Foval 150W Inverter is easy-to-use, easy-to-install. For the ease of use, it is made in a lightweight design and small size. The small inverter features four connection sockets: two USB ports and two 110V AC outlets.
What Do Customers Say about Foval 150W Car Power Inverter?
One – an Amazon customer is unhappy with the inverter. Actually, he complained that he purchased the Foval 150W inverter many times. Every time, he connected the inverter with his car battery, the battery died. Now, he doesn't want to take the risk of the car battery replacement.
Two – according to this customer, he surprised with the small size of this inverter. According to him, the inverter measures 3.5 x 2.5 x 1.5 inches. Further, he is happy with the performance because he noticed 113.2V output power under-load.
Three – this customer is a breast-feeding mom, who is very happy with this Foval 150W inverter. She is happy because she now uses her pump in the car.
Four – according to this customer, he is going to return the inverter because the inverter doesn't start his Chromebook. After plugging into the inverter, his laptop shuts down within 20 minutes.
Five – after buying the unit, this customer is very happy with the performance of Foval 150W inverter. Actually, he uses this inverter in his Jeep. Without any problems, he is able to power two-set of Christmas lights in his Jeep at Halloween. According to him, this is a silent inverter because he didn't hear any noise.
Additionally, the power inverter stays cool, no heating problems. However, he suggests that it should come with a longer cord.
FAQs – Foval 150W Inverter
Q: can I use this inverter in my home?
A: yes, off course! For the flexibility, the inverter features dual AC 110V outlets, which you can use to power your home appliances. Even, use the USB ports to charge your phones and other USB based devices. However, you first need to connect it with your 12V car battery.
Q: can I use this inverter to power a heat gun?
A: no, the Foval 150W inverter is not for powering a heat gun because a heat gun requires more than 1000W power. For the safety, please avoid connecting with high-load appliances. The inverter has total output only 150W.
Q: does Foval 150W Inverter feature a fan?
A: yes, the inverter features a fan, which runs silently. That's why; it is advised not to use in an enclosed space because the fan needs air circulation environment.
Q: can I power an airbed pump?
A: In fact, it depends. If the pump requires less than 150W power, you can use. Please read the manual of the airbed to know the power it takes.
Pros
Portable, lightweight and small size
Low-price
Good popularity
Perfect for outdoor & indoor uses
Noiseless fan
Comes in handy
Good protection
Dual USB and AC outlets
Solid exterior
Stable performance
Stays cool, no heating issues
18-month warranty
24-hour email support
Cons
The cable should be longer.
From the above list, I can see, Foval 150W Inverter comes with numerous advantages. Therefore, it becomes a good inverter. Surprisingly, one can barely find a disadvantage in this powerful inverter. For an assurance, the unit also comes with an 18-month of warranty. In case, one faces any problems, they have 18 months in their hand to claim the warranty.
Personally, I liked the noiseless fan, stable performance, durable exterior and the low price. From all sides, it seems win-win.
Concluding Thoughts on Foval 150W Car Power Inverter
At the end, I will strongly recommend this inverter for the car, vacations, road trips uses. On a safety note, the inverter is very protective to overload, over-current, short-circuits and other electrical fault. Furthermore, Foval 150W Car Power Inverter has rich features and specifications, which are directly converted into the high performance.
Affordably, the 12V to 110V inverter comes at a low-price, which is one of the factors to make it popular. Apart from the low price, the 150W inverter looks perfect from many aspects such as protection capability, sturdy exterior, small size and portability.
On an assurance, the low price Foval inverter carries an 18-month warranty and 24-hour email support. Which means, you don't have to lose anything. In case, you find that inverter is not working the way you want, you can claim the warranty within 18 months of the purchase.