On this page, best inverters have been selected, which are perfect for cars, RVs, semi-truck and other vehicles. The selected inverters are based on popularity, brand reputation, reasonable price and high protection capabilities.
In fact, every product comes with pros and cons. So, understanding this fact, pros and cons have been posted below each inverter.
The high-performance inverters are from well-known manufacturers such as BESTEK, Potek, KRIËGER and Maxpart. Most of the above-mentioned brands are highly popular.
In case, you are planning to buy a power inverter for your car or truck, please check each inverter mentioned below. For assurance, I will say again that these inverters are budget friendly, protective and popular.
Top Inverters for Vehicles at a Glance
BESTEK 300W Power Inverter for Cars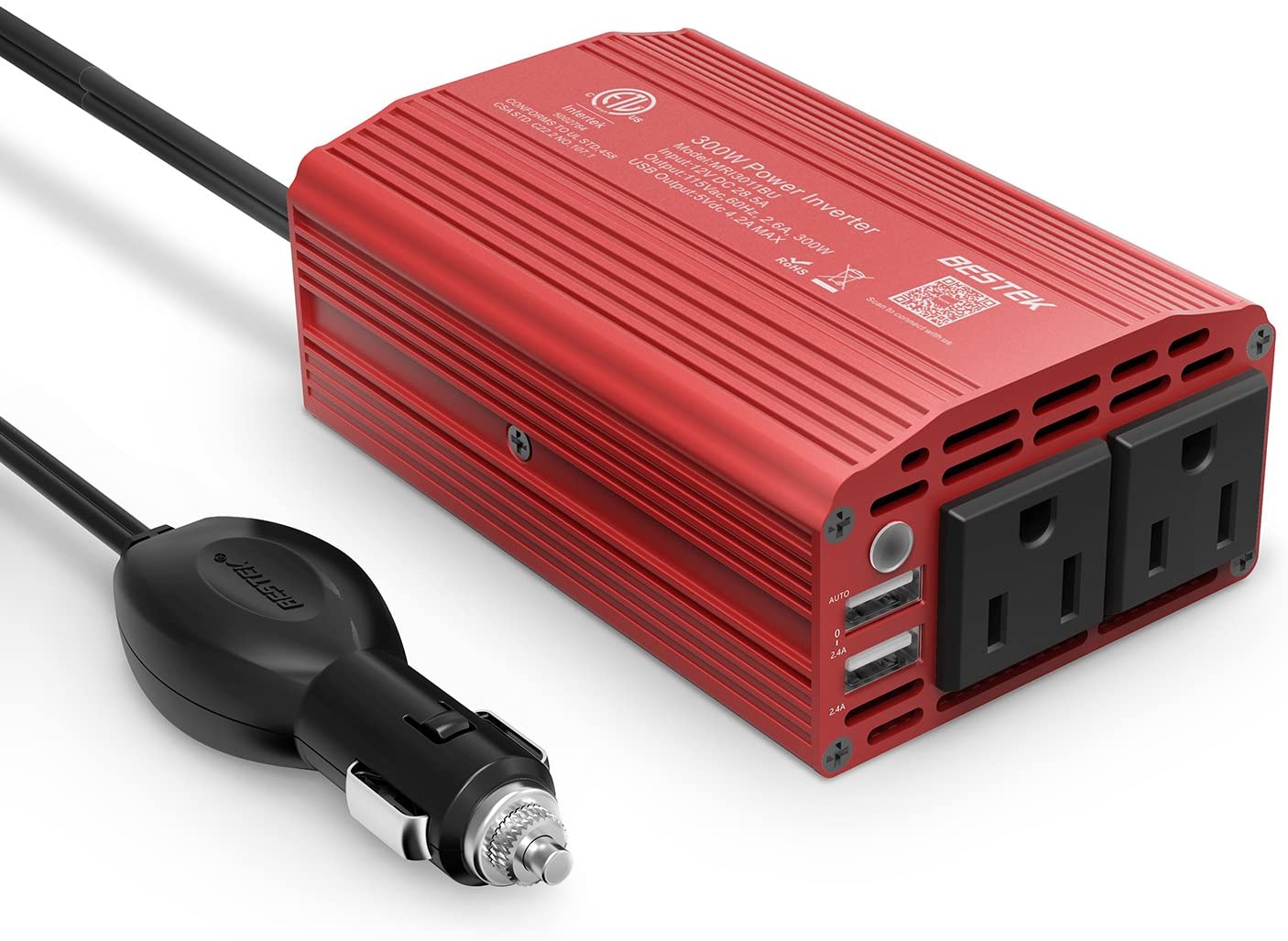 The Bestek 300W power inverter is good for vehicle uses. Using the 300-watt clean power, you would be able to charge your devices on the go.
According to the manufacturer, the inverter has 300W continuous and 700W peak power. Therefore, the peak 700-watt is useful for those appliances that require extra power at start-up.
For charging multiple devices simultaneously, it features dual USB ports and dual 110-volt AC outlets. Because, it features both USB and AC outlets, so you will be able to use those appliances that can be connected vie either USB ports or AC 110V outlets.
When it comes to charging speed, Bestek 300W Inverter charges devices rapidly according to the product description. But, I do not think so because the 2.4A USB port may not be very fast. However, I will say that it has an average charging speed, which is not bad.
For the handiness, it is a compact and lightweight unit, which makes it perfect for the vehicle uses. In fact, the manufacturer claims that from the external shape, the inverter resembles an iPhone-size design. Therefore, such power inverters are an ultimate choice for outdoor uses such as camping, business trips, work trips etc.
For the xyz electrical safety, the unit has an integrated fuse with 40A capability. The safety fuse will undoubtedly protect the devices connected with the inverter. Also, it takes care of the common electricity fault within the inverter. As a result, it will provide a complete protection against short circuiting, over-voltage, high-temperature and high-load.
Pros
Heavy duty
Resistant to bumps & drops
Rapid charging capability
After years, it performs like a new inverter.
Perfect for mobile uses
Good for a single person outside the home
Low price
From an Amazon customer, it was rated 11 on the scale of 1 to 10
One can use the USB ports even without turning on the inverter
Cons
A little noisy fan
Outlets are tighter than normal
According to the advantages and disadvantages the BESTEK 300 Watts Inverter comes with, it is undoubtedly a high-grade and high-performance inverter. It is a heavy-duty inverter, which is perfect for the vehicles, as it resists from any bumps and drops. The Bestek power converter charges the connected devices rapidly.
Since, this unit is especially for vehicles such as cars, trucks, RVs etc. so; it has a long-lasting cabinet, which is protective against any external touches, strokes, drops etc. And, to keep the internal system cool all the time, the Bestek 300W inverter features an intelligent cooling fan that runs silently. Warranty: 18 months Read more…
BESTEK 200W Power Inverter DC 12V to 110V AC Inverter with 4.2A 4-Port USB Car Adapter (Black)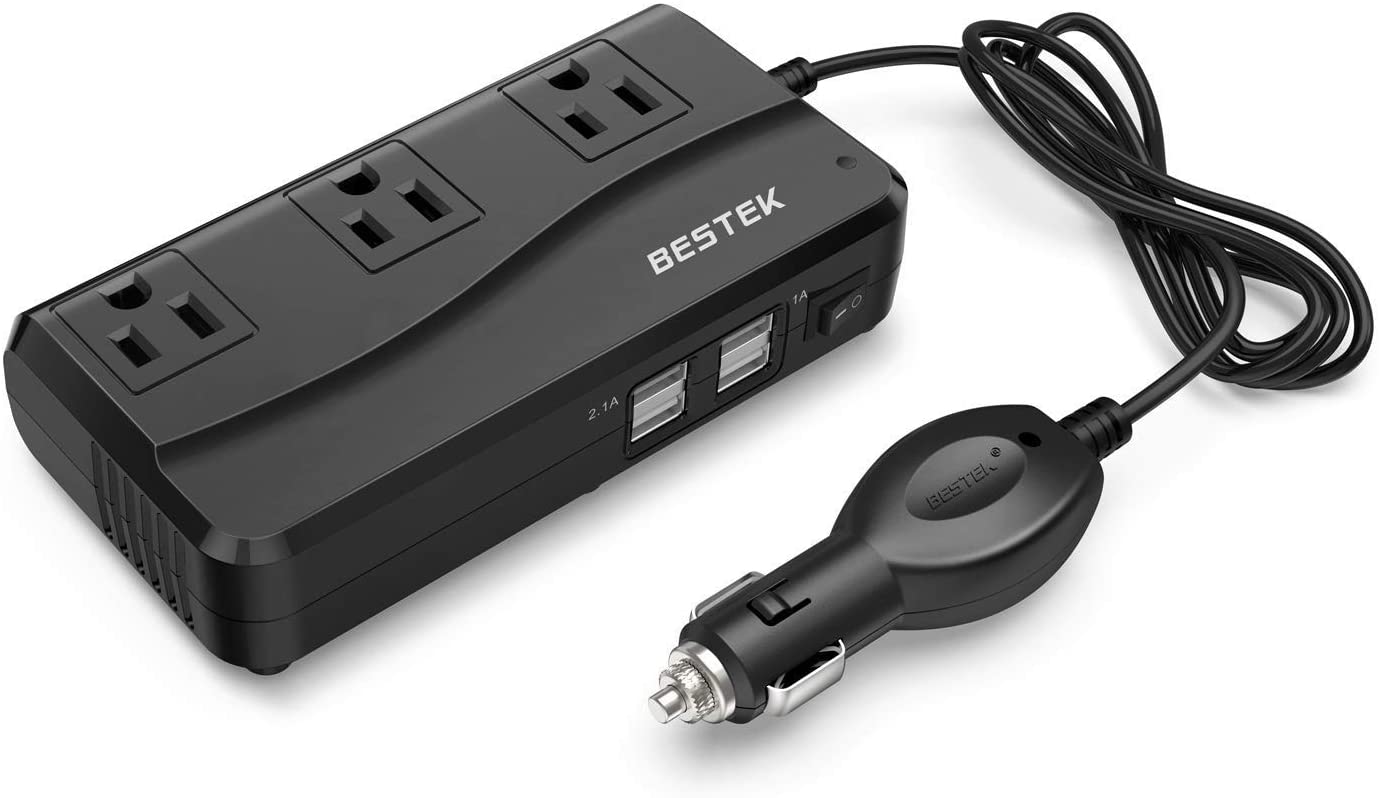 BESTEK 200W Power Inverter is smaller and thinner than the Bestek 300W inverter mentioned above. From the outside, it looks very stylish because it comes in a unique design.
Well, the 200W output power is not too much but it is enough for charging phones and other small devices.
The 12V DC to 110V AC inverter from Bestek has 500W peak power, which is applicable for those appliances that require some extra start-up power.
Using this 200-watt inverter, you will be able to power on up to seven small devices at the same time because it has seven charging outlets: 4 USB ports and 3 110V AC outlets. For a rapid charge, it has 4.2-amp USB ports.
Further, who does not want an ETL product? Luckily, Bestek 200W car inverter is an ETL listed unit that comes with advanced protection capability too. For the overall protection, the Bestek car charger comes with a cooling fan, a built-in fuse and a low battery alarm.
Cigarette lighter connection – the Bestek DC to AC converter features a 2.5-foot cigarette lighter plug. Which is good to connect the inverter with the car battery sitting at the back seat in your car.
The compactness – the slim-design inverter is perfect for both indoor and outdoor uses. You can comfortably use this small charging tool for camping, road traveling, business trips and other emergency power requirements.
Pros
Slim design
Seven output sockets: 3 X AC 110V and 4 X USB ports
Fast charging competence (4.1A USB Ports)
Perfect for charging laptops and cell phones
A handy unit
Perfect for cars, RVs, outdoor uses
Inexpensive
Works as advertised
Very sturdy, made of high quality material
Looks awesome and robust
Cons
Noisy fan but acceptable
It heats a little.
One can see the BESTEK 200-watt inverter has numerous advantages, which indicate that it is a good inverter. The inexpensive power inverter is a handy charging tool that charges devices at a fast speed. Externally, it is sturdy, which will surely last years after years. Read more…
Maxpart 1000W Power Inverter – Truck/RV Modified Sine Wave Inverter, USB Ports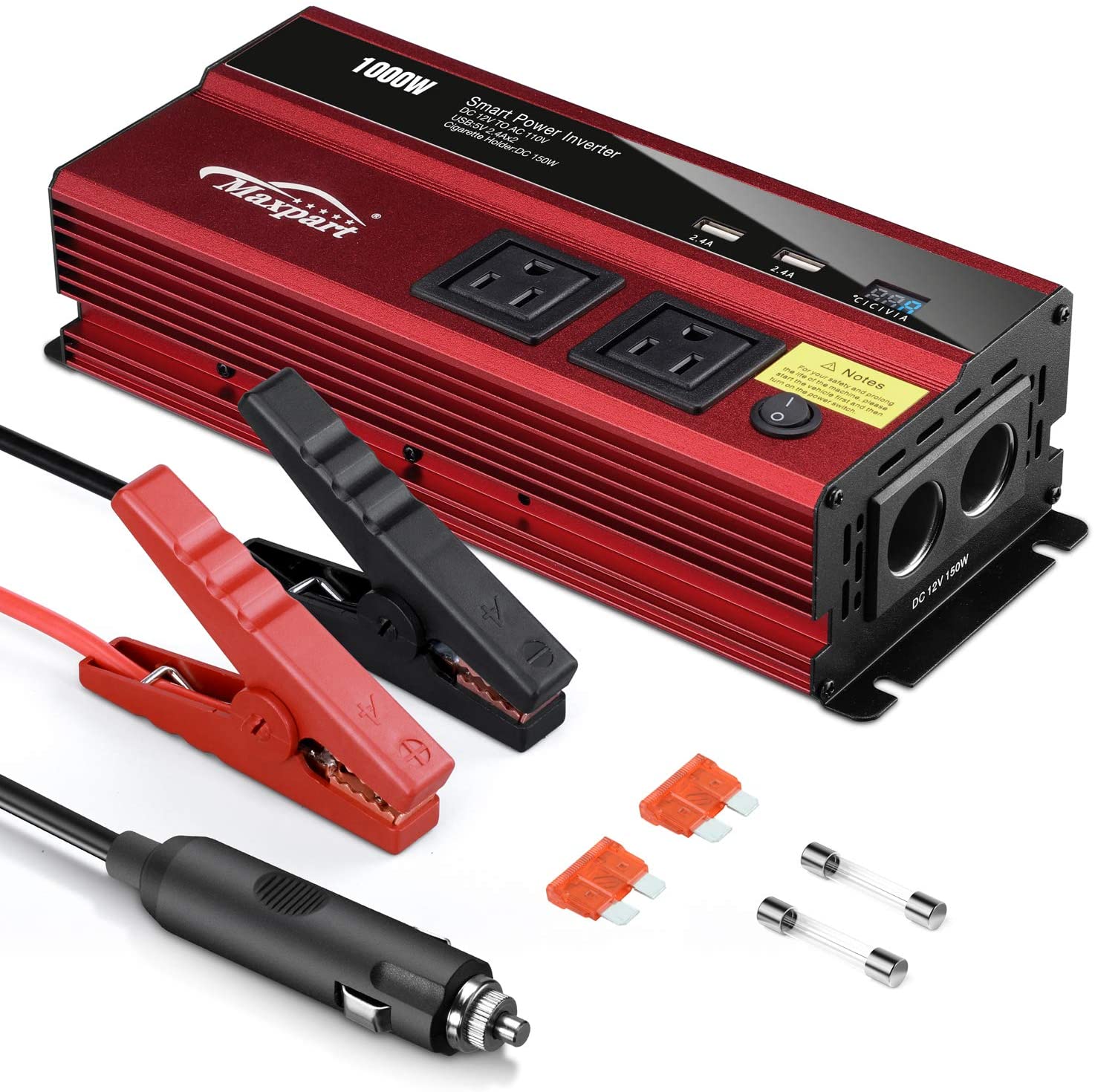 After the BESTEK inverters, Maxpart 1000W power inverter is another high power inverter, which is ideal for large vehicles such as trucks, RVs etc. The inverter delivers modified sine wave power to charge various appliances. You can use this inverter for wide applications because it features dual USB ports and dual 110V AC outlets.
The 1000W inverter features a built-in cooling fan and fuses for the protection. Consequently, you will experience a smooth power supply because of the effective protection capability. The Maxpart inverter greatly takes care of frequent short circuit, overload and over-heating problems.
Indoor & outdoor applications – the Maxpart inverter is perfect for indoor and outdoor applications because you will be able to connect it via the cigarette lighter plug or with the 12V battery directly. Such powerful inverters are perfect for emergency power supply, charging home appliances.
When connected via the cigarette lighter plug, you only get up to 120W power. You can use 120-watt power to charge laptops, mobile phones and other small electronic devices. In case, you need high electricity power, please connect the inverter with the 12-volt battery to charge large appliances.
CE, FCC, ROSH certification – all the power inverters from Maxpart are approved from CE, FCC, ROSH. Therefore, you don't have to worry about anything because you are using a certified inverter. Moreover, the inverter is protected with a 24-month warranty for the peace of mind. In case, you need any technical assistance, you can easily contact the 24-hour customer service as well.
Pros
Perfect for laptops, phones, DIY for small repairs
Runs quieter than expected
Two cigarette lighter ports
Small size
Ideal for vehicle uses such as car, RVs, semi-truck
Uses modern technology
Easy-to-use
Cons
According to some customers, it fails to deliver the full 1000W output power.
You can see the list of pros and cons. To me; it looks awesome. The Maxpart power inverter is good for vehicles. You can comfortably charge phones, laptops and other electronics. This good thing is that the inverter is also good for DIY repairs; you can run small power tools as well. Most importantly, it is certified from CE, FCC and ROSH. Read more…
KRIËGER 1100 Watt 12V Power Inverter Dual 110V AC Outlets, Installation Kit Included, Approved from UL and CSA.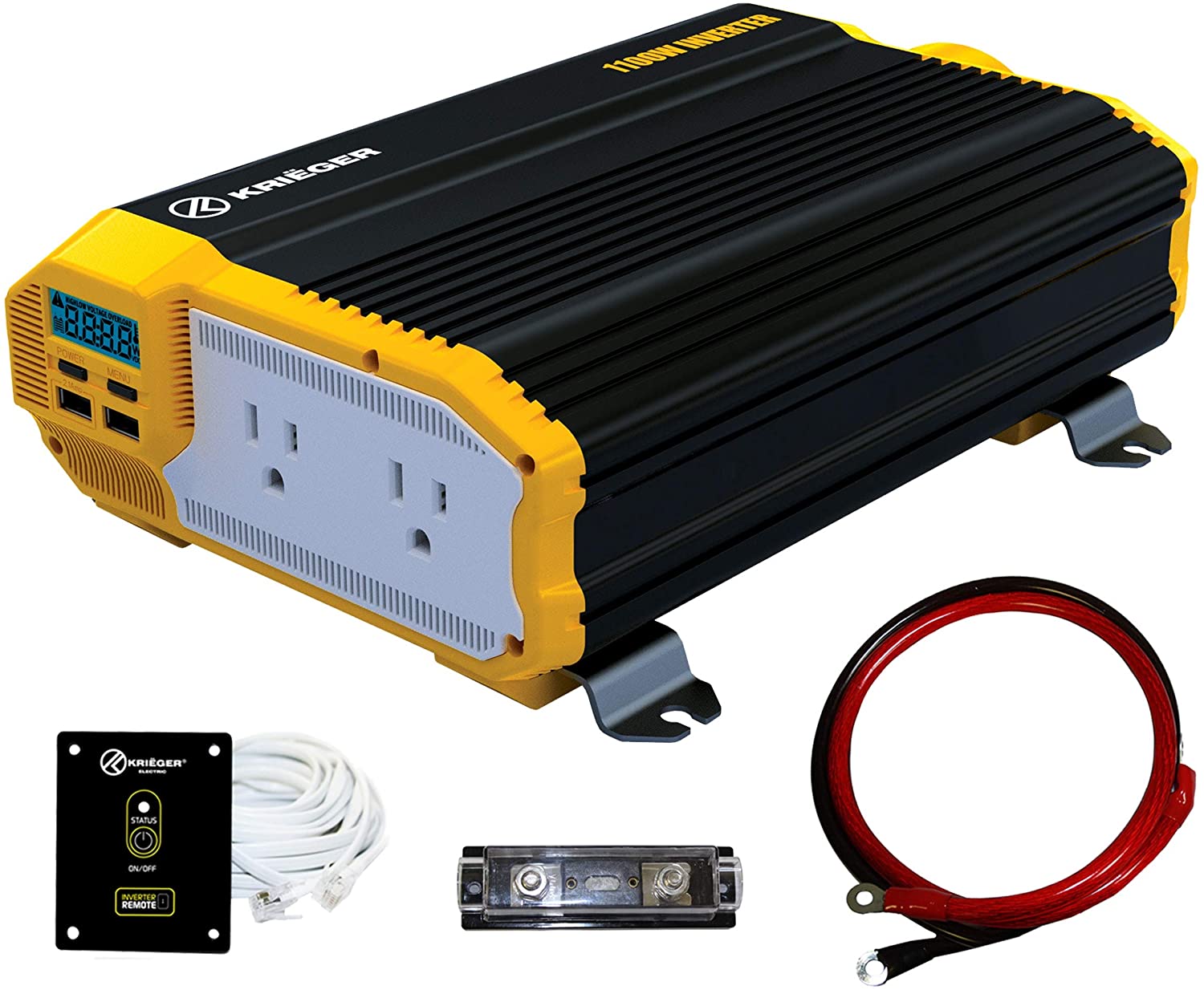 After Bestek and Maxpart, please know about KRIËGER 1100 Watt 12V Power Inverter. Without a doubt, this Maxpart inverter is includable in the top inverters for vehicles. It is highly popular, certified from multiple authorities, and offers the ease of use and it is a perfect tool for power backup.
Although I am writing on the 1100-watt inverter, if you want to buy one with high wattage, you can easily buy. The Maxpart power inverter is available in multiple sizes such as 1100W, 1500W, 2000W, 3000W and 4000W. Of course, you would have to pay according to the wattage you choose.
Capacity: the 1100 watts inverter delivers 2200 watts peak power. What is peak power? Well, to start a heavy appliance, it requires some extra start-up for few seconds. So, you will not get any issues to run a heavy appliance that requires extra power at the start.
Modified Sine Wave: this inverter offers modified sine wave, which is good to run heavy appliances. However, pure sine wave is considered superior to modified sine wave.
Safety first: Krieger brand power inverters are highly safe. They are better than their competitors are.  As a result, the 12V to 110V inverters are protective to overload, current instability and short circuits. The inverter will stop AC power supply when it detects unusual power, short circuit and other similar things.
LCD display: you can clearly read power related information on the LCD panel. It will show you input voltage, output voltage and battery status. Also, the LCD display will show all the protection information.
Certifications: you should not have any questions related to safety and quality of this Krieger inverter because it is approved from METLAB. Which means the inverter has scored high on safety and performance.
Pros
A well-made inverter
Wired remote control as an added bonus
It comes with all accessories.
Good for running small power tools such as skill saws, drills, hair dryers and others.
Cons
The peak power is less than mentioned in the product description.
Modified sine wave is not for all electronics. You will not be able to connect some of the electronic sensitive devices.
On Amazon, I checked reviews written by current users. Based on the reviews, I will say that this modified sine wave inverter is not as good as it should be. The inverter attracted both negative and positive reviews. As a result, I will advise you to research more before you buy this product.
12V DC to 120V AC: the KRIËGER 1100W inverter aptly converts DC power into AC power. Which means from 12V DC battery power, you get 110V AC power to run your devices and appliances. You just need to connect this inverter with your vehicle battery using the battery cables, and you can enjoy charging your laptops, phones, power tools and other electronics. It is very easy to connect. Also, all the connection related information, you will be able to find in the user manual. It is advised to read the manual carefully before you start to use this inverter.
Accessories included: the shipping box contains a wired remote control, 3 feet battery cables and an ANL fuse kit. Which means you have all the required accessories to run this inverter.
Warranty: well, Krieger is very confident in the quality of the product so it offers three-year warranty on parts and labor. In my views, it is huge. You do not have to worry for the performance and anything else because a 3-year warranty is attached to the product. Read more…
POTEK 750W Power Inverter DC 12 V to AC 115V Car Converter with 2A USB Charging Port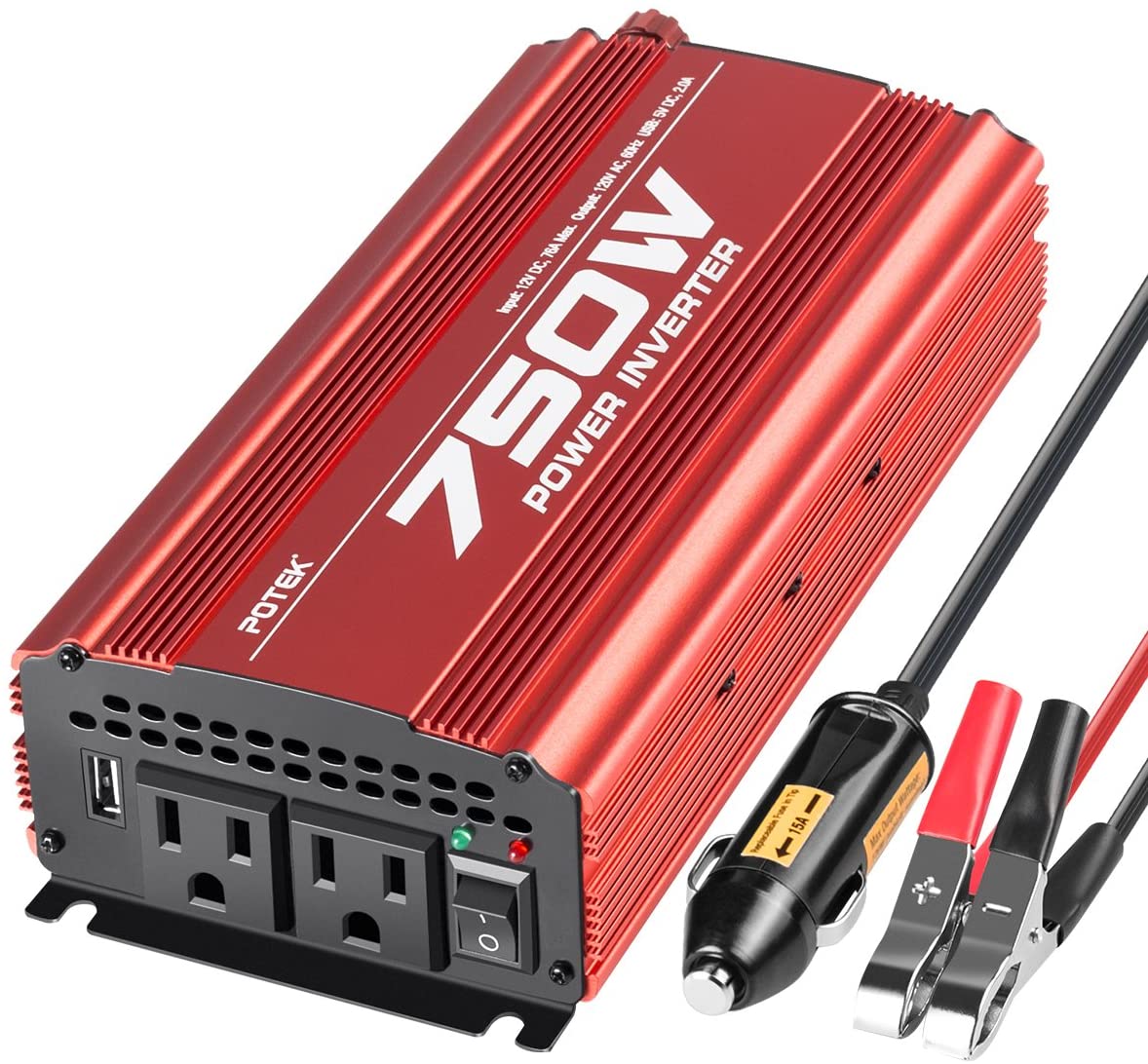 On this page, I wrote on top inverters for vehicles from top brands such as Bestek, Maxpart and many others. Next comes Potek 750W power inverter. The 115V car inverter is also a powerful inverter because it comes from Potek. Some of the prime competences are mentioned below.
750-Watt Power: the Potek vehicle inverter offers 750W output and 1500W continuous power. It is a popular 12VDC to 115VAC inverter because it comes at a low price and removes all the headache of power conversion. Since, it comes included with a cigarette lighter plug and battery clamps, so you will not have to buy them separate for the connection. In short, everything is included with the package to run this inverter.
AC outlets and USB Port: to connect multiple devices at the same time, the POTEK 750W inverter has dual AC outlets and a USB port. So, you can comfortably connect devices such as TVs, mobile phones, tablets, gaming consoles, small power tools and many others.
Highly protective: the car power inverter is protective enough because it has two 40A fuses. These fuses will greatly protect your devices from short circuit, over-current, under-current, overload and many others.
Pros
A good power inverter for vehicles, boats etc.
Silent operation
You can power on TVs, fans with the help of this POTEK inverter.
It features an audible beep, which is a good reminder.
Solid enough
Cons
It is difficult to run an appliance from the cigarette lighter plug.
On too much load, it may get a little hot.
To know the pros and cons of this POTEK power inverter, please read the list of pros and cons. They will help you understand the product very well. I see it is a good quality and good performance power inverter. It comes with everything needed for charging. The solid power inverter is perfect for cars, boats and home use.
Lightweight & portable: well, a lightweight inverter is a good friend of travelers. Keeping this thing in mind, the POTEK inverter is designed in a lightweight and compact profile. Which means, it is ideal for work trips, camping, vacations and other outdoor charging needs.
The package contains: a 12V DC to 110V AC inverter, four spare fuses, a user manual, two battery cables and friendly customer service from POTEK. A user manual is included, so you will not get any issues for the installation and understanding features of this 750W power inverter. In case, you get any problems, the POTEK customer service is always with you. Read more…
Conclusion – Top Inverters for Vehicles
In short, I paid attention to those power inverters, which are good for a vehicle use. As a result, I was able to find five power inverters for vehicles. In case, you want to buy one of them, please research more to be on the safe side. From my side, most of the power inverters are good and they have received impressive reviews and ratings on Amazon, Walmart and other shopping websites.
The DC 12V to AC 110V power inverters are from top brands such as POTEK, KRIEGER, BESTEK and MAXPART. These top brand inverters have multiple connection ports such as AC outlets and USB ports to charge your devices. As a result, you will be able to charge many devices at the same time.
The car power inverters are also protected with longer warranty periods, so you are in a safe hand. However, the warranty varies depending on the inverter you buy. Some are with one-year, while some are with 3-year warranty.
Also, I tried to list those inverters which have low prices. So, you would not have any issues with the price. However, price also depends on the size and brand you choose. Of course, a high wattage inverter from a popular brand may cost more than a low wattage inverter from a less popular brand.