On this page, I will try to write that is centered on the reliable solar inverter reviews. If you have used inverters in past, you would have experienced that getting a reliable performance from an inverter is very difficult. However, some inverters on the market should be considered as reliable inverters. It all depends on research, reviews by existing users and many other things.
This article is all about the reliable solar inverter reviews. These reviews focus on many factors such as brand popularity, existing users' comments, reviews & ratings on Amazon, reasonable prices and so on.
As a result, you will see solar inverters from brands such as WZRELB, Temank and Samlex. Among all these brands, of course WZRELB is very popular. So, I decided to include multiple inverters from this brand.
In short, main motive to write Reliable Solar Inverter Reviews is to show you those inverters, which are reliable, trending and highly rated on various selling platforms.
Reliable Solar Inverters at a Glance
| Image | Product | Our Rating | Buy From |
| --- | --- | --- | --- |
| | WZRELB 2500-Watt Inverter | 4.4 | Amazon.com |
| | Temank 3000W Solar Hybrid Inverter | 4.6 | Amazon.com |
| | WZRELB Reliable 3000W Inverter | 4.2 | Amazon.com |
| | Samlex America Solar EVO-3012 Inverter | 4.9 | Amazon.com |
| | WZRELB 3000W Pure Sine Wave Power Inverter | 4.5 | Amazon.com |
WZRELB 2500-Watt DC to AC Pure Sine Wave Inverter, 24V DC, 120V AC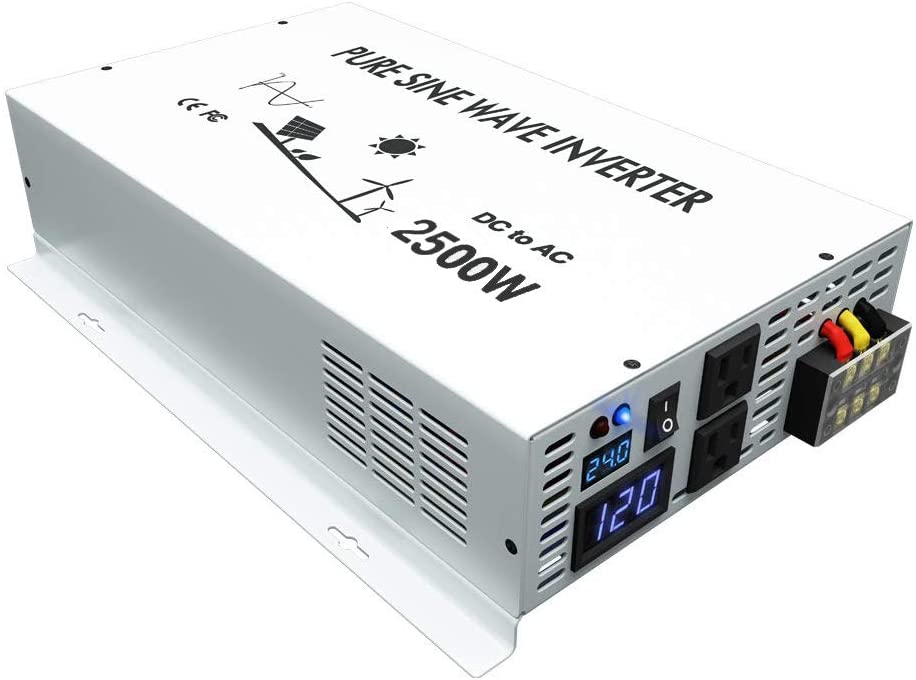 WZRELB pure sine wave inverter is a high capacity DC-AC converter. The off-grid inverter takes 24V battery current and converts into 120V AC usable current. It uses an advanced technology to filter waveform. As a result, the WZRELB inverter is capable to deliver pure sine wave current, which is considered very suitable to charge most devices.
Current supply: you get 120VAC power supply, which comes from a 24-volt battery. That means the inverter safely converts 24V DC current into 120V AC current with 60Hz frequency. For a reliable connection with your desired devices, the 120V inverter has dual outlets. It has a cooling fan that does its work aptly to cool the circuitry area. Moreover, it allows earth connection for both output and the PCB board. Moreover, you can view inverter status on the digital LED display.
Output: the reliable WZRELB inverter delivers 2500-Watt output and 5000-Watt serge output. The 60 Hz power converter is capable to deliver true sine wave current, which is known as clean electricity to run most devices. The high quality output power will surely provide current stability; the current is same as grid power. So, such solar inverters are perfect for power backup that you can use when your home power supply is disrupted due to any causes.
Copper inductance: on the market, various inverter brands do not use copper inductance in their inverters. But, WZRELB is the reliable brand to use high grade copper inductance. Well, an inductor has a good role to handle current safely. As a result, it is helpful to filter the waveform and to ensure pure sine wave current.
Specifications of 2500-Watt Solar Inverter
120V AC output
3-percent AC regulation
60Hz frequency
1.5A no-load current draw
21V-30V DC input range
24V DC input
15A US socket
30.5V over voltage shut down
19.5V to 21.5V low voltage alarm
18.5V to 20.5V low voltage shut down
WZRELB-250024 model
2500W continuous power
5000W peak power
13LB weight
Well, the main purpose of writing Reliable Solar Inverter Reviews is to give you an actual picture of the product. So, I decided to include every aspect of this inverter. You can read the list of specifications that will clarify more. And, it will be very helpful to take the buying decision. From the list of specifications, I can tell that it is a highly protective solar inverter.
2MM PCB thickness: in a solar inverter, the 2mm PCB thickness is very good. It is also a default thickness; most inverters' Printed Circuit Board is of 2MM thickness. In fact, I will say that a PCB is very important part of any electronic equipment. It is very helpful to stabilize current supply. The load capacity will improve.
Perfect for many applications: this is not just a solar inverter. The WZRELB supplies clean power, so it is perfect for heavy vehicles, industrial power requirements, marine uses, solar connection and many others.
Pros
Adequate performance as a solar power inverter
Competitive price
Lightweight and portable
Good for powering up home appliances
Comes well-packaged
Good customer service
Cons
The cooling fan is a little louder than it should be.
User manual is not accurate.
The included cables are not very good; they disrupt power supply.
Top pros and cons are written about this WZRELB solar inverter. The list tells that it is a good inverter. You can buy this high power inverter, which is perfect for your solar system, vehicles, homes and outdoor uses. The 24V to 120V inverter is perfect for charging heavy home appliances. So, you can power up your fridges, microwaves, coffee machines, fans, TVs and so on. The inverter is versatile enough, so I decided to give it a first rank in the reliable solar inverter reviews. Read more…
Temank 3000W Solar Hybrid Inverter 24V DC to 110V-120V AC, Pure Sine Wave Inverter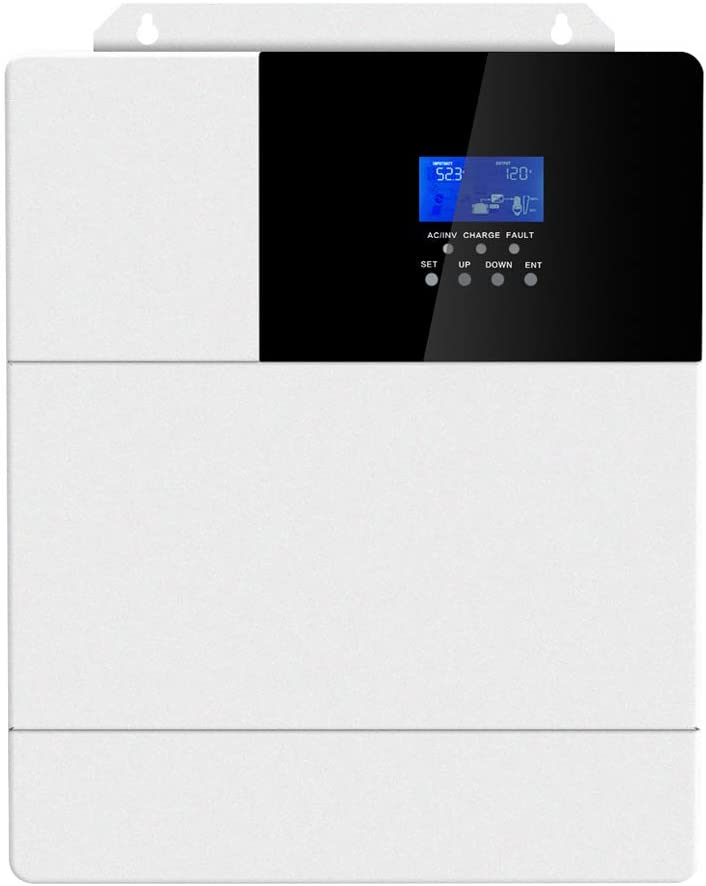 I decided to keep this Temank 3000W inverter at the first position but it is a little costlier than the WZRELB 2500W inverter mentioned above. That is why, you see at the second position in the reliable solar inverter reviews.
To know the prime features and capabilities, please keep reading. The 24V to 120V hybrid inverter is based on MPPT technology, has huge 3000-watt output power and four charging modes. With all these capabilities, the Temank solar hybrid inverter is perfect for many applications.
3000-watt pure sine wave: as you know this is a pure sine wave inverter. You also know that it delivers 3000W output. Also, it is not a 12-volt solar inverter, but it is a 24-volt solar inverter. So, it greatly converts the 24-volt battery current into the 120-volt AC current. The 110/120V AC current is useable current to charge home appliances, power tools, industrial equipment and office equipment. The best of all, it has 60A MPPT charge controller, so the hybrid solar inverter is perfect for most batteries such as AGM, Lithium lead-acid batteries.
LCD display: Just like other inverters, it also features an LCD display. The display panel is very useful because it keeps you alert all the times. You will be able to know the status of the inverter, battery and much more. In fact, the inverter uses an advanced mechanism to show accurate information. As a result, it has 3 LED indicators that notify you about the core uses and system status.
Cooling fan: the inverter has a cooling fan that does the intelligent works with the help of its dynamic speed. Yes, the fan speed keeps changing based on the requirement. Thus, it is good to manage the system heating issues. They solar inverter will last for a long time.
Solar Charging Specifications
35V to 100V DC PV operating voltage range
100V DC max PV open circuit voltage
35V to 95V DC MPPT voltage
0A to 60A PV charging current range
1400-watt max output power
20V to 30V DC battery voltage range
-15° C to 55° C operating temperature range
CE certified
Heat dissipation: forced air cooling
378 x 280 x 103 mm (LxWxD) size
6.8 KG weight
8mm2/8awg PV/AC input wire diameter
Please check the solar charging specifications listed here. In case, you want to buy solar inverter to connect it with your solar panel, the above-mentioned solar charging specs will be very helpful to you.
Multiple charging modes: for a versatile use, the inverter features four charging modes. These optional modes are solar priority, mains, only solar, mains priority and solar hybrid charging. On the other hand, it has two output modes such as inverter and mains.
Advanced technologies: the Temank 24V to 120V solar inverter is based on MPPT technology. Which is a charging technology that has a good 99.9% efficiency. For the output current, it uses SPWM technology that is helpful to deliver pure sine wave current. You can use this clean output to charge not only large appliances but also small devices.
Very protective: the hybrid solar inverter with 3000-watt output gives you complete protection. The inverter is highly protective to short circuit, over/under voltage, overload and reverse polarity.
Pros
Durable and well-built
Perfect for home solar, vehicle solar
Users have tested it on 2000W load; they did not receive any problems.
Works as it is described in the product description
Good performance and good price
A solar inverter system is a great way to save on the electricity bills.
Easy to install
Suitable size for most applications
It is perfect for all appliances: small and large.
This is a pure sine wave inverter, which is preferred over a modified sine wave inverter.
You can run even industrial power tools because the 3000W output is huge.
Cons
Made in China, though a quality inverter
Pros and cons of a product tell the hidden truth of the product because they are mostly written in a list style format. A list style writing is easy to understand and it does not take much time to read them. So, I prefer to write pros and cons of product. Let us discuss some of the main pros and cons of this 3000-watt solar hybrid inverter. This solar inverter is good for home and vehicle use. It can run several home appliances at the same time. The price is a little high but seeing too many pros, it is not too high. I will say competitive price though. Read more…
WZRELB Reliable 3000W 24V DC Solar Power Inverter, Pure Sine Wave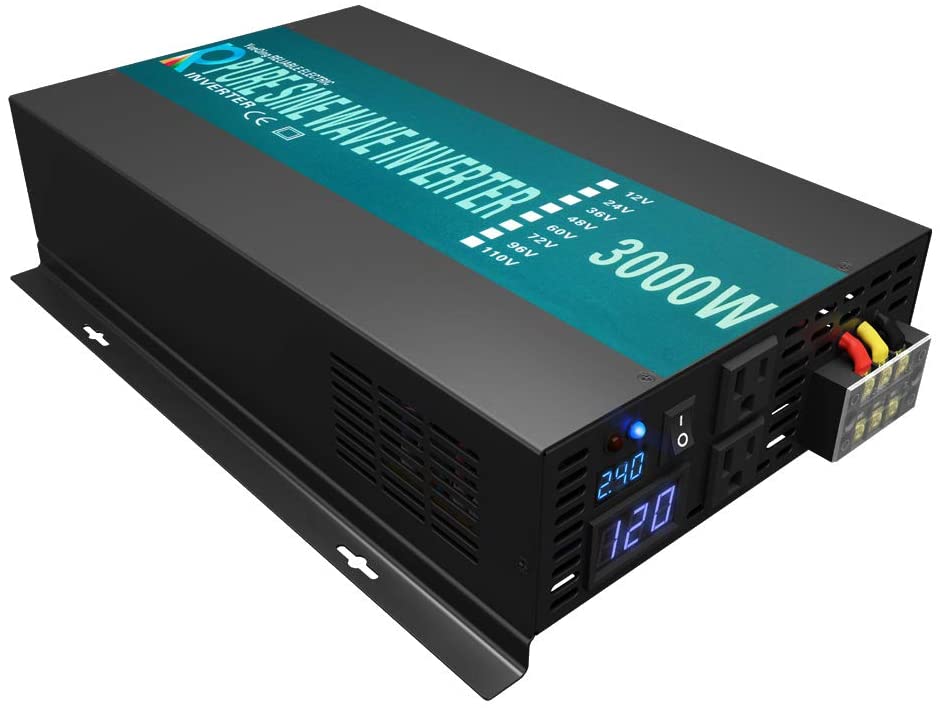 At the first position of Reliable Solar Inverter Reviews, I have written on WZRELB 2500W solar inverter. Now please read on this WZRELB 3000W solar power inverter. This is also a 24V DC inverter just like the previous one.
Well, I have written on many WZRELB power inverters before and plan to write more. What I noticed is they have a wide range of inverters in many sizes. So, if you do not need this 3000-watt inverter, you can easily find a low-wattage power inverter from WZRELB. One thing more, most of the WZRELB solar power inverters are reliable, protective and affordable.
Wattage: the inverter delivers 3000-watt output regular current and 6000-watt peak power. Also, you get pure sine wave current, which is clean current to power up any appliance or device you want. Such high capacity inverters are perfect for homes, vehicles, solar panels, boats, industrial uses, DIY and many others. Most importantly, the output current quality is very good for electronic sensitive devices.
Highly Protective: WZRELB uses multi-protect technology, which protects not only you but also your devices and the solar inverter itself. So, your devices and the inverter are highly safe from the common electronic faults. As a result, the inverter is protective against over voltage, low voltage, over load, high temperature.
LED display: to monitor your inverter, you can status on the LED display. It shows DC & AC current, system status and many others.
Integrated soft start: the soft start capability is very important in any inverter because it gives a long life to the inverter. It lets the AC voltage go smoothly. So, it highly reduces the quick impact of surge current to keep the appliance safe.
Pros
Easily and flawlessly starts AC appliances
Easy access to fuses
The fan noise is not too loud.
Delivers good output power as mentioned in the product description
Pure sine wave power
Many say that it works as expected.
Sturdy and powerful
It supplies enough power to run appliances in a home.
In some conditions, it may fulfill the need of a generator.
Easy to install
Good customer support from the manufacturer
Cons
The inverter received complaints regarding the fuse blown on load.
To some customers a different model was sent.
The WZRELB solar inverter is easy to setup and it is good to start appliances without any fears because it comes with the soft-start capability. People do not complain about its output capacity, which means it delivers the power as claimed. Read more…
Samlex America Solar EVO-3012 Evolution Series Inverter/Charger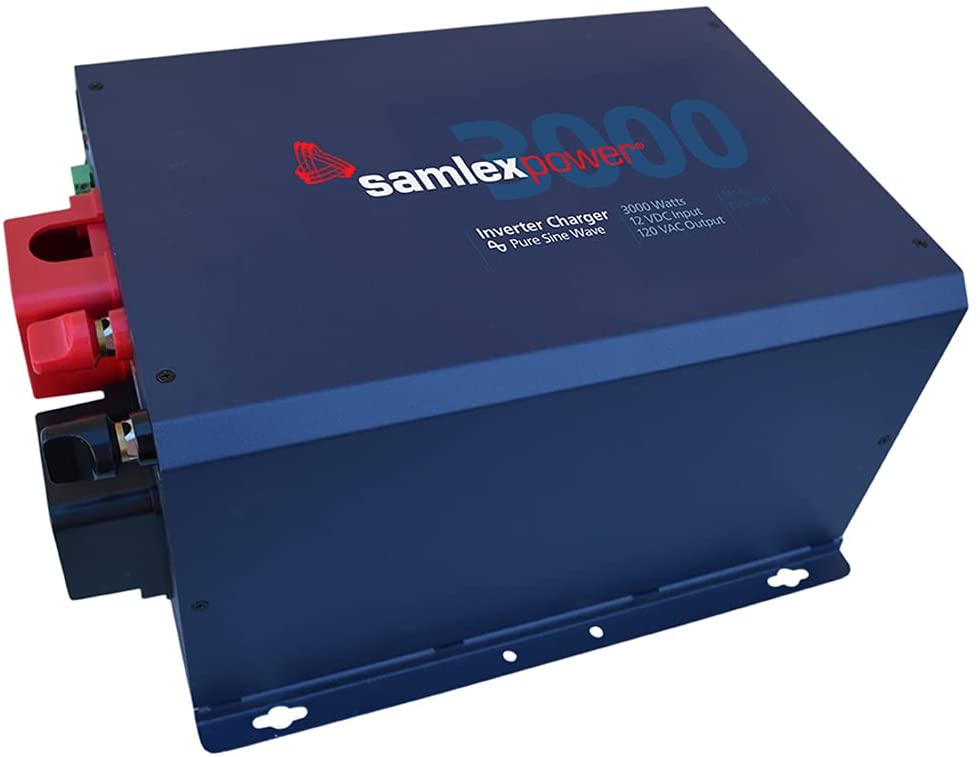 In case, you are not convinced with the inverters in this article, please check Samlex America EVO-3012. It is the best of all. The Samlex America inverter has huge 3000-watt capacity, which is good for homes, offices, RVs, solar and may be other applications as well. So, I gave it a place in the reliable solar inverter reviews.
The evolution series solar inverter delivers pure sine wave output. So, it is capable to deliver clean power to charge any devices and appliances under 3000 watts.
Well, according to Samlex America, the high performance inverter uses advanced technology. Thanks to the innovative technology to make it more protective than others on the market. As per the product description, it is very good at the physical protection because it is scanned thousands of times to find faults to make it very protective. Plus, for an added layer of safety, the solar inverter uses five sensors for running the cooling fans.
Experience the evolution: the 3000W solar inverter is strong that comes at a low price. Without a doubt, you can rely on the inverter that not only protects your devices, but also offers a host of benefits.
Country of origin: the brand name is Samlex America, so it does not mean that the product is made in America. I researched on this and I found that this product is made in Taiwan. However, regardless the country of origin, the Evolution Series solar inverter is robust. It did not receive any complaints related to the performance from its users.
Pros
Separate remote control
A solid solar inverter without a doubt
Impressive customer service from Samlex
Good performance and good quality
You can run high btu AC without a problem
Fast shipping
Detailed owner manual
Easy installation
Cons
To sum up based on the pros and cons, the Samlex solar inverter looks promising from all aspects. It is easy to install, has high output power to charge multiple appliance in homes, RVs, boats and many others. Most importantly, the product has received impressive reviews and ratings on Amazon. Read more…
WZRELB 3000W Pure Sine Wave Power Inverter DC 48V to 110V 120V AC Car Inverter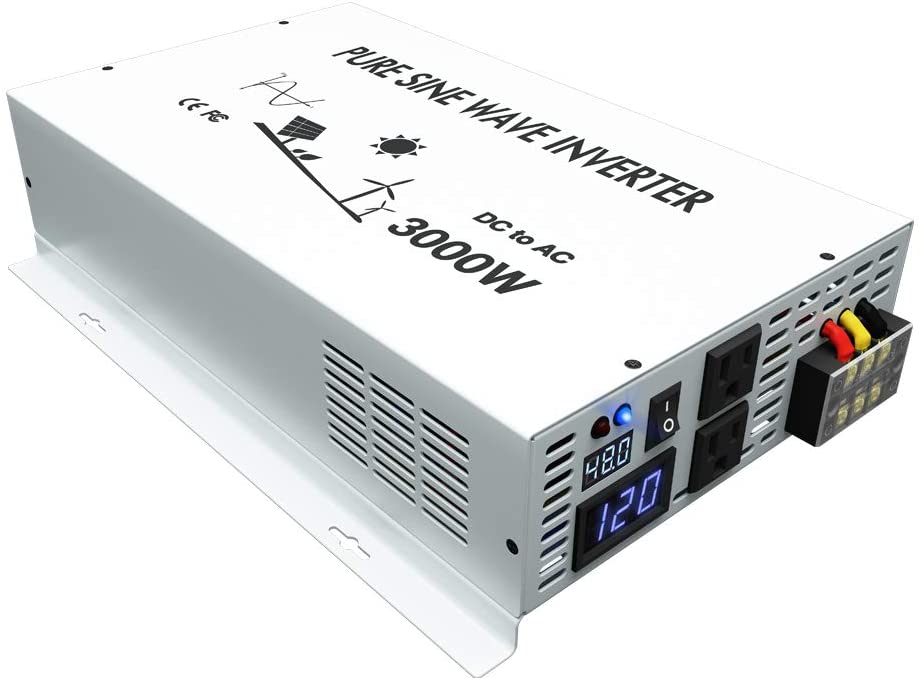 I have already suggested solar inverters from WZRELB brand. Now this is also from the popular WZRELB inverter brand. To differentiate, I decided to write on 48V DC power inverter from this WZRELB brand. To know prime characteristic of this 3000-watt solar inverter, please keep reading.
Safety first: the WZRELB 48V DC to 110V AC inverter is highly protective because it adopts multi-protect mechanism. In fact, the manufacturer claims that the lightweight inverter uses seven types of protection. Which means, it greatly protects from common faults such as high voltage, overload, reverse connection, short circuit. To deal with all these faults, the solar inverter has a built-in fuse.
LED display: to know the system status, please keep an eye on the LED display of this inverter. You will be able to see AC and DC voltage and other operational information.
Charge multiple devices on the go: in case, you are away from home and you need a quick power solution, the WZRELB inverter is for you. It is very helpful to charge your personal electronics such as laptops, mobile phones, TVs and many others. I will say that it is perfect for not only homes and offices, but also RVs, boats and other outdoor activities.
Specifications of WZRELB 3000W Solar Inverter
Low voltage shut down: 41V to 43V
43V to 45V low voltage alarm
61V over voltage shut down
15A USA-type socket
60Hz frequency
3% AC regulation
120V AC output
1.5A no-load current draw
42V-60V DC input range
48V DC input
The list of product specifications will be helpful to understand the product very deeply. The 48V to 120V 3000W solar inverter by WZRELB looks good from the specifications list. In case, you have a question related to specifications, features or anything else, please try to check on Amazon. I am sure your questions will get answers.
Pros
48V input voltage seems highest compared to inverters available on the market
Pure sine wave inverter provides clean power that is safe to use with all devices and appliances.
Lightweight and portable
Shipped in a good packet
3000W is huge to run most of the home appliances
Competitive price
Popular WZRELB brand
Cons
Hardwire block should be improved.
The 48-volt to 120V WZRELB inverter is a lightweight and portable inverter that comes at a low price. It outputs pure sine wave 3000W current, which is perfect to power up most home and kitchen appliances. Read more…
Conclusion – Reliable Solar Inverter Reviews
At the end, I will say that I tried finding those solar power inverters, which are trending and are from top brands. However, some solar inverters are from less popular brands but they are highly rated on most of the selling platforms.
If I choose one from the five solar inverters above, I will choose the Samlex solar inverter. Well, the Samlex brand is not as popular as WZRELB but the Samlex solar inverter is better than the WZRELB inverters.
On this page, all the solar inverters require 24V input power except one. The Samlex solar inverter requires 48V input power but it is better than all four inverters reviewed on this page. At the same time, this Samlex inverter is a little more pricy than other inverters. Also, all these inverters deliver 110V/120V AC current, which can be used to power up heavy appliances in homes, offices and vehicles. That is all in the reliable solar inverter reviews. For other types of inverters, please use the search box to find your desired power inverters.