For RV, boat and home use, Cobra 2500W portable power inverter can be the best unit. It comes with many advantages, which make it a buyable inverter for RV and home use. You get clean electricity to power entertainment devices from this Cobra inverter. It not only delivers clean power, but also comes with various connectivity options, advanced LED indicator, portability and ease-of-use.
The reliable Cobra CPI2500W inverter is protective because it comes with built-in pentagon protection capability. It is very protective against reverse polarity, voltage abnormality and various electrical faults.
LED Indicator – according to Cobra, the unit features an LED indicator (seven-color), which notifies you about the inverter's status. It mainly indicates battery's voltage, power consumption wattage etc.
Portability – the medium-size inverter is good to install on your desired places. After the successful installation, it will start supplying electricity to the connected appliances. Such powerful inverters are perfect for appliances used in kitchens, camping, travelling and anywhere else.
Multiple purposes – this Cobra 2500-watt inverter is perfect for various usages. Since, it features four output sockets, so it is perfect for connecting various 110V appliances. Thus, it becomes the best inverter for office equipment, home appliance, industrial tools and kitchen appliances.
USB ports – it features two USB ports which have fast-charging capability. Using the USB connections, you can charge various gadgets such as mobile phones and other USB based devices.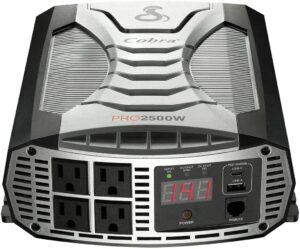 FAQs of Cobra 2500W Inverter
Q: will the car battery discharge, if connected with the inverter?
A: yes, if you use it without running the car engine.
Q: how will I connect this inverter with the car battery?
A: you need to connect it via hard wired to the battery. Please know that lighter outlet in the vehicle is only for low consumption, less than 150W. Since, this is a 2500-watt inverter; you need to connect via a hard wire.
Q: is it a pure sine wave inverter?
A: no, Cobra CPI2500W is a modified sine wave inverter.
Q: after the connection, the display shows LUP, what is it?
A: LUP is an error code, which is shown on the digital LED. It shows when the input voltage is lower than required.
Q: will it take more than 200Amp from the battery to deliver 2500W output power?
A: yes, if you need the full 2500W output, the inverter has to draw 220Amp from the connected battery.
Q: how do I charge my USB devices?
A: the Cobra 2500W inverter comes with dual USB ports, which can be used to charge the USB based devices.
Some general questions related to Cobra 2500W inverter have been answered. These questions are related to connectivity, output capacity, device compatibility etc. It is advised to refer to the list of FAQs, which may answer some of your questions.
Users' Thoughts on CPI2500W Inverter
One – disappointedly, an Amazon customer write in his review that he is sending the Cobra 2500W inverter back. He says that it is not worth the money.
Two – this customer says that the inverter works as advertised. However, he is not happy with the support team. He says that the customer support is non-responsive.
Three – according this Amazon customer, this is a great inverter. It is working fine for him.
Four – the user says that he installed the inverter in a Tesla. It worked for powering his electric stove, refrigerator in camping. Further, he says that a big battery doesn't die.
Pros
Perfect for camping, RV, homes
Durable
Dual USB ports and 4 110V AC outlets
Great protection mechanism
90% efficiency
Two cooling fans
On/off remote control
LED display (7-color)
Cons
Poor customer service
Installation is a little complicated.
According to the pros and cons, the Cobra 2500W inverter looks an average performance inverter. Additionally, the inverter has received mixed reviews on various selling platforms. Personally, I don't like it a lot. For buyers, it depends on many factors such as price, fitting, usages, electricity quality. I will advise that please research more on this inverter before you take your buying decision.
Conclusion
In short, I will not recommend buying this Cobra 2500W portable power inverter because it has received mixed reviews. The inverter has both happy and unhappy users. It puts me in a difficult situation to decide whether it is recommendable or not. I would request all of you to read reviews posted by customers on Amazon. Further, I found that Cobra's customer service is not responsive that raises one more question. Some customers on Amazon have returned the inverter. On the other hand, some users are happy. That's why, I say the inverter has received mixed reviews. Rest depends on you.