In fact, Soyond is not as popular as Bestek, Potek or AIMS inverter brands but it makes impressive power inverters. If you require a small-size inverter, Soyond 150W Car Power Inverter can be an appropriate alternative. This 110V inverter can be the best power backup tool to charge numerous small devices. The Soyond 150W inverter can charge devices like mobile phones, laptops, TVs, media players and small devices. For charging devices, it features two USB ports and an AC socket.
The 150W inverter is portable and solid in a robust metal body, which becomes much protective against unusual accidents, drops and physical influences. It also comes with a noiseless fan, which greatly fights with heats to get rid of any chances of electrical faults.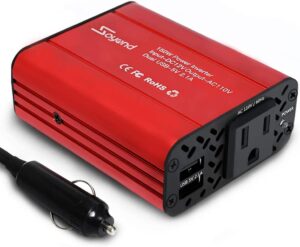 The Protective Elements
Undoubtedly, it is safeguarded with multiple protective things. The components that protect the power inverter are a built-in fuse, a protective design and the stable current mechanism. Most importantly, the inner design is very defensive against many causes such as short-circuiting, overheating, over-voltage, under-voltage, overloads etc.
With such super protective inverter, the connected devices are always safe. The inverter will stop working if it detects any abnormal things. Since, your devices such as laptop, iPods, and mobile phones are more expensive than this inverter, so protecting them from any electronic faults is very important. Keeping this thing in mind, the Soyond inverter has been made.
Features at Glance
USB ports & AC outlets — the inverter has 2 x USB charging ports, which can quickly detect compatible devices. As soon as the device is detected, it will start charging rapidly. You can connect compatible devices with the AC outlets also.
Super portable — Soyond 150W power inverter is very small that measures just 4.2 x 2.8 x 1.3 inches. The small inverter is very handy to store anywhere you want. Of course, it is a low-weight unit that weighs approx. 8 oz.
Aluminum exterior — the inverter body is made of fine-quality aluminum metal for a greater level of protection from the outer touches, bumps and unusual handling.
Robust Cigarette Lighter Socket — it supports approx. 5000 times plug and unplug uses. The rapid charging socket comes with a 32" cable for a flexible use.
Considering all the features, the Soyond 150W car power inverter can be your best friend, especially when you travel. With this compact inverter, outdoor activities such as traveling by road, camping, and business travel become stress-free. In fact, you not only enjoy the outside world with this power inverter, but also enjoy being at home by running home based electronic equipment.
Users' Thoughts
Based on reviews on Amazon, Soyond car inverter delivers smooth performance for charging laptops and electronic devices during camping. It has many uses such as blowing up air mattress, powering on festive lights etc. According to many users at Amazon, the small-size inverter does the big job by simplifying their day-to-day life.
As a precaution, please avoid too much load, otherwise it may blow a car fuse because a car fuse is of only 10 Amps.
Pros
Portable & lightweight
USB & AC outlets
Great for camping
Robust exterior
120V outlet equivalently
Small size
Low price
Too many happy customers
No heating problems
Cons
It is not good for heavy load.
Soyond is not a famous brand name.
Well, any product can be gauged by knowing just pros and cons. Therefore, the list of pros and cons is very useful to know the product briefly. In case, one doesn't have too much time to read the complete product description, they can scan the pros & cons section as well.
Based on the pros and cons, Soyond 150W inverter is a performance house that solves too many problems related to charging household & mobile devices. It comes with both USB ports and AC outlets, which can be used to power on small as well as medium-size devices. Consequently, you can charge laptops, iPads, small home based devices, outdoor electronic gadgets and much more.