For a smooth current flow, one needs professional grade inverter cables. Considering this requirement, I selected this Power Bright inverter cable, which does its job perfectly. This cable is recommended to use with your Power Bright inverters. However, you can use this inverter cable with other brand inverters as long as it matches the wattage requirement.
The PowerBright 2AWG inverter cable is 12 feet long, which is perfect for 2000-watt to 2500-watt amperage. Which means, if your inverter comes in this wattage range, you can undoubtedly use this 2000-2500 watt inverter cable for a stable current flow.
Since, this 2AWG inverter cable is manufactured by the leading Power Bright brand, so no doubt arises regarding its performance, flexibility and safety. The inverter cable has an impressive temperature resistant capability of up to 105°C and it is chemical-resistant.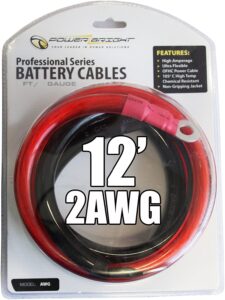 Premium Grade Inverter Battery Cable
Qualitatively, the 2500W cable is very impressive. Both ends of this cable are very useful; one end comes with large ring, and other end is substantially small to fit most posts. According to a customer on Amazon, she had to drill 5/16 hole for her desired ring size because it is tough to find ends in a local store.
Undoubtedly, the ending points, wire insertion depth and insulation shrink tube are with good quality. However, according to many reviewers on Amazon, this Power Bright inverter cable should be more rugged because it is a 2AWG wire. Even so, it works as per their expectation. To give it a long-lasting age, you need to be careful and have to save it from any sort of obstacles. For flexibility, the inverter cable claims a good score.
Features in a Nutshell
12 feet red and black wire
Connectors at the ending points
2AWG gauge
Premium quality copper wire
2000 to 2500 watts capacity
105°C high temperature support
Resistant to all sort of chemicals
The highlights of Power Bright inverter cable have been posted above. Scanning the list of features will surely give an overview of this product. This is a 2AWG battery inverter cable, which works with a 12V battery. The 12-foot length is sufficient for a flexible connection.
Pros
Premium quality
Flexible
Durable
12 feet length
Fine grade copper wire
Good for 150A alternator too
Cons
According to a customer, it should be more rugged!
Considering advantages and disadvantages of this Power Bright 2AWG inverter cable, it can be the best buy. This cable is good for flexible uses. It is also a long-lasting battery cable, which will undoubtedly last years after years. It has high-quality copper wire to provide stable amperage. The 12 feet length of each red and black cables is also good to provide good amount of flexibility.