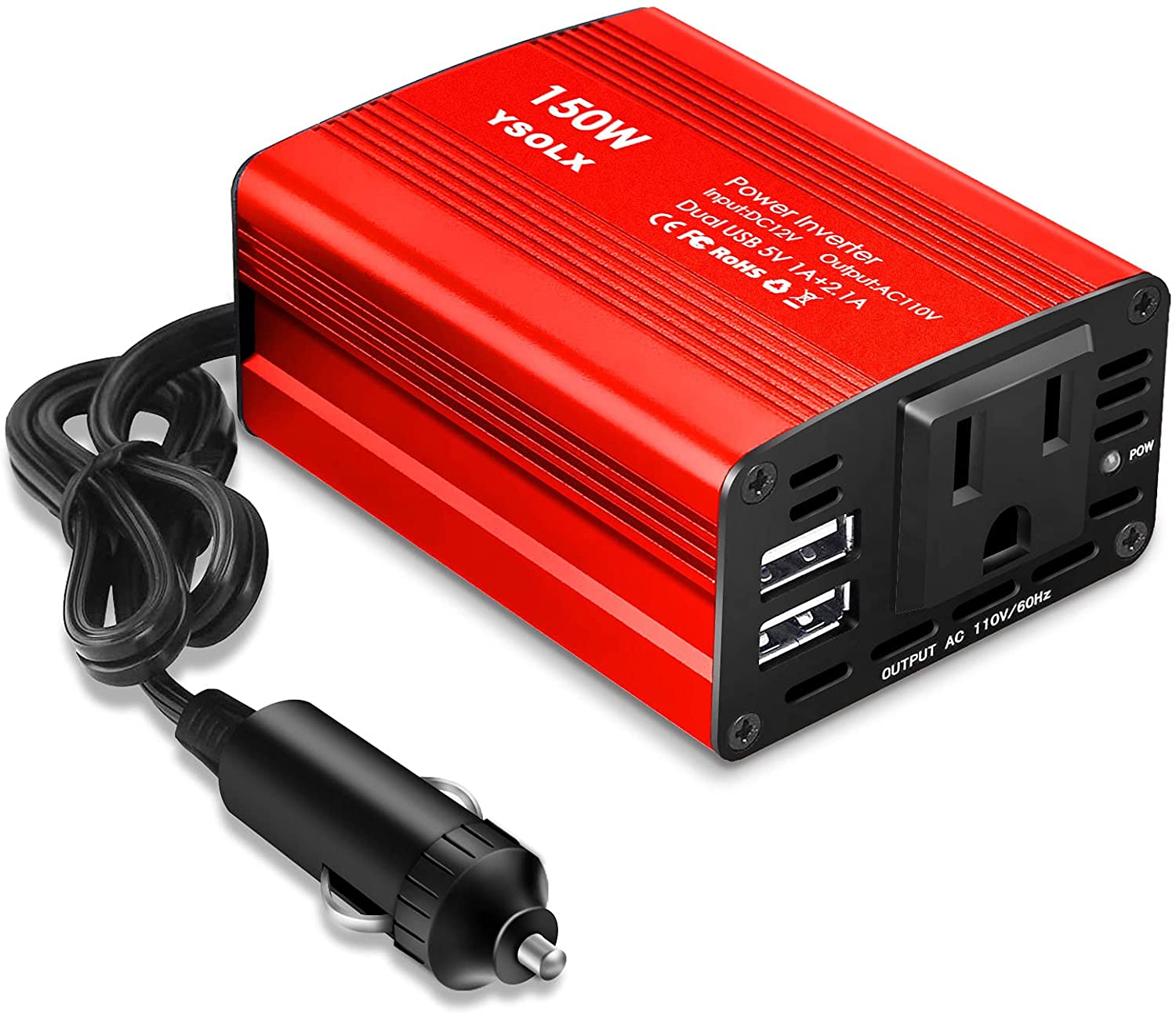 BuyWhat looks like a new inverter brand. Well, there are many good reasons of buying a new brand product. First, all popular brands were new at a point of time; they did not get popularity at once. The possibility of quality and performance is like 50-50. It may be that the product is good or bad. The product price is in your control because you see the price if it seems good to you, you can go with it.
BuyWhat BW-150 150W Car Power Inverter is a DC to AC power inverter. It converts 12V DC battery power to 110V AC power. You can use the AC 110V power to run your appliances. I know that 150W inverter is a low-capacity inverter because with the 150W power, you are unable to run large appliances such as fridges, microwaves and other home/kitchen appliances. However, you can easily run small devices such as laptops, cell phones, cameras and others.
The size of this BuyWhat 150W power inverter is impressive because it measures 3.2 x 2.48 x 1.45 inches and it weighs 8-oz.
The BuyWhat 12V power inverter comes included with the utility cord and cigarette lighter plug. Yes, it has approx. 16-inch cigarette lighter plug with cable so you can easily operate this power inverter sitting anywhere in your car, even at the rear seat. You can find LED indicator on this 150W power inverter that indicates operational status; green means operation and red means fail.
12V to 110V BuyWhat power inverter features a silent cooling fan. The manufacturer calls it small cooling fan. According to the manufacturer, the smart cooling fan runs silently. Usually, the cooling fan runs when it detects certain level of load and temperature.
The BuyWhat 150 watts power converter is highly safe to use because multiple protection features are there. Of course, it will fully protect the connected devices, battery and the inverter itself. It will provide protection against over-load, over-temperature, over-charge, low-voltage, short circuits because it has built-in fuse.
According to the BuyWhat inverter brand, the inverter buyers can enjoy the ultimate versatility that is offered by this 150W power inverter. You can use the small-size power inverter for camping, vacations, outdoor power requirements, remote job sites and powering certain household electronics. The 12V power inverter has dual USB ports so you will be able to charge two devices at the same time. Such lightweight and portable power inverters are perfect for travel emergency kit, power-hungry items, road-trips and other mobile power requirements.
The BuyWhat 110V power inverter has durable metal case so it is highly protective to drops and bumps. On the other hand, the integrated cooling fan is also a safety component because it helps reduce inverter heat and prevents short circuit.
The purchase of the BuyWhat 150W inverter includes 18-month warranty, user manual and customer service.
Features & Specifications
Dual USB charging ports
150W rated power
18-month warranty
12V DC to 110V AC power converter
Durable metal housing
Short circuit and overload protection
Built-in fuses
Item dimensions: 3.2 x 2.5 x 1.5 inches
Weight: 8 oz
Portable and lightweight power inverter
AC outlets
110V AC output
LED indicator
Silent cooling fan
Cigarette lighter plug
BuyWhat manufacturer
BW-150 model
Red color
Pros
Stable and reliable performance
Runs cooler and quieter than expected
For many, it is worth the price.
Highly recommended
A great car inverter
A handy inverter, portable and easy to use
Lightweight
Cons
Not enough power, just up to 150W