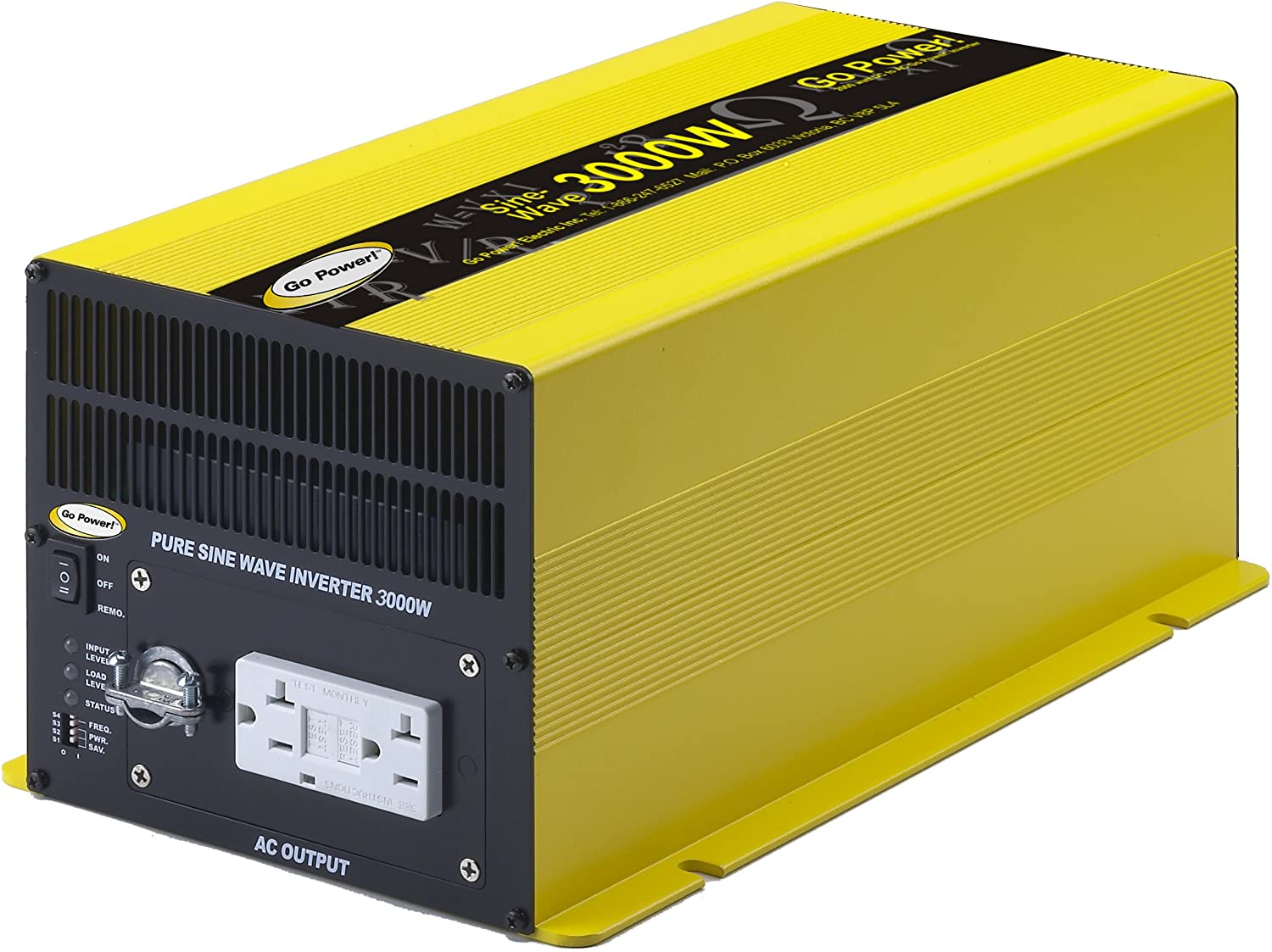 Here, Go Power means go with power. Yes, you can see the GoPower brand inverter that is highly popular, highly rated and highly protective to use. The 3000W Go Power inverter delivers 6000W surge power. It delivers pure sine wave output. Using the pure sine wave output, you will be able to run any appliance you want because pure sine wave is accepted everywhere.
The main task of this GoPower 3000W inverter is to convert 12V DC battery power to 110V AC power. Therefore, if you have a battery and you want to convert its DC power to run your 110V AC appliances, the Go Power inverter is perfect for you.
I will say that it is a little larger than normal because it is a 3000W power inverter. However, many people like to use a large-capacity inverter because they need to run their home appliances, industrial tools, office appliances or they want to store emergency power to use in emergencies like hurricane, storms etc.
It has 6000W surge power so it is perfect for RVs, boats, trucks, cars and many other applications. The Go Power inverter has 3000W continuous power so it features two GFCI outlets. With the GFCI highly protected outlets, you will not have any issues running your appliances. GFCI outlets are reliable, protective for serious power supply. The Go Power 3000W inverter comes with best protection features so it is capable to handle over voltage, under voltage, over load and other electrical issues. For the peace of mind, the powerful inverter is protected with two years of warranty so you do not have to worry. Also, please know that this is not the typical Chines product because this inverter is made in Taiwan.
Additionally, the Go Power brand is a dependable and trusted brand. Buying a Go Power inverter means buying Go Power's specialized knowledge because Go Power is involved in manufacturing power inverters, controllers, power accessories, solar chargers and it provides dependable mobile power solutions. According to the manufacturer, their products are easy to install, easy to operate and they can work in any tough environments.
Features & Specifications
Go Power trusted brand
Made in Taiwan
‎GP-ISW3000-12 model number
3000W continuous and 6000W peak power
Two GFCI outlets
Highly protective against over-voltage, over-heat, over-load, and short circuits and other electrical faults
2 years warranty
Pros
For many users, it worked like a charm
Fairly easy to install
Handles full load (3000W)
Go Power is a trusted inverter brand
The cooling fan runs conditionally
Perfect for vehicles, solar panels and emergency power
Excellent quality inverter
Remote control capability
Cons
Some accessories are not included