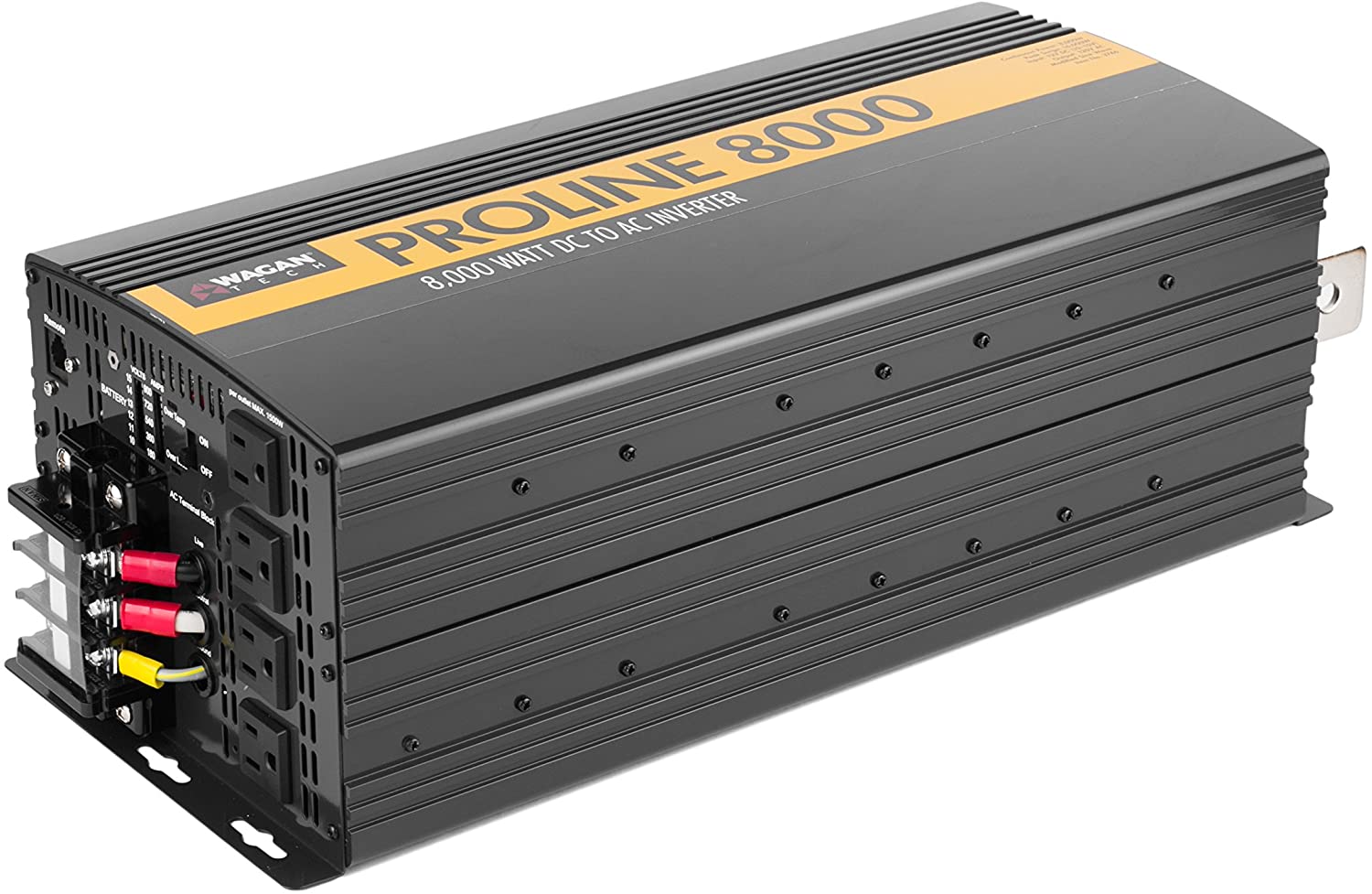 If you are looking to buy a high capacity power inverter, you can check Wagan EL746. The Wagan power inverter delivers 8000W continuous and 160000W surge power. It is a great 12V power inverter, which is perfect for RVs, off grid and other places. You can use it where you require up to 8000W portable power.
According to the manufacturer claims, the Wagan EL3746 12V power inverter is 54% smaller and 52% lighter than the previous models. Which means a great improvement has been done in this new model. The new model of this Wagan power inverter is based on SMT. Well, SMT that stands for Surface Mount Technology is a circuit board technology to offer high-level of reliability, better efficiency and fewer stray RF emissions. Therefore, you can see that this new circuit board is much better than the previous PCB and through-hole boards.
Well, safety related things are done very well by this Wagan 8000W power inverter. In fact, the power inverter has built-in safety features that work to protect from over-heat, over-load, low-voltage, short-circuits, reverse polarity and many others.
The Wagan 12V power inverter has wide applications because it features four AC outlets and high output AC terminal block, remote switch. With all these features and four AC outlets, you will be able to point multiple appliances to this power inverter. For the peace of mind, the Wagan 12V power inverter is also protected with 24-month warranty.
Features & Specifications
8000W continuous and 16000W peak power
4 x 110V AC outlets
SMT circuit board
Improved model compared to the previous Wagan 8000W inverter
24-month warranty
Built-in safety features
Highly protective to electrical faults, over-heating and over-load
Comes included with Wagan 8000W inverter, terminal cable, mounting hardware, user manual and wired remote switch
Wagan brand
EL3746 model number
Auto-restart feature
True ground
Thermal cooling fan
High output terminals
Remote power switch
The Wagan 8000W power inverter is perfect for the off grid usages. It is designed under Wagan's ProLine series. Therefore, the popular power inverter comes at a competitive price. The Wagan DC to AC power inverter is based on the latest SMT technology that delivers reliable and smooth output power. In this new mode, you can find glossy exterior coating and the inverter weight is considerably reduced.
Wagan power inverter 8000W has an easy-to-understand design. All the switches are located at appropriate places for easy-reach, easy-use and it does not complicate the things. On the front side, you can see the On/Off switch, 120V AC outlets, LED lights, voltage and Amp indicators and high output terminal block. On the backside, you can see the huge thermal cooling fan, red color positive mount and black color negative mount terminals. You can also sue the true neutral ground bond terminal with nut on the backside.
Pros
Very powerful
Perfect for large vehicles
For many users, it worked as stated.
Easy installation
Cons
Low-quality remote control
Some complained that it failed to accept normal load.