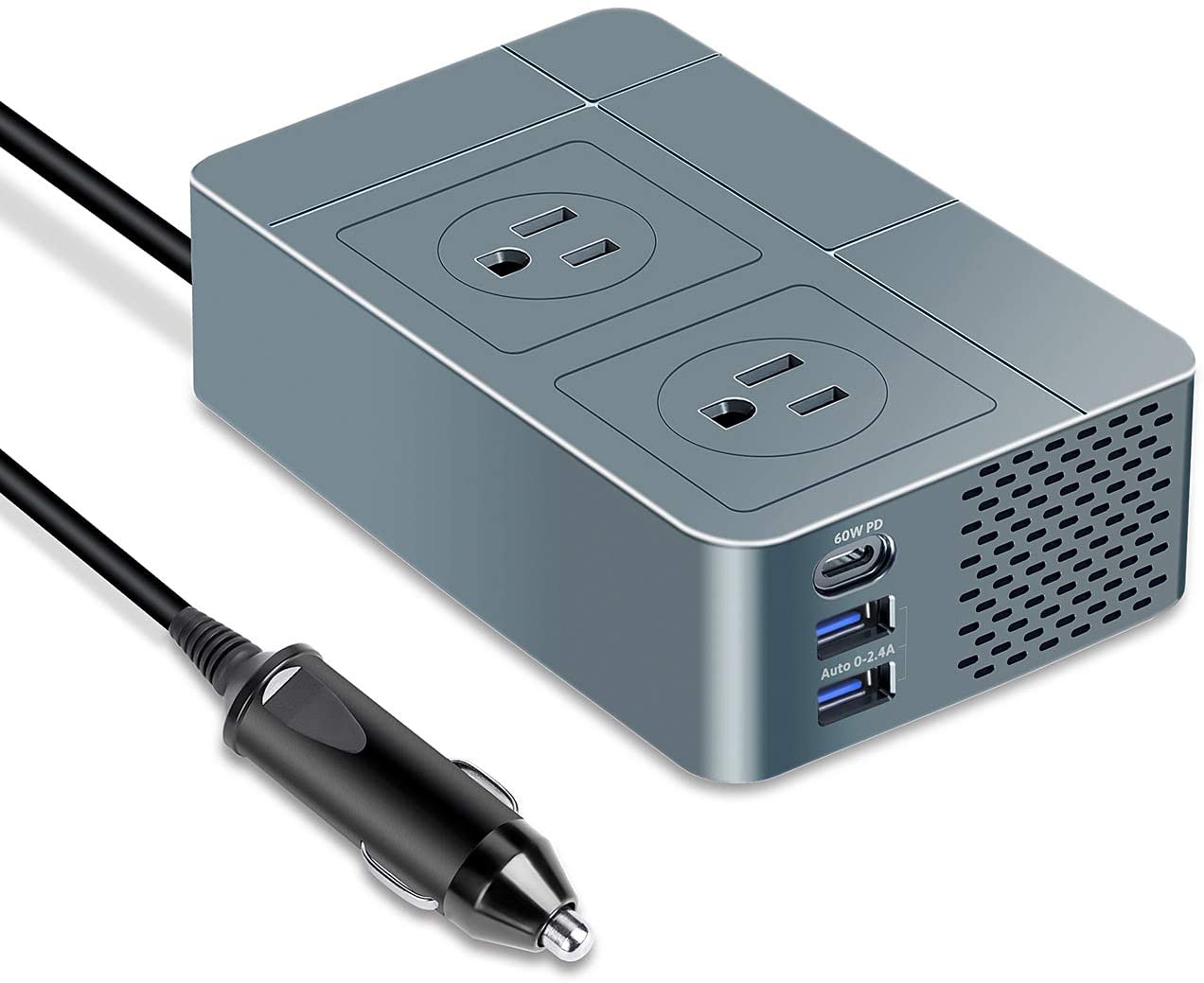 Koosla is one of many power inverter brands. It makes stylish and affordable power inverters. From Koosla, this 300-watt pure sine wave inverter is very popular on the market. The Koosla 300W power inverter is currently available on Amazon at a discounted price. The Koosla pure sine wave power inverter may also be available on other selling platforms but I did not check on other market places.
The main work of this Koosla power inverter is converting 12V DC to 110V AC power. So, it can be a great power inverter for cars and other vehicles.
Especially, this Koosla brand power inverter is very popular because it comes with many output sockets such as 2 x 110V AC outlets, 2 x USB ports and 1 x 60W PD USB-C port. With all these connection ports and sockets, you will be connect any device that requires less than 300w input power.
As said above, this power inverter provides 300W continuous power. On the other hand, it has 600W peak power. The 300-watt Koosla power inverter delivers pure sine wave power so it is capable to deliver stable current. With this reliable power, you will not have any problems for connecting sensitive electronics. Additionally, please know that pure sine wave is considered superior to modified sine wave. With pure sine wave output, all devices work very well, they will not get damaged.
Without a doubt, the Koosla power inverter will charge even larger devices very quickly because it features a 60-watt PD 3.0 Type-C port. Using this high-capacity port, you will be able to charge larger devices including laptops, tablets and other compatible devices. It also features two USB ports that detect devices automatically and charge them at a fast speed. According to the product specifications, each USB port has 2.4A to max 3A capability.
More importantly, the Koosla 300W power inverter is compact and lightweight unit. The manufacturer says that it has a travel size that measures 6.1 x 3.7 x 1.8 inches. The portable and lightweight Koosla power inverter weighs just 1.5 lbs. Amazingly, by many, this power inverter is tagged as the smallest pure sine wave power inverter that is perfect for many applications. However, people use it in their cars. It is also good for road trips, vacation and camping.
The 300W power inverter features XT60 input socket, which is considered very safe for the battery connection in vehicles. Also, you will be able to connect this Koosla power inverter using the car cigarette lighter plug or the battery clips. In case, you need to draw more than 150W power, please connect it directly with the battery using the alligator clips.
For the highest level of safety, the inverter is made of UL94-V0 level materials that are considered fireproof materials. So, you do not have to worry of electrical faults if any occurs. The Koosla 300-watt power inverter also has 40A fuse that protect against many electrical problems such as over-current, under-current and many others. Such highly safe power inverters are perfect for vehicles because it gets rid of common electrical issues such as over-voltage, short circuits, over-charging and many others. Because of the highest level of protection capabilities, the Koosla power inverter is highly safe to itself and the connected appliances too.
The purchase of this Koosla 300 watts power inverter also includes all the external components. So, you will not have any issues for the installation and the operation. A friendly customer service is also included with this power inverter so you do not have to worry of anything. Read more…