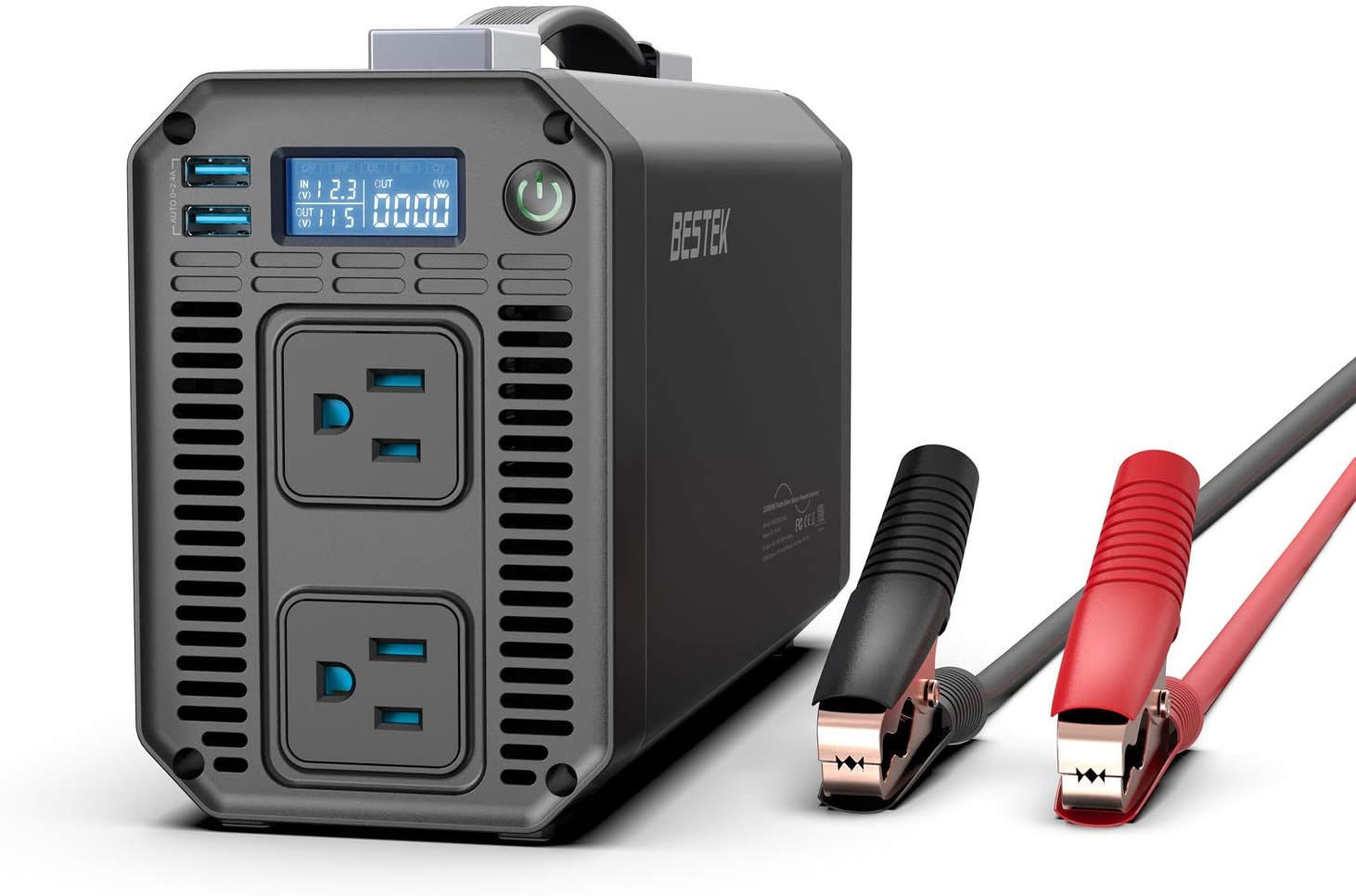 Bestek is the leading inverter brand. According to the manufacturer, it is America's number one brand for a wide range of power inverters. In case, you want a pure sine wave power inverter, you can check BESTEK 1000W pure sine wave power inverter.
The DC to AC power converter delivers pure sine wave current so it is perfect for many sensitive electronics. You can undoubtedly run sensitive electronics such as drone cameras, laptops, PS4, TVs, HP printers, Macbook, mini fridges, stereo, CPAP and many others.
With this BESTEK pure sine wave power inverter, you will not have power related problems because it is perfect for homes, road trips, remote locations and portable power requirements. Such portable inverters are perfect for travelers because they can charge their personal devices when needed. Of course, the BESTEK 1000-watt power inverter will keep your devices safe because they are protective inverters that are based on an advanced protection mechanism. I will say that use this Bestek inverter 1000W and keep yourself safe, entertained and productive all the times, anywhere you go.
The 1000W BESTEK power converter features USB ports, which are good for charging laptops, mobile phones and many USB-enabled devices. Please keep the output wattage below 1000W — its rated output power.
The 12V DC to 110V AC power converter by Bestek delivers pure sine wave output and it features two 110V AC outlets, two smart USB ports (DC 5V/4.2A), intelligent LCD display, and sturdy aluminum housing and made of ABS and PC materials (fire resistant).
In the advanced features of the Bestek 1000W inverter, you can find child-resistant safety shutters. In the AC 110V outlets, you can find well-designed safety shutters (blue color) that are very helpful to provide protection to children, pets from the 110V electric shock.
As stated earlier, BESTEK 1000W Inverter is a pure sine wave unit so it is capable to deliver stable current to the sensitive electronics. Well, you will not have a problem running sensitive electronics such as microwave ovens, hair straightener, curling iron and other household appliances. Of course, pure sine wave inverters are superior to modified sine wave inverters.
In addition, please do not ignore its portable profile. The Bestek 12V to 110V power inverter features a well-designed rubberized handle on the top. You can use the handle to carry the power inverter anywhere you go. Of course, you would have utmost carrying convenience with the help of non-slip inverter handle.
Features & Specifications
Silent cooling fan
Rubberized inverter handle
Replaceable fuses (4 x 50A)
5V USB output
10.5 x 5.9 x 3.7 inches product dimensions
4.2 pounds weight
Pure sine waveform
12V DC to 110V AC converter
1000W output power
Accessories included such as two battery clamps, four 50A spare fuses and one user manual
BESTEK popular inverter manufacturer
Two 110V AC outlets and two smart USB charging ports
Child resistant safety shutters
Smart LCD display
18-month warranty
Pros
Pure sine wave output
Comes from the reputed Bestek manufacturer
No issues related to its wattage capacity
USB supplies power even after the unit is closed
Many people liked the built-in display
Exceptional build quality
A lightweight 12V DC to 110V AC inverter by BESTEK
Cons
No mounting legs
Low quality battery cables; they should be thicker.