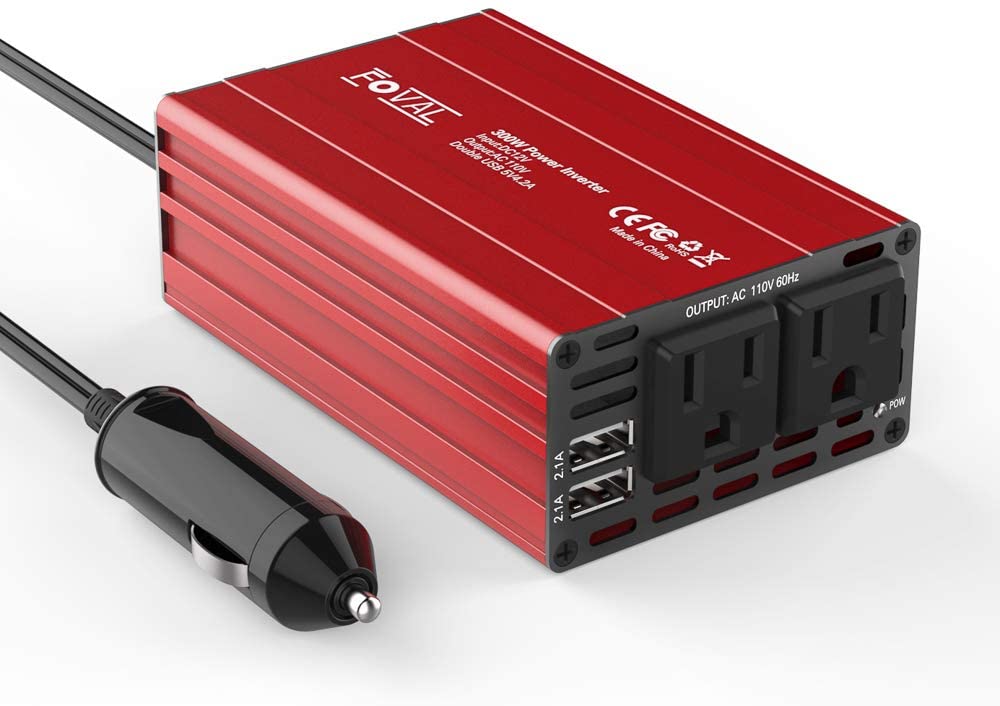 A power inverter is a useful tool because it gives you continuous power to run your appliances. Today, most homes, vehicles and offices depend on the inverter power because it is a cost-effective solution. For some reasons, if you need a power inverter and you stuck on which brand to go with, you can check this Foval power inverter. The 300W power inverter is highly popular because it carries best features, performance and the ease of use.
The Foval DC to AC power inverter is fully protective because it provides complete protection against short circuits, over-voltage, over-charging, over-temperature, and over-load. Foval 12V power inverter has built-in fuses that do most of the protection works. It also features an LED indicator that can be an informative and safety component because it notifies you about the inverter status.
Such 300W power inverters are perfect for car travelling, for charging your personal devices during the travel time. The Foval 300W power inverter features a 16-inch cigarette lighter plug that gives you the flexibility to use the inverter power sitting anywhere in your vehicle, even at the back seat. The 12V to 110V Foval power inverter is not only for cars, but also for any outdoor power requirements, emergency kits, homes and other mobile power requirements. The highly versatile Foval power inverter is easy to use. You just need to plug the inverter into the vehicles cigarette lighter plug and start using its output because it features two USB 4.2A ports and two 110V AC outlets. You can conveniently charge your laptops, cell phones and other small devices.
Moreover, Foval 300W power inverter is an ultra-compact and lightweight unit because it has gotten an iPhone size design so it becomes a good space saver. It comes included with a long cigarette lighter plug for the flexible operation in vehicles. In addition, the portable and durable power inverter features durable metal case that delivers utmost protection from drops and bumps. It also has a smart cooling fan that runs silently and conditionally. The inverter's cooling fan is good to reduce system heat and keeps everything safe because it saves the inverter from over-heating and electrical faults.
On the purchase of this Foval 300W power inverter, you also get the required accessories such as 30-inch cigarette lighter cable, four spare fuses, a user manual and friendly customer service.
Highlights
300W output power
Dual 110V AC outlets, dual USB ports
FCC authentication 40A fuses
Smart cooling fan
Lightweight design
Aluminum inverter case
Owner's manual
LED indicator
Fully protective against electrical faults
Affordable price
Innovative technology
Great for cars and emergency power backup
24-hour email support
573G weight
5.1 x 3.1 x 1.7 inches size
5v/2.1A USB port
110V AC output
10V DC input
Pros
Noiseless operation
Foval is a popular inverter brand
Reliable performance
Perfect for charging small devices
Affordable price
Two AC outlets and two USB ports
Small size
A good quality product
Cons
Some customers complained that it failed to deliver the rated output.