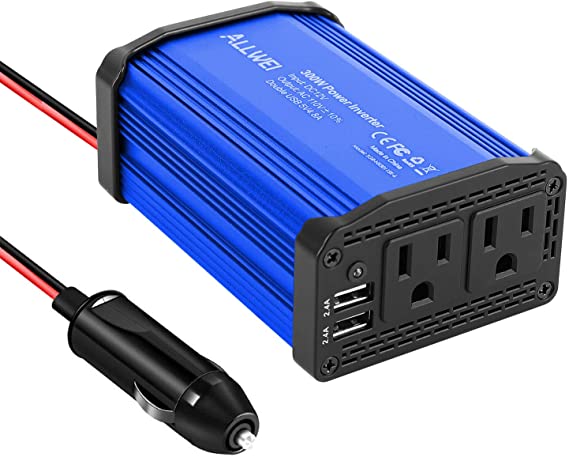 Allwei 300W Car Power Inverter has many impressive features that make it a powerful unit. First, I will talk about the USB ports it offers. The Allwei power inverter has dual USB ports. Each USB port has 2.4A capability that charges USB-enabled devices at a blazing fast speed. Personally, I love fast charging USB ports because they keep my cell phones and other USB devices alive all the times. Amazingly, these USB ports can automatically detect the connected device that is another benefit of a capable USB port. In fact, many devices need USB connection; these devices are iPhones, iPads, cell phones, music players, gaming consoles, cameras, tablets and many others.
According to Allwei, it is a premium quality power inverter that delivers 300 watts output. The 300W power inverter has 600W peak power, which is great for most of the devices. With this little power inverter, you will be able to tackle most of your remote power needs. Alternatively, you can use it to power nebulizer, TVs, mobile devices and other electronics.
Also, you will not have any complaints to its protection capabilities because most of the Allwei power converters are highly protective. I can say that it has multi-protection capabilities because it has built-in fuses, safe charging design that are very helpful to tackle any electrical problems such as short circuits, over-current, over-heat and so on. Personally, I appreciate the advanced cooling fan and the long-lasting metal case. All these are protective elements that are very helpful to keep the power inverter safe all the times. Well, the cooling fan is to get rid of over-temperature, while the metal body is to prevent any sort of bumps, drops and other similar outer effects.
Apart from all these capabilities, the Allwei DC 12V to AC 110V power inverter is very convenient to use. It is very convenient because it comes included with a 33-inch cigarette lighter plug for the car battery connection. The 33-inch long cigarette lighter plug gives access to those people who are sitting at the back seat in a car providing utmost flexibility.
Highlights
18-month manufacturer warranty
Package contents: Allwei 300-watt inverter and a user manual
Silent cooling fan
Cigarette lighter cord
Safe charging design
Input voltage: 12V DC
Output voltage: 110V ~ 120V AC
Frequency: 60Hz
Rated power: 300W
Pros
Quick charging performance
Perfect for most vehicles
For many users, it worked very well.
Good value for the money
Cons
On longer time use, it gets a little warmer.