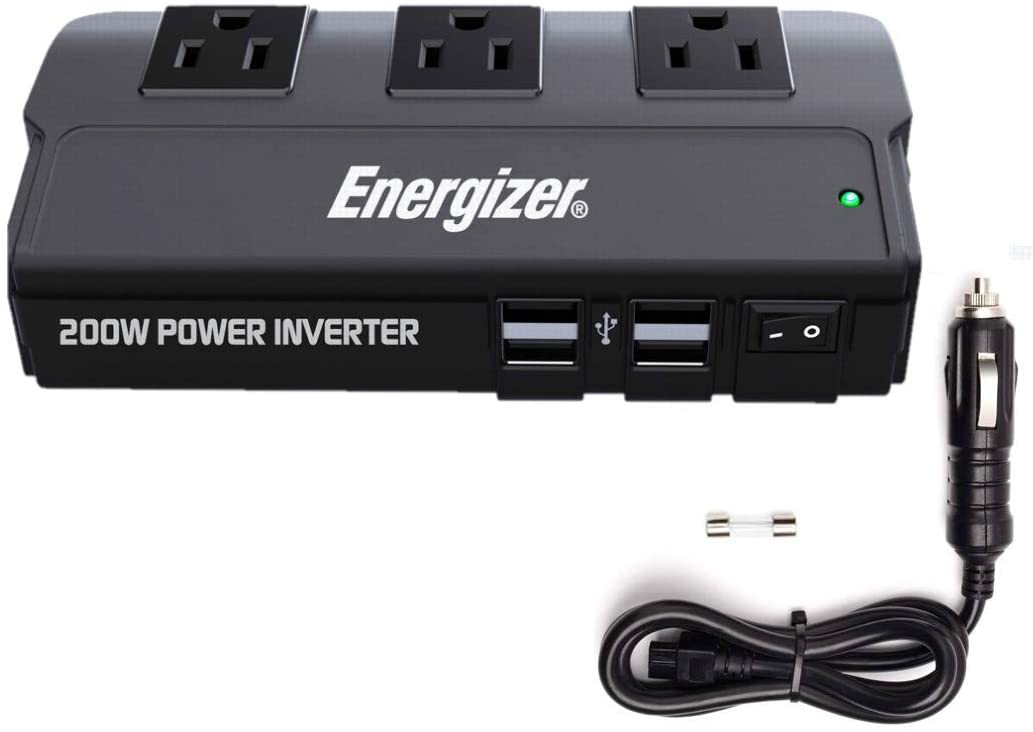 Inverter buyers trust Energizer for performance oriented power inverters. In fact, Energizer is a popular brand that manufactures numerous power inverters. Most of the Energizer power inverters are 12V to 110V units. Their prices are reasonable and most of Energizer inverters are bestsellers on Amazon and many other selling platforms.
If you need to buy a low-wattage power inverter from this manufacturer, you can read about the Energizer 200W power inverter. It converts 12V DC to 110V AC power and it delivers modified sine wave output. Such small size power inverters are perfect for vehicles and distant power requirements.
Since these Energizer inverters are reasonably price so you can buy them because they have many happy users. To buy the Energizer 200 watts power inverter, please visit Amazon because at the time of writing this review, the inverter was being sold on Amazon.com.
The 110V power inverter has many connection sockets that you can use to supply power to your appliances. Impressively, it features three 110-volt AC outlets and four 2.4A USB charging ports. The product is also certified from ETL under UL Std 458.
Some Important Features and Specifications Are:
200W continuous power
12V DC input
Modified sine wave output
Cigarette lighter plug
Fan-free operation
Copper heat sink
Smart chip protection
Three 110V AC outlets similar to North American household sockets
Fuse protection
Highly protective from low voltage, high voltage, short circuits, overload and over-temperature
Ideal for camping, tailgating, emergencies, travelling, recreation, power outage and many others
Pros
A thoughtful designed product
To many sockets to meet varied power consumption needs
On full load, you will not experience any heating issues.
Silent operation
Cons
A user stated that it only lasted for two months.
Short cables