For a low budget, the DieHard 425W power inverter can be the best alternative. The 425W power is perfect to charge several devices like gaming consoles, laptops, cell phones, televisions and small appliances.
The DieHard inverter is easy to install in vehicles because it is especially made for vehicle usages. For a handy use, the 425-watt inverter is a solid and medium-sized unit. That means the modified sine wave inverter is perfect for cars, boats and RVs.
Just like RV inverters on the market, the DieHard inverter converts 12V DC battery current to 110V useable current. Thus, you can use the 110V current via two outlets to charge your preferred devices.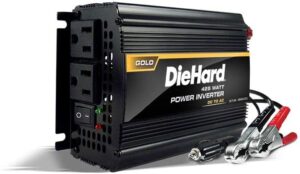 Protection – the DieHard 425W inverter has competences such as temperature shutdown, overload protection and several other protective features. Additionally, the power inverter comes included with accessories such as 12-volt plug, battery clamps and ring terminals.
Output power – the DieHard inverter delivers modified sine wave power. It delivers 425W continuous and 850W peak power. In fact, some appliances require startup power, which is more than normal. Therefore, the peak power is very useful in that condition. Please note that peak power remains just for few seconds, after that the inverter supplies continuous power. In this inverter, 425W is continuous power.
DieHard 425W Power Inverter – FAQs
Q: is this a 425W or 850W inverter?
A: this is a 425W inverter. It has 425W continuous and 850W peak power.
Q: what size wire do I need to connect with a battery?
A: you need to use 10 GA wire minimum.
Q: is this a modified or pure sine wave inverter?
A: DieHard 425W inverter is a modified sine wave inverter.
Q: what is the frequency?
A: the frequency output is 60Hz.
Q: does this also come with USB ports?
A: no, the black model doesn't feature USB ports. However, the latest model comes with USB ports
Q: can this inverter run an air mattress pump?
A: if the air mattress pump requires less than 425W power, you can use this inverter to blow up your air mattress.
It is encouraged to read the FAQs because it contains general questions and answers related to this inverter. In case, you have a question, please refer to the list of FAQs. The list of frequently asked questions contains information related to capacity, installation, compatibility, quality and many others.
Users' Reviews on DieHard 425-watt Inverter
One – a user at Amazon says that he found miss-leading information in the product description.
Two – according to this Amazon customer, he used the DieHard inverter to power a fast charger for his cordless weed eater. The charge runs successfully drawing 425-watt power from the inverter. He says that he has hard-wired the inverter in his truck. According to him, no issue is found in the inverter. Which means it works perfectly for him.
Three – it is good for using a 9.5V battery charger for some cordless devices. However, the cables are a little weak. He says that overall it is a good buy.
Four – according to this user, he connected the inverter directly to his car battery. He happily mentioned that the inverter worked for powering a blender, Christmas lights and a radio during a camping trip.
Five – the inverter delivered good performance for powering an air compressor from his car battery.
Six – perfect for power outages, easy to use
Seven – this customer says that the DieHard 425W power inverter did the job. He used the inverter to start his bike from a car battery.
Pros
Perfect for charging power tools
Built-in high temperature shutdown capability
Easy to install and easy to use
It comes included with needed accessories.
Lightweight design
Good for camping
Cons
Flimsy battery cable
Miss-leading information in product description
The pros and cons say that DieHard 425 power inverter is a rich-quality unit. For travelers, the inverter works perfectly. It is also easy-to-install and easy-to-use. Overall, the inverter comes with many benefits that make the life easier. Conversely, the DieHard unit comes with some disadvantages also. It comes with a flimsy battery cable and there is some miss-leading information in the product title and description on Amazon. I hope the manufacturer sees and correct.
Ending Thoughts on DieHard 425W Inverter
At the end, I will say that DieHard 425W inverter seems impressive from all aspects. It comes at a reasonable price if you buy it from Amazon. The inverter has received countless positive reviews from its existing customers. Thus, it is strongly recommended to buy.
Well, there are many reasons of the recommendations. It is a solid and lightweight inverter, equipped with protective features. The inverter is very easy to set-up and easy-to-use.
Please know that this is a modified sine wave inverter. The current comes from a modified sine wave inverter is good to run several devices. However, if it were a pure sine wave inverter then it would have been better than this modified sine wave inverter.