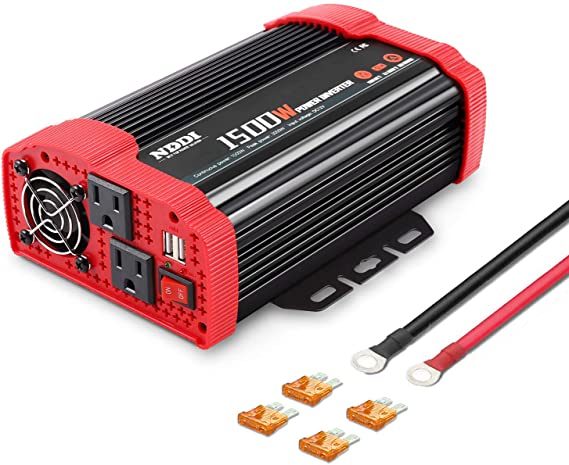 NDDI Car Power Inverter is a great tool to convert DC 12V power to AC 110V power. This inverter also sells in 1000W size so depending on your needs; you can choose either the 1500W or the 1000W power inverter. The car charger has dual 3.1A USB port and AC outlets. Of course, from the high power USB ports, you can expect a fast charging result.
You can use the NDDI power inverter to meet most of your remote power requirements. It features dual USB ports and dual AC 110V outlets. The car power converter has 1500W continuous and 3000W peak power. For an easy use, the power inverter has a switch that is considered a handy feature to switch the inverter On or Off depending upon your needs.
The NDDI 110V power inverter has many uses. It is the best friend of travelers because it will solve most of the remote power problems. During the travel hour, you will be able to run your appliance very comfortably because it has huge 1500W output power. In case, you keep yourself busy in a long car travel, this is the best power generation tool for you. Well, it is not only for travels and camping, but also for homes, offices for charging a wide range of electronic appliances.
On an impressive note, the NDDI 1500W power inverter is both safe and convenient. Fireproof ABS material is used to make this power inverter and it has four fuses that are replaceable. In case, a fuse is blown, you do not have to worry because you have several fuses in your hand to replace the blown fuse. Apart from the fuse-based protection, the power inverter is based on a safe charging design that is good to protect the connected devices and the power inverter also. Since you have a highly protective power inverter, you do not have to worry of any common electrical faults such as short circuits, over-voltage, and over-heat and so on.
When it comes to the size of this power inverter, the manufacturer says that it is an automotive inverter that measures 9.8-inch long, 6.5-inch wide and 3.1-inch high. The lightweight power inverter weighs just 4.52 lbs.
When the power inverter is in operation, you will not hear any annoying sound because it has a silent cooling fan that runs on certain conditions, usually on high load and high temperature. The intelligent cooling fan not only maintains the inverter temperature, but also increases the overall service life.
Additionally, you not only get just the NDDI power inverter, but also the required accessories. Yes, the 1500W power inverter comes included with two connector codes with cables, an owner manual, four fuses and reliable customer service.
Precautions
Please do not operate the inverter if your hands are wet.
Direct exposure to sunlight may be harmful to this unit so please avoid long-time sunlight exposure.
From the cigarette lighter socket, please do not try to draw wattage more than 150W. For more than 150W power needs, you need to connect it with the battery directly.
If you wish to operate a large appliance then please make sure that it does not draw the peak power more than what this inverter delivers.
You need to avoid AC connection to the inverter. You should know that it supplies AC output and it takes DC input.
Pros
Very simple to understand
The 1500W power inverter is good for running small compressor, solder gun, TVs and other appliances.
People are using this power inverter to run their coffee makers also.
Many people say that this a must have item in every home.
Cons
A little sound from the cooling fan