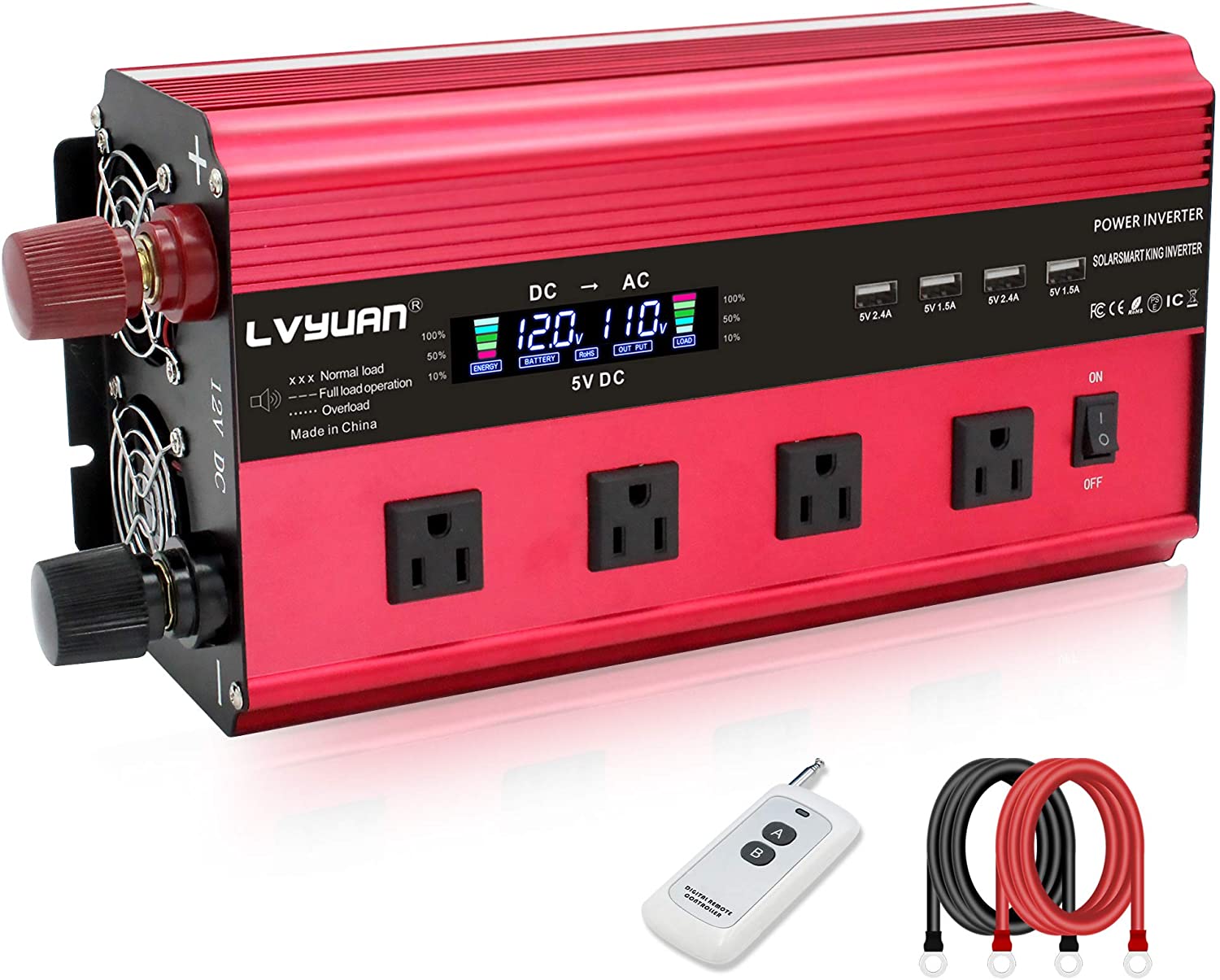 Cantonape 2500W power inverter
is a DC to AC power inverter. Which means, you will be able to convert you 12V battery power to 110V AC household power. The good thing about the Cantonape power inverter is the low-price. I am saying low price because it is a super cheap power inverter, you may not find so affordable power inverter from other brands. You need to pay less than $200 to obtain this 2500 watts power inverter.
Apart from the affordable price, the power inverter is indeed a performance house and feature house. It has too many useful features that you can hardly find in an inverter in the same price range. The 12V DC to 110V AC power converter features four AC sockets and four 3.1A USB charging ports. Such feature-rich power inverters are perfect for many applications including vehicles, homes, offices, camping, boat, RVs, solar systems, emergency power backups and power tools as well.
Cantonape 2500W power inverter has more than 85% efficiency. It delivers modified sine wave output but I admit a pure sine wave is more considerable than a modified sine wave.
The 12V power inverter features a remote controller so it is very easy to operate this from a distant location.
Detailed LED display: if you are an inverter operator, you already know how useful an LED display is. It keeps you informed about battery and load status. So, with the help of this smart LED display, you will know the actual position of your battery, whether it is charged full, normal or needs to be charged. On the LED monitor, you will know actual load on the inverter.
Safety is the first priority: to ensure safety to not only the connected devices including the battery, but also the power inverter, it provides fuse-based protection. Cantonape 2500W power inverter has six 50A fuses to safeguard the devices. You get six extra fuses that you can use to replace a fuse if it is blown. As a result, the power inverter is protective against overload, over-heat, short circuits, and reverse polarity and over/under voltage.
Cantonape 2500W Power Inverter 12V to 110V DC to AC with LCD Display, Remote Controller
Among many power converter brands, Cantonape is one of them. On the market, some of the Cantonape power inverters are trending because they are solid, affordable and good for converting DC to AC power.
If you want to own a 12-volt inverter, you can check Cantonape 2500W power inverter. You can use the solid 2500-watt power converter to convert DC to AC. It has 2500W rated power so it can handle the burden comes from your AC home appliances. What I want to say is that the 2500W output power is perfect to supply required power to a home.
For the operation of this Cantonape inverter, you will not get any issues because it comes with a detailed user manual. You need to refer to the user manual to understand its capabilities, settings, installation steps and safety parameters. The 2500W DC to AC converter comes included with extra fuses that you can use when an inverter fuse is blown. When you get the delivery of this power inverter, you get some of the key accessories such as 6 replaceable fuses, a remote controller, battery cables and the 12V 2500W Cantonape power inverter.
Before you buy Contonape 12V Power Inverter, please know the inverter features and specifications very well. For the convenience, I am going to list all the appropriate specifications and features of the Contonape 2500W power inverter.
Features & Specifications
2500W continuous and 5000W serge power
11-volt to 15-volt DC input
110V AC output power
60Hz frequency
Four USB ports (5V, 3.1A)
Four AC outlets
Modified sine wave waveform
LCD display: load capacity, battery capacity and output voltage
Remote controller
More than 85% conversion efficiency
10V DC low voltage alarm
Short circuit fuses
Product size: 13.8 x 6.3 x 3.9 inches
5.73 pounds net weight
Wide Applications
You can use the Cantonape 2500W power inverter for various uses because it has various output ports including USB and AC 110V ports. Impressively, the connection related things designed very well so you will receive seamless performance from this power inverter. The connected devices will not have a power fluctuation issue because the inverter outlets are designed solidly.
You will be able to insert several plugs at the same time. Of course, the Cantonape 12V power inverter is perfect to keep your appliance alive all the times. With the Cantonape power inverter, you can charge your workstation, PC, mobile gadgets and countless other devices. Additionally, you can use the 2500W power of this inverter to run some of your full-size appliances that include fridge-freezer, heaters and other cooking machines. Therefore, the 12-volt power inverter is designed to use not only in homes, but also outside the home. It has a portable size so it can be the best companion to travelers and emergency needs.
Protection Features
People want to buy an inverter that is not dangerous to them, their appliances and the surrounding areas. So, one needs to buy a multi-protection power inverter. What is a multi-protection inverter? A multi-protection inverter has multiple protection features such as fuses, cooling fans, and a safe charging design, high-grade materials used to build the inverter, a good quality transformer, good quality accessories and so one.
However, the two components such as cooling fan and fuses are very important protection features. Luckily, in this Contonape 12V power inverter, you will find several protection features that make the power inverter highly protective. The 2500W power converter is protected with six fuses to keep the inverter safe in the time when any electrical things are wrong. Consequently, the power inverter is highly protective against short circuits, over-heat, over-load, under-load and reverse polarity. So, not only the inverter, but also the connected appliances and battery are totally safe.
Conclusion
To conclude, if you wish to buy a power inverter that is highly safe, productive, portable and easy to use, you can go with the 2500W power inverter that comes from the popular Cantonape brand. From my side, the 12V power converter is recommended. However, it is encouraged to research more on this power inverter before you trigger the buy button on any marketplace.
For your information, I would like to highlight one thing that is the Cantonape power inverter has not received too many ratings and reviews on Amazon. In a simple word, the power inverter looks new to me. Therefore, I am unable to see what its users are saying. I tried the help from various electronic forums and blogs to find out whether this inverter is recommendable or not because on Amazon, I am unable to see users' reviews.
Briefly, the Cantonape 2500 watts power inverter comes included with all the accessories. It has good protection capability. The surge power is 200% of the continuous power. It comes included with a remote controller that can be used to trigger the On/Off inverter switch remotely.
The inverter's specifications and features look good to me. I will not complain about the price because it comes at a competitive price. The Cantonape inverter brand is a reputed brand that has a wide range of inverters in different sizes. Please note that this is not a pure sine wave inverter; rather it is a modified sine wave inverter so you will not be able to run some of the sensitive electronics.