If you are looking for a high load power inverter and battery charger then AIMS Power 4000W Inverter Review is for you. The pure sine wave inverter and charger is a heavy duty unit that is great for running large appliances.
Please note that it is not a 12V inverter, instead it is a 24v inverter. Yes, it converts the 24V DC battery power to 110V AC power.
The AIMS power inverter has many advanced features that you may not see in a normal inverter.  It has auto frequency, terminal block, multi-phase charger, remote panel and it is compatible with 7 battery types such as Gel, Lead, AGM, LiFePO4 and others.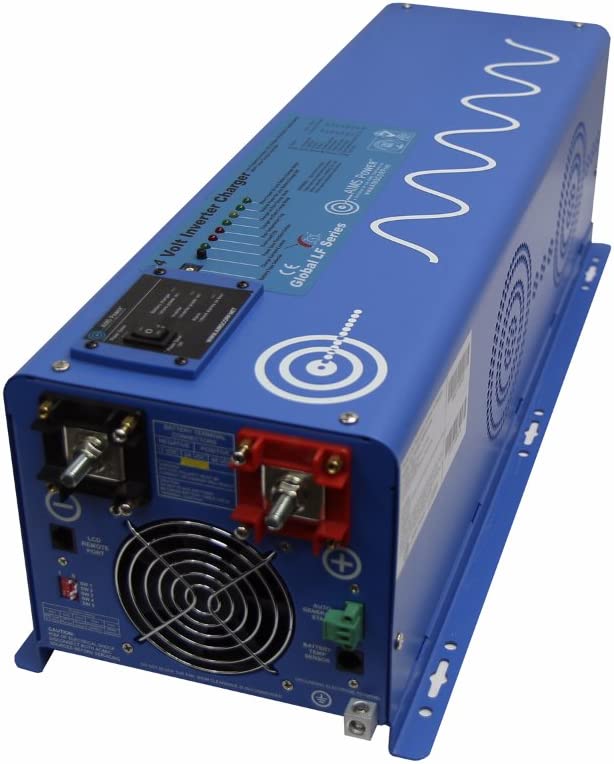 In this AIMS 24V inverter, you can find an auto transfer switch and 50A battery charger. Of course, the AIMS 120V inverter is capable to charge almost all batteries; some of them are mentioned above.
Important Information – AIMS 4000Watt Inverter
| Product name | AIMS Power PICOGLF40W24V120V |
| --- | --- |
| Output wattage | 4000 watts, 12000 watts surge power |
| Input voltage | 24 volts |
| Output voltage | 110 volts |
| Output waveform | Pure sine wave |
| Key features | Dip switches, auto gen start, conformal coated, power save mode, battery temp sensor, current control dial, AC direct connect terminal block |
| Supported batteries | Gel, Lead, AGM, LiFePO4 and others |
| Efficiency | More than 88% |
| THD | Less than 10% DC |
| Output frequency | 50Hz / 60Hz |
| Idle power consumption | 52.5W |
| Dimensions | 23.5 x 8.74 x 7.1 inches |
| Weight | 62 lbs |
| Price | Check on Amazon |
Based on the important information, the AIMS 4000W unit looks good. Of course, it is a heavy-weight power inverter charger but it is good for running large appliances. It weighs 62 lbs and measures 23.5 x 8.74 x 7.1 inches. Impressively, it delivers 4000W pure sine wave current and 12000w surge power to run large appliances.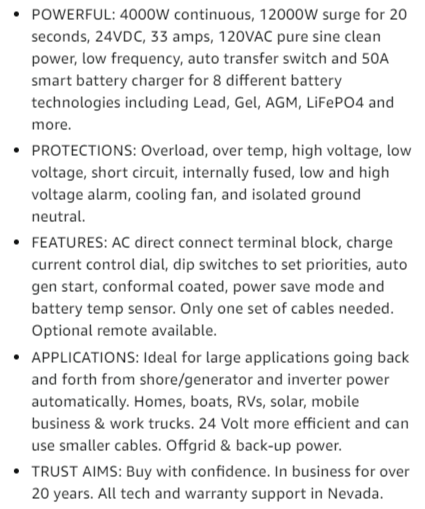 AIMS Power 24V Pure Sine Wave Inverter with Rich Features and Protection Capabilities
By seeing the features, I assume that it is one of the powerful units, which is good for many applications. The AIMS Power 24V power inverter has AC direct connect terminal block, dip switches, power save mode, auto gen start, battery temperature sensor and an optional remote is available. For the connection simplifications, only one set of cable is needed.
Protection features – PICOGLF40W24V120V 4000W inverter has almost all the protection features to protect against over temperature, high / low voltage and short circuit. It also has high / low voltage alarm to let you know if the voltage goes beyond the limit. To prevent an excessive heat build-up, it has an integrated cooling fan. And, it has isolated ground neutral, which is another protection feature. In short, the AIMS 4000W inverter has all the safety features that ensure the best working condition because safety is the first priority in such electrical devices.
Applications – the AIMS 4000W power inverter is a high wattage unit so it is perfect for multiple applications like boats, homes, solar, recreational vehicles, mobile business power requirements, and work trucks. More importantly, it is a 24v inverter which can sufficiently do the tasks by using small cables.
4000W output power & 24V input voltage – As per the manufacturer, PICOGLF40W24V120V is the best inverter in its class because it is a 24V power inverter charger that delivers clean electricity (pure sine wave) to the connected appliances. The high power (4000W) electricity converter is pretty good for almost any applications. The 24V capacity has its own pros as it is very helpful to give the maximum efficiency. More importantly, it has 300% surge capacity. Yes, the 4000watt inverter has 12000watt surge capacity for 20 seconds, so it is perfect for those large appliances that require extensive energy at the startup.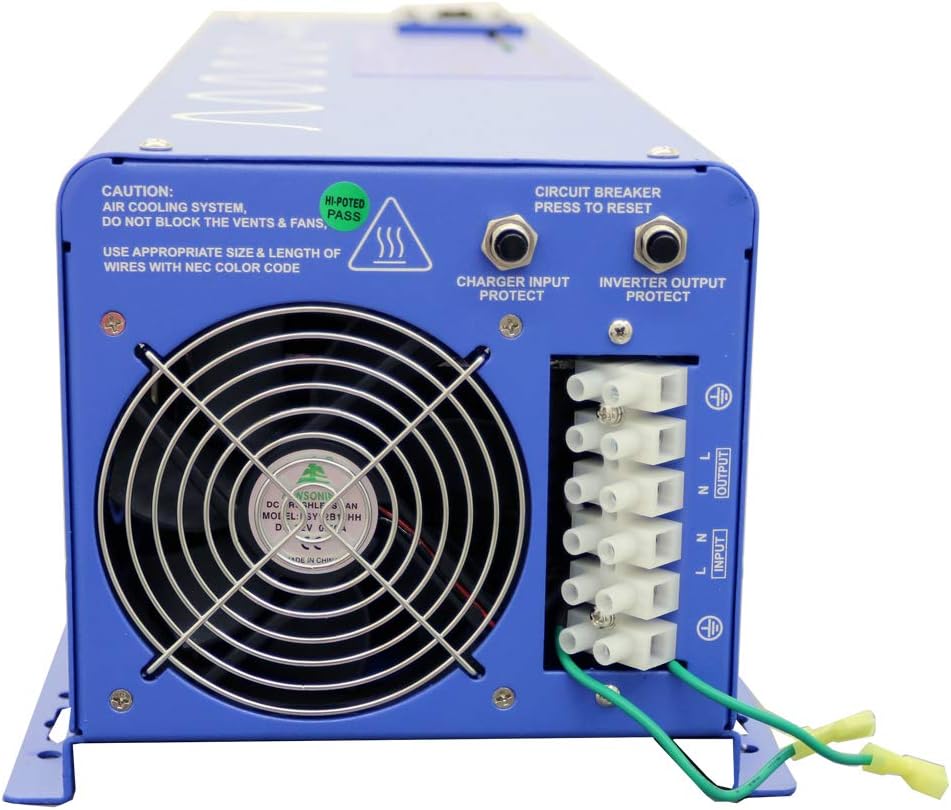 Pros
It delivers the rated 4000W power.
Easy refund process if any mistake happens.
It has many good features and capabilities for the solar applications.
Quiet operation
For numerous users, it worked perfectly.
Very good value for the money
Well-built and solid unit
A versatile unit
Good delivery
Good price
Seamless performance
Pure sine wave unit
Cons
As per a user, it consumes 50W electricity in idle mode.
Some users were not treated very well by the customer service team.
You can judge the quality and performance of this 4000-watt power inverter by reading the pros and cons, which are written above. It is a powerful unit, which is good for multiple purposes. Many users mentioned that it is a great value for the money as it is able to deliver the seamless performance. On the down side, it consumes approx. 50W electricity in the idle mode, which is more than expected as per many users.
Conclusion – AIMS 4000W Pure Sine Wave Inverter
At the end of AIMS Power 4000W Inverter Review, It looks solid from all sides such as performance, price, features, protection capabilities, versatility and more. Most of its users are very happy because they can run any appliance in their home because it is a high capacity pure sine wave inverter. Of course, it is highly recommended to buy seeing the rich features and capabilities. It is a well-built and versatile unit that runs quietly and securely.