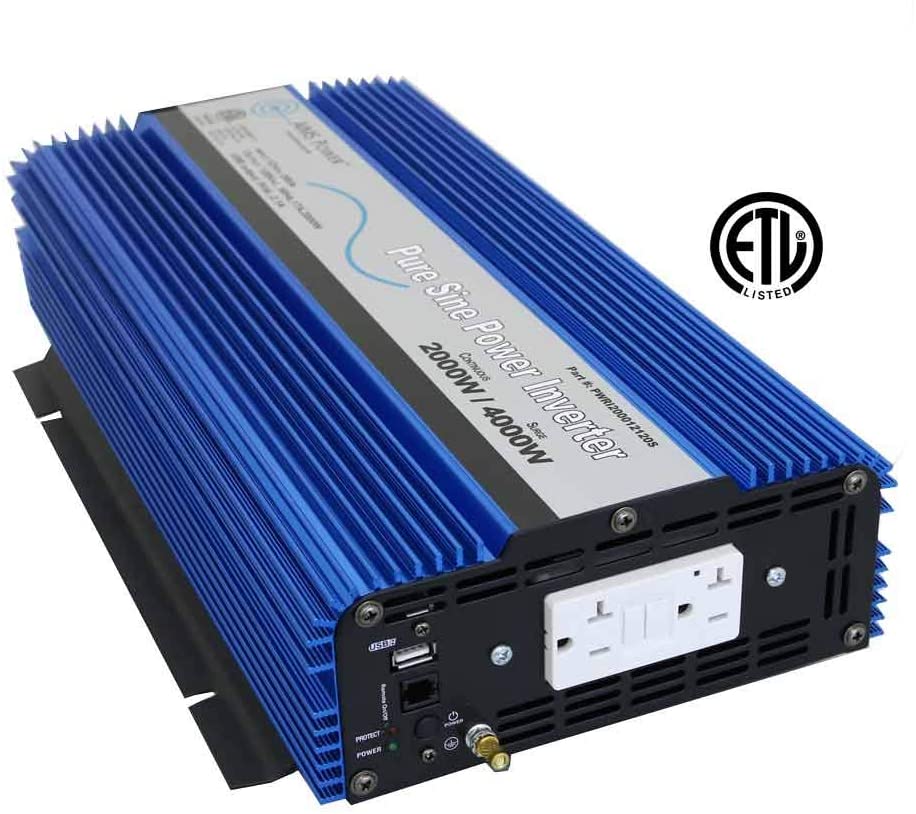 AIMS brand power inverters are highly popular because they are powerful and they deliver stable power to the connected devices. If you are looking to buy a 2000-watt power inverter, you can check AIMS 2000W power inverter that is a DC to AC power inverter. It converts the DC 12V battery power to AC 110V AC power.
For a pure sine wave power inverter, the AIMS 2000W power inverter can be the best unit. Because it comes from AIMS that provides back-up power solutions to its consumer for more than 20 years. You can use the AIMS pure sine wave power inverter to supply the cleanest power to your devices. Therefore, as long as you have an AIMS power inverter, you do not have to worry of the output power quality because the electricity comes from an AIMS power inverter is similar to regular city power. You will get safe and clean electricity to run those emergency equipment and it is perfect for the off the grid living. In fact, AIMS claims that it is a one-stop shop for all of your back-up power needs. Therefore, AIMS Power has inverters for every need.
For the intermittent power blackouts, you need the AIMS 2000W power inverter that will deliver stable power to your devices. Of course, you will get reliable power transformation from your DC battery to AC 110V/120V power to meet your varied power requirements. With the clean power coming from the AIMS 2000W power inverter, you will not have any issues for running devices such as TVs, PCs, medical devices and other sensitive appliance. Moreover, AIMS Power inverters are technically advanced inverters; they are lightweight and compact that are easy to use, easy to install and easy to operate.
For the varieties, AIMS power inverter is available in different sizes ranging from 180W to 3000W to choose from. Well, not only just the power inverters, but also you can buy AIMS batteries and solar panels.
Practically, AIMS 12V power inverters are safe to use because they have many safety features. These protection capabilities are to protect the connected devices from over-voltage, under-voltage, over-temperature, over-load, short circuits and other inverter problems.
Without any doubts, the AIMS 2000-watt power inverter is a high-quality inverter with more than 90% efficiency. Additionally, all the AIMS inverters are supported with lifetime tech support situated in Nevada.
Features & Specifications
AIMS Power brand
2000W pure sine wave power inverter
90% efficiency
DC input voltage range: 9.5V to 16V
Output voltage: 120V AC
Best-quality remote control available
USB ports and AC outlets
Perfect for homes, cars, boats, RVs, medical equipment, pumps and motors
Lifetime tech support
2-year warranty
GFCI AC outlets
Working temperature: 32 to 104°F
Storage temperature: 14 to 113°F
An UL listed inverter
Pros
An energy efficient power inverter
Good price
A small-size pure sine wave inverter
Solid and reliable performance
Two years warranty
Tech support in Nevada
Perfect for various power tools, precision devices, medical equipment and others
Cons
Mounting screws are not available
Many customers did not like the banana plug inputs
People did not like the reset button at the place of ON/OFF switch.