Owning a hybrid solar inverter means saving money spent on the electricity bill. Therefore, to save some money, you can buy SUNGOLDPOWER 6000W 48V inverter, which comes with many great features.
The SUNGOLDPOWER power inverter requires 240V input power and it gives 120V/240V output power. It is a great split-phase pure sine wave inverter that has MPPT 120A solar charger and 120A AC charger.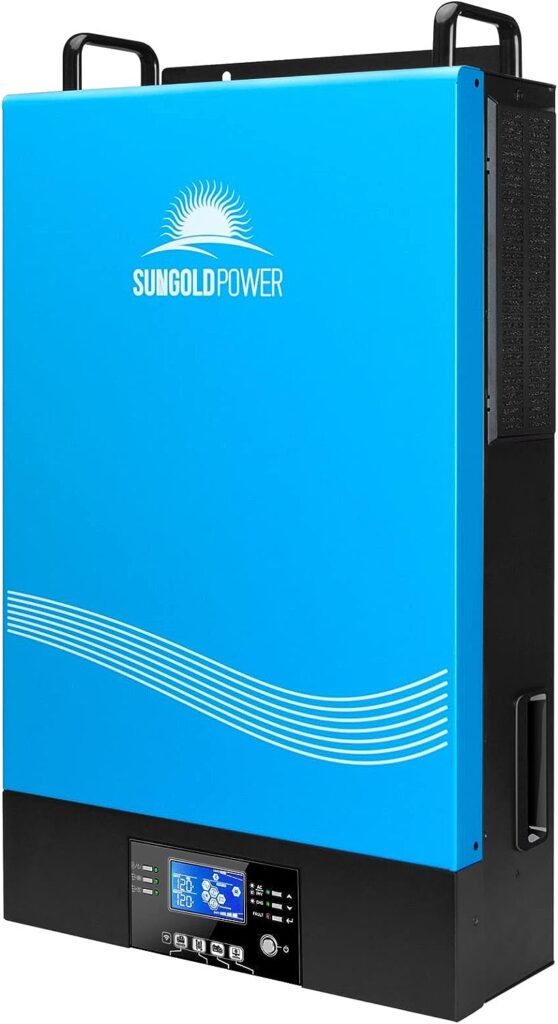 As mentioned above, the SUNGOLDPOWER hybrid inverter has many good features; one of them is WiFi monitoring. Yes, the solar power inverter has a built-in Wi-Fi transmitter. It would give you a quick access to the inverter data on a mobile phone. The app can easily be downloaded from the Apple or Android store.
LCD display – the SUNGOLDPOWER hybrid inverter features a user friendly LCD display. Using the display, you can easily set up and change many things like charging current, output source, charger source and more.
Split phase – the solar inverter has a split-phase function. It takes 240V power from two sources (L1 – 120V, L2 – 120V) and it gives two outputs of 120V power each.
Parallel operation – users are able to connect up to 9 units in parallel with the help of the provided Parallel Kits.
Nice Units But with Less Output Power
A user wrote in his review that the SUNGOLDPOWER hybrid inverter is a good unit but it gives output power less than expected.
Also, he said that the power cables at the bottom were too difficult to connect. For him, it was nearly impossible to connect in a small area because the bottom is very tight, so it would take hours for the wire connection.
He said that he already had two such inverters and he planned to buy more so that he could receive 250A power but he was afraid of the difficulties of the wire connection in a small area.
Not Very Reliable, Fire Hazard
A user said that he had two of these solar inverters. These were faulty, so he sent these inverters to California for the repairs. He had to pay the shipping charges. He received one of them after the repair, it worked for just few months. One of them is still in California for the repair.
He said that the inverter was sparking and resetting on its own. It smelled awfully too.  He contact the SUNGOLDPOWER company many times and informed them that the inverter was dangerous. Finally, the company sent new boards for him to fix the issues. He had done as per the direction but the inverter was persistent to the same issue.
As per this user, the internal parts of the SUNGOLDPOWER solar inverter are cheaply made, and they are not designed very well as opposed to what the manufacturer claimed.  So, this user advised others not to buy these faulty inverters.
Key Features – SUNGOLDPOWER 6000W Hybrid Inverter
6000W output power
48V DC
110V / 220V AC input voltage
40A rating of AC transfer relay
Up to 9 units can be connected in parallel
110V / 220V AC output
50/60Hz frequency
95% efficiency
Pure sine wave waveform
MPPT solar charger type
6000W max PV array power
120V to 430V DC MPPT operation voltage
25.59 x 14.96 x 5.51 inches physical size
73.2lb net weight
USB/RS232/WiFi/DRY-contact/BMS communication interface
SunGoldPower manufacturer
TP6048 model number
All the key features of the SUNGOLDPOWER hybrid solar inverter are written above. Please read features carefully because these features are an important part of SUNGOLDPOWER 6000W 48Vdc Hybrid Solar Inverter Review.
PROS
Looks solid and nice
Pure sine wave power
The Wi-Fi option is very handy.
CONS
The wires at the bottom are way difficult to connect.
Many users complained that it failed after few days of use.
Unacceptable performance as the price is too high.
Unhelpful support from the manufacturer
For many users, it failed to handle the load as advertised.
It is not a UL listed product.
Many users received defective products.
Based on the pros and cons, this hybrid inverter is not very powerful as most of the customers have problems with this inverter. Since the main purpose of writing SUNGOLDPOWER 6000W 48VDC Hybrid Solar Inverter Review is to give you a true picture of the product, I will not recommend buying this inverter. If you want to buy it, please research more on this then think of buying this product.