I see that TVNIKD is a reliable brand name for power inverters. However, it is not as popular as Bestek and some other popular inverter brands. Please read TVNIKD 2500W Inverter Review to know more.
The TVNIKD 2500W inverter is a normal 12V to 110V inverter that comes with many good features. I am sure you would love the features such as 3 cooling fans, aluminum allow shell and the energy saving capability.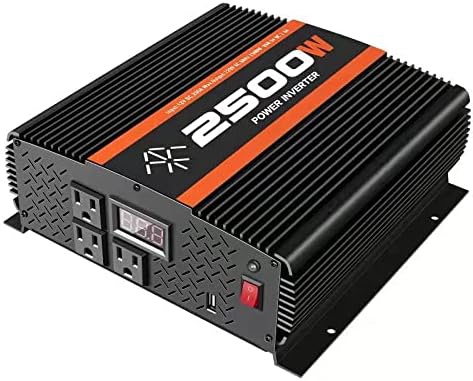 Personally, I liked the multiple cooling fans in this TVNIKD 2500W inverter. These cooling fans will surely cool the internal system for a safe operation. The good thing is that these are smart fans, which run when needed based on the temperature. Therefore, you will not get distracted from the fan noise as they only run when the temperate reaches certain level.
Further, this 110V power inverter is advertised as a inverter with a durable body. Yes, the inverter body is quite durable as it is made of aluminum alloy shell, which is great for the heat removal and to keep the inverter cool all the times. So, the aluminum shell is not only durable, but also safe for the inverter.
Very Easy to Use
I read a review written by a user who said that it was very easy to hook up and use. However, he said that the voltage meter wasn't accurate as it showed 1V less than what his charge controller reported. It was not a big deal though.
Another user said that the TVNIKD 12V inverter was great for the off-grid solar power system. As per this user, it was a very good inverter, which was supported with an excellent customer service.
Capable to Run a Small Microwave with No Problem
A user had bought the 1700W model of the TVNIKD inverter. He bought this inverter because he usually had to go outside for work driving his vehicle. Actually, he hates buying food on the road, so he bought a TVNIKD 1700W inverter to run his small microwave (600W). The TVNIKD inverter did the great job of running his small microwave. Therefore, he was happy with the performance as he was able to heat up food and eat on the road.
Key Features – TVNIKD 2500W 12V Inverter
2500W output capacity
Black color
13.5V input voltage
110V output voltage
3 power outlets
9.5 x 9.3 x 3.5 inches product dimensions
Modified sane wave waveform
3 powerful cooling fans
Durable aluminum alloy shell
Energy saving capability
Optimal charging speed
5V USB output
I have mentioned all the key features of the TVNIKD 2500W inverter. Please read the features if you want to buy it. Apart from all these features, it is a well-designed inverter, which comes with all the protection features and would deliver steady current to the connected devices.
PROS
Very good for the vehicle uses
Runs microwave and other appliances
Great customer service
Low price
It powers most devices being a modified sine wave inverter though.
Comes with everything needed
Powerful and quiet
A well-built unit undoubtedly
Appropriate physical size of the inverter
CONS
The cables are not long enough.
The wires are not marked positive and negative, so it is bit difficult to identify.
The safety capabilities need to be improved.
I would say that you should go with this TVNIKD 2500W inverter for a low-price inverter requirement. Undoubtedly, it is a well-built unit that runs silently and is powerful enough to handle the rated load. Most users said that they don't have a problem powering their appliances in their RV and car. As written above, this TVNIKD inverter comes with everything you need and it is supported with a responsive customer service. On the downside, the 12V inverter comes with some minor issues like short cables, and the wires are a bit difficult to identify whether it is a positive or negative wire.
As per TVNIKD 2500W Inverter Review, it has a good power inverter for many users. They say that it was a great buy. Of course, this is a good inverter for truck and other vehicles. If you are a user of this inverter and have installed in your vehicle, you might had the great driving time with this little unit. Of course, it is safe and reliable to provide the continuous power as per your need. Overall, for most users, it was a great value for the money.