Before we know about these Ampeak inverters in details, we should also know their origin. Well, according to a quick Google search, Ampeak inverters are made in China. Yes, this is true; these Ampeak inverters are manufactured in China but these inverters are totally apart from the typical Chinese products. Undoubtedly, they are rich-quality and performance-oriented inverters. Most importantly, they are affordable too.
In fact, the Ampeak inverters have secured an impressive rank on various selling platforms including Amazon. If you don't believe me, please read users' reviews on Amazon. Ampeak has earned good reputation on numerous shopping websites such as Amazon, Walmart etc.
Ampeak 2000W Power Inverter – DC 12V to 110V AC – Car Inverter
In the Ampeak Inverters Reviews, Ampeak 2000W power inverter looks promising from all corners. It not only delivers 2000 watts current, but also facilitates secure connection with your desired appliances and devices. Yes, it features three AC sockets, which can be used to connect large-size appliances in your home. Alternatively, you can also use this Ampeak inverter outside your home, in your large vehicles, for camping, road trips etc. The DC 12V inverter also features USB port, which is good for connecting small-size electronic devices such as mobile phones, gaming consoles, laptops etc.
On another side, the manufacturer claims that this AC120V Ampeak inverter is greatly protected. All the protective elements are designed considerably. First, the powerful power inverter features two cooling fans. The cooling fans perform their main task of providing sufficient cooling when the inverter is running in a heavy load. Second, an intelligent mechanism has been developed to shut down the inverter automatically when it detects voltage fluctuation, too much inverter load, short circuit and over-heating issues. Other protective elements are built-in mini fuses and a safety alarm.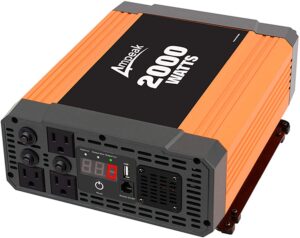 ABC cabinet – the highly popular inverter features a long-lasting body, which is made of fine-quality ABC material. In fact, ABC is a type of plastic material, which is considered as the best material in plastics. Most cabinets of electronic devices are made of ABC materials. Additionally, the inverter has fully insulated ring terminal cables, while ordinary inverters use alligator clip cables.
In The Shipping Box
Ampeak 2000W inverter
Two ring terminals
One user manual and
One quick-start guide
Specifications
11V to 15V DC input
105V to 125V AC output
2000W rated power
Modified sine wave output waveform
10 x 35A mini fuses
32° F to 104°F working temperature
What Are Existing Users Saying about Ampeak 2000W Inverter?
According to the reviews posted on Amazon, Ampeak 2000-watt inverter is the best inverter for them because they were able to run table saws and heaters without any issues.
A customer at Amazon says that this Ampeak inverter is an affordable inverter, which comes with wonderful features compared to his previous 1000W inverter. With this 12V inverter, he is able to enjoy camping trips and other outside activities. According to him, the 2000W inverter is very easy to connect with any 12V DC battery.
This is really a great tool to converter DC current to useable AC current to operate several devices at the same time. Now, he enjoys multiple uses of this Ampeak inverter. He not only connects with the regular devices, but also charges his mobile phones via the USB port. The 2000W inverter has an LED display, which is very helpful to read the power uses both input and output.
On a negative side, an Amazon customer says that he used this power inverter in his truck. Then, he tried powering on a small fridge and a microwave but didn't work. He connected the microwave three times for three minutes; it started smoking like crazy. After this, the inverter stopped working. He advised that if you are a trucker then avoid purchasing this inverter.
The Ampeak 2000W power inverter is positively rated by an Amazon customer. The customer says that he bought this inverter for his RV, mainly for running his coffee maker. He was very happy with the performance because he made coffee several times without any issues. Further, he says that his inverter is highly recommended for square wave applications. However, he warms that it is not a good inverter for running TV and other sensitive electronics.
Pros
Very easy to connect
Connect with remote switch available
Good for vehicles and home use
It features 2.1 USB port for charging electronic devices
The 2000W inverter is good for the handy use.
Countless users have given 5-star rating to this power inverter.
The inverter features three AC sockets to connect various appliances.
Cons
According to a reviewer at Amazon, it is warmed not to run sensitive electronics because it is not a pure sine wave inverter.
A reviewer on Amazon says that this 2000W power inverter doesn't work with continuous 1500-watt load.
According to a review on Amazon, the reviewer warns that if you want to use in your truck then avoid buying this inverter.
Well, pros and cons of Ampeak 2000W inverter are in front of you. Now it is your turn to decide whether it is good for you or not. According to me, the inverter has received mixed reviews on Amazon. However, most of the reviews are in the favor of this inverter, so I will suggest buying this inverter. From the price side, it looks an affordable 2000W inverter. In case, you decide to buy this Ampeak 2000W power inverter, please research more about the cons posted above. I don't know these cons are user-specific cons or they are actually attached with the unit.
Ampeak 400W Power Inverter DC 12V to 110V AC Car Inverter with 3.1A Dual USB Converter
In the Ampeak inverters reviews, 2000W power inverter has already been reviewed above. Now please check this Ampeak 400W power inverter, which is also very popular like the previous one. The 400 watts inverter has secured a good ranking position on Amazon with countless happy customers.
Well, according to the manufacturer, Ampeak 400-watt inverter is a powerful and practical inverter. Indeed, this is a powerful unit as per its existing customers.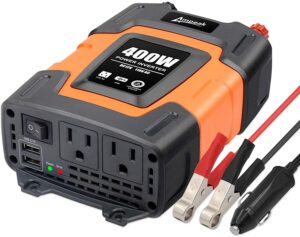 No Doubts to Its Powerfulness
Well, Ampeak 400W power inverter is powerful because it has 200% surge capacity. Which means this 400-watt inverter has 800-watt surge power. Next, it features both USB ports and AC sockets, which are for connecting home based appliances and other electronic devices. Such highly rated inverters are very suitable for travelers and persons going out for camping. It is also very good for emergencies where you need electricity on an urgent basis.
Portable and Lightweight
For the convenient uses, Ampeak 400W power inverter carries a space-saving design, which facilitates easy carrying and storage. The outer design resembles with an iPhone's design, which creates beautifulness, convenience and attractiveness.
Such slim-design inverters are perfect for family trips, car trips, outside uses etc. It also features a cigarette lighter, which makes it a vehicle inverter. Additionally, the super-portability characteristic of this inverter meets the demand of the newest generation.
The Protective Capabilities of Ampeak 400W Inverter
In fact, a power inverter needs to be protective. A highly protective inverter not only protects the unit itself, but also protects the linked appliances. The inverter may not be costly but the connected devices are very costly. Thus, a protective inverter is in demand.
According to the manufacturer, this 400-watt car inverter is highly protective because it uses advanced technology. Not only this, all the protective features are designed carefully to provide the utmost protection when needed.
In the protective feature list, the power inverter has gotten ETL certification, and it comes with 18-month of warranty. The unit has integrated 35A mini slip fuses and cooling fan. Thus, the inverter aptly provides protections when it detects over-load, under-load, current fluctuation and short circuit.
 The Package Contains
400W Ampeak Inverter
Two battery clips & cables
One Owner book and
A quick-start manual
You can check the items that come included with the inverter. Since these accessories come included with inverter, you don't have to buy them separately. It means you get everything to install the inverter and start using it.
What Do Existing Customers Say about Ampeak 400W Inverter?
According to a customer on Amazon, he has been using this Ampeak inverter for one weak. He didn't get any issues after some functions tests. He uses this inverter for supplying electricity to his TV and DVD player in his travel trailer. He expressed his happiness because he was able to power on several devices at the same time. Further, he says that fan doesn't run on the inverter power. Additionally, the inverter fan does make some noises but you can get accustomed to it.
According to him, he liked the inverter because it comes with mounting tabs. He used the mounting tab to mount to the wall just below his TV is mounted. Now, he planned to order the same inverter for running another TV and his printer. His only complaint is that the On/Off switch is not located at a good place. It should be a little far from the 110V plugs.
Another customer says something negatively. He says that he bought this inverter to replace his last inverter, which lasted more than three years. He lives full time on his sailboat. This Ampeak 400W inverter didn't work after two days. Now he is using for his phone, light-duty only.
One customer on Amazon happily reviewed this inverter. According to him, he used this inverter on a family vacation trip, and he loved it. Since it features 2 USB ports and 2 AC outlets, so he has many outlets for charging phones and GPS. He said that he can easily plugin a laptop and watch DVD movies. According to him, the cooling fan is a little noisy, and it should be to function properly. Further, he suggests that it has 3.1 USB ports, so please make sure you use the compatible cable.
Pros
Slim-design, portable and lightweight
It can be mounted on a wall using the provided mounting tabs.
Good for family vacation trips
Dual AC outlets and dual USB ports for the connection
The cabinet is durable because it is made of fine-quality ABS material.
ETL approved
You can power multiple devices simultaneously.
Cons
Light-duty uses only
According to some customers on Amazon, it sparked from the backside and stopped working.
The location of On/Off button should be somewhere else.
Scanning the list of pros and cons is very important because it gives an overall picture of the product. In the context of this Ampeak 400W inverter, there are too many pros and a few cons also. Personally, I liked its slim-design and the lightweight profile because it is very easy to carry and store. For the connection ease, the 400-watt inverter gives you 2 X AC outlets and 2 X USB ports, which are good to connect multiple devices simultaneously.
Additionally, this is an ETL approved product, though the product has received some negative reviews from its users. Some users on Amazon say that the inverter stopped working after few days. According to some users on Amazon, the location of On/Off switch is not on an appropriate place.
Conclusion
To conclude Ampeak inverters reviews, I will say both inverters are good because they have received tremendous ratings on numerous selling platforms. We can't ignore the reviews posted on Amazon, Walmart etc. because these reviews are posted by genuine users who have already used the product. In the best Ampeak inverter reviews, two inverters have been reviewed such as Ampeak 2000W power inverter and Ampeak 400W power inverter. You can buy one based on your requirements. Both inverters are recommended from my side.
Impressively, both the inverters are ETL approved, which means they are safe to use. Additionally, both inverters have multiple connection sockets to connect multiple devices using USB and AC connections. Most importantly, they are affordable to buy and they come with all the required accessories including user manual.