Bestek is quite popular for a wide range of inverters. It not only makes inverters, but also makes various electronic accessories including surge protectors, universal travel adapters, USB charging stations etc. In the Bestek 400W inverter review, I will try to cover important aspects, which are directly related to overall performance, convenience, usability and safety.
As stated above, this is a 400W inverter, which greatly converts 12V DC into 110V AC. The Bestek inverter has 400-watt continuous and 800-watt peak power. More importantly, the 110V inverter has been upgraded. Consequently, it becomes more powerful and performance-oriented than the previous version.
According to the manufacturer, the Bestek 400W inverter is free from the noises that come from low-grade inverters. The built-in inverter fan runs silently, so it means it doesn't create any distraction at the time of driving. Additionally, the inverter has ventilation system that aptly gets rid of heating problems.  The heat dissipation capability of this inverter is also very helpful to deliver a fast charging performance. You can charge your laptops, smartphones and various other electronic gadgets at a fast speed. Such fast charging 110V inverters are perfect for travels, camping, road & business trips and distant power requirements.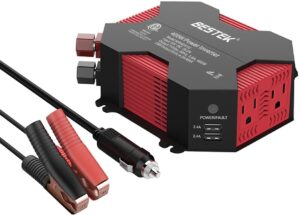 Fully Protected from Common Electronic Errors
According to the manufacture, safety is the first priority. Consequently, the inverter has been designed keeping utmost protection in mind. The 12V DC to 110V AC inverter comes with built-in fuses to get rid of common inverter problems such as voltage fluctuation, heating issues, short circuit, over/under-load and many others.
Amazingly, the Bestek 400-watt inverter features matte indicator that doesn't create distraction at the time of driving. To get rid of frequent disconnections, the inverter comes with high-grade accessories such as wire connector, battery clamps and cables.
Caution
It is advised to avoid running the inverter in wet, high temperature and high voltage environments.
Please make sure that input voltage and output voltage are according to the specifications.
Reliable Technology & Fire-retardant Materials
The manufacturer claims that the inverter technology has been developed after years of research. Further, it has been tested for countless times to make it a reliable and safe inverter. On the other hand, fireproof materials have been used to make the Bestek 400W inverter, which greatly withstands heat and other related things. Since main goal of the Bestek 400W inverter review is to provide you only the true information, so it is very relevant to let you know the reliability aspect of this inverter.
Features of Bestek 400 Watts Inverter
Bestek 400 watts inverter features four USB ports and two AC sockets. These connection ports can be used to charge various devices. The inverter has built-in external fuses, which work for the safety. Other important features are the cooling fan that runs silently and all-round ventilation system to remove heat from the unit. Such powerful features of this 400W inverter will surely help in charging the connected appliances at a fast speed. The notable features of Bestek 400W inverter are:
Noiseless cooling fan
Isolation voltage protection
Short circuit protection
Replaceable integrated fuses (40A)
Long-lasting cigarette lighter plug
4 USB ports and 2 110V AC outlets
Modified sine wave power output
Aluminum body
400W rated output and 800W peak power
Product dimensions: 6-inch X 4.8-inch X 2-inch
Based on the features and capabilities, the Bestek 400W power inverter can be the best buy because it comes at an affordable price too. The inverter features six connection sockets: four USB charging ports and two AC 110V outlets. Using these connection outlets, you can connect multiple devices simultaneously. Consequently, you can power on home appliances such as TV, fan, refrigerator, gaming machines, audio devices, mobile phones, laptops, cameras and many others.
The Package Contains:
Bestek 400-watt power inverter
Two copper battery clips
One solid cigarette lighter plug
Compatible leads
A detailed user manual
Using the above accessories, you will not get any issues to setup and run the power inverter. Since everything is included, so you don't have to spend more money to buy them separately.
FAQs of Bestek 400W Inverter
Q:  is this a pure sine wave inverter?
A: no, this is not a pure sine wave inverter. It is a modified sine wave inverter. However, it is good to power most devices.
Q: can Bestek 400W Inverter power a crock-pot, if I plugged into the cigarette lighter?
A: yes, if you are not drawing more than 150W output power. In fact, via the cigarette lighter plug, the maximum output power should be within 150 watts otherwise the fuse might blow.
Q: can I plug the positive and negative leads directly to a solar panel?
A: no, if you directly plug the inverter's positive and negative leads with your solar panel, you would get fluctuated current depending on the sunlight. Therefore, it is useless, and it may be harmful to the connected devices as well as the inverter.
Q: when connecting with a cigarette lighter plug, will I be able to charge my laptop?
A: yes, as long as you keep the output wattage within 150 watts.
Q: are the fuses fixed by soldering them into the unit?
A: no, these fuses are not soldered into the unit. They are replaceable fuses. One can easily replace the inverter fuse without any troubles.
What Users Are Saying
One – as per this customer's reviews on Amazon, he comfortably powered a play station and 23-inch monitor while traveling. Further, he says that after 13 hours of continuous use, the inverter didn't have any heating issues. The cooling fan runs quietly. He expressed his happiness by saying that he even charged his controller and mobile phones using the USB ports simultaneously without any troubles.
Two – this customer received the inverter on time and installed it in his vehicle. He uses the Bestek 400W inverter to charge two 20V chargers and three USB ports to charge various devices. Before he was using an inverter from a different brand but this Bestek brand inverter is better than his previous inverter. Next, he says that the Bestek 400-watt inverter is made very well. In addition, he says that the inverter comes with an 18-month warranty, which is good for the peace of mind. The price is unbeatable according to him.
Three – according to this customer, Bestek is a truth-worthy manufacturer. He has been using many Bestek products for years. These Bestek electronic devices kept him happy all the times.
Four – this user says that it charges very fast. According to him, he started using the inverter as soon as he received it. The inverter works as per what written in the product description. He liked the beautiful design of this inverter. He says that the inverter delivered the greatest level of satisfaction especially for the charging speed. However, he was worried about the mobile battery may be damaged. He asked the service team. Service team explained that the mobile battery would not have any bad impact from the fast charging speed.
Pros
Countless happy users
Reasonable price
Good to charge multiple devices at full efficiency
Six connection sockets (four USB ports and two AC 110V outlets)
No heating issues
The cooling fan runs silently.
Good for vehicle and home uses
The build quality is very good.
It comes from the trusted Bestek brand.
An 18 months warranty for the peace of mind
High speed charging speed
Battery connection with cigarette lighter plug or alligator clips
400W output power is enough to charge multiple devices simultaneously.
Cons
Battery clamps should be improved.
Short cables
The inverter is a little bulky.
The Bestek 400W inverter comes with several advantages, which directly contribute to its overall quality, performance, safety and ease-of-use. The low-price power inverter from BESTEK also includes an 18 months of warranty. In case, you experience any issues within 18 months, please claim the warranty. Impressively, the unit features six connection ports: 4 X USB ports and 2 X 110V AC outlets. Using these connection sockets, you will be able to connect up to six devices simultaneously. However, the Bestek inverter also has some disadvantages, these are low quality battery clamps, short cables and the inverter is a little bigger than expected.
Conclusion
In short, the Bestek 400W Inverter Review is based on extensive research on the web. The information collected from various electronic blogs, shopping websites, discussion places to find what the existing users are saying about it. Based on the finding, the Bestek 400 watts inverter is a good unit, which should be purchased for home or van usages.
The build quality is superb, the charging speed is fast, and the efficiency is approx. 95% as per users' reviews. You can definitely buy this Bestek inverter because it has earned tremendous reviews and ratings on various shopping websites.