Main purpose of writing Beleeb 600W Pure Sine Wave Inverter Review, is let you know what existing users are saying about it. Well, the inverter looks robust not only from outside, but also from inside. The green color external look will surely beautify the surrounding where it is placed.
In fact, green color is a sign of positivity, and so the inverter works accordingly. I'm saying this because Beleeb 600-watt inverter has earned impressive respects on numerous selling platforms.
Conveniently, the 600W Beleeb inverter is very suitable to meet most of electricity demands. It delivers medium level wattage, which is neither less nor more. The 600-wat pure sine wave electricity is perfect to power various devices including laptops, smartphones and other electronic devices. For a convenient connection, it features two 110V AC outlets and dual USB ports (2.1A).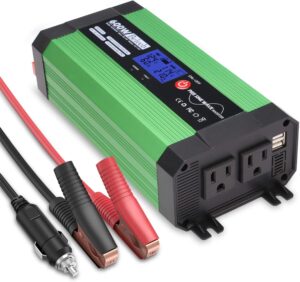 In fact, pure sine wave inverters are in high demand compared to modified wave inverters. Since, this is a pure sine wave inverter, so you will not get any issues from the sensitive devices.
Safety & Reliability
Beleeb 600W Pure Sine Wave Inverter is well protected with built-in fuse. Which means, if the inverter detects irregular power supply and load, it will stop working. This way, the 12V DC to 110V AC inverter not only protects the inverter, but also protects the connected devices and appliances. Well, apart from the fuse-based protection, the Beleeb power inverter has a protective design, which provides utmost safety not only to the unit itself but also to the linked devices. Consequently, it greatly protects from the common electrical faults such as over-voltage, under-voltage, over-heating, short-circuit, over-load and under-load.
LCD Display (Liquid Crystal Display)
Beleeb 600 watts inverter features an LCD display, which provides real-time information on the voltage usages, both input and output. It also notifies you about the safety status of the inverter. Since, you are able to see the status of power supply, inverter-load and protection, so you will be in a better position to control the power usages and take further action accordingly.
Why Do I Buy Beleeb 600W Inverter?
In fact, there are numerous valid points for buying this 600W inverter that comes from Beleeb manufacturer. First, it is a pure sine wave inverter, which is considered superior than modified wave inverters. The quality of output is superior to others. You can undoubtedly connect sensitive electronics like laptops, mobile phones, printers, music devices etc.
Second, it gives easy connection options and has robust exterior. The dual USB ports and two 110V AC sockets are enough for joining multiple devices at the same time. When it comes to efficiency, the manufacturer claims that it provides 100% 600-watt output but some users at Amazon say that it has 90% efficiency. Well, even 90% efficiency is a good capability in such a low price power inverter.
Third, it comes with multi-protection capability, which means it provides protection from:
Over temperature
Over load
Low/high voltage
Short circuit and
Reverse polarity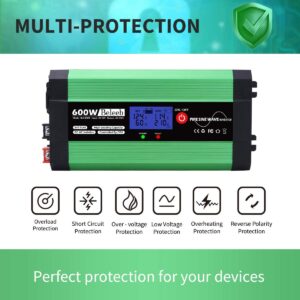 On a precaution note, you are encouraged to read Beleeb 600W Pure Sine Wave Inverter Review on other websites too. Then, I think you would be able to take your buying decision.
Cigarette Lighter Connection
According to the manufacturer, the cigarette lighter connection can be used if the load is under 150-watt. This way, it provides the utmost convenience and handy use for connecting those devices that consume less power. Further, the manufacturer says that it is impossible to get full power from the 12-volt car cigarette lighter. For this, you need to connect with the battery using the alligator clips.
FAQs – Beleeb 600W Inverter
Q: can I use it efficiently for 20W usages?
A: yes, according to some users on Amazon; they were able to charge very low power drain devices without any problems. Since, this is a pure sine wave inverter, so you will not get any issues from supplying power to small electronic devices.
Q: can I use a remote switch?
A: no, currently it doesn't allow remote connection. However, it depends on the manufacturer if they modified it in the next version.
Q: on what condition does the cooling fan run?
A: the cooling fan runs when needed. It doesn't run all the time. Usually, it runs when it detects substantial load.
Q: can I run a vacuum cleaner also?
A: no, because average vacuum cleaner needs approx. 1500-watt power, so it is impossible to do it. However, if you have an inverter with more than 1500W output, you can easily run a vacuum cleaner.
User Sentiment
One:
According to an Amazon customer, he only used this inverter twice up to now. Both times, he used the inverter for single day power outages. He used a 200Ah battery for the connection. Further, he says that the inverter has approx. 90% efficiency, which is good. Additionally, the sine wave power looks good to him. He also liked the integrated meter.
However, he was a little suspicious after seeing some printing mistakes on the inverter. Other than this, the Beleeb 110V inverter looks good from all sides. It is protective, performative and user friendly.
Two:
An Amazon customer says that he bought same inverter multiple times over the years. He used the Beleeb power inverter to provide electricity to small appliances in his truck. He says that it is also good for solar energy and supplying emergency power from a 12V charged battery.
However, he found some minor issues related to one USB port and the battery cable. According to him, one USB port is slightly deformed but it works for the purpose. The battery cables are very short, only 2 feet long; it should be a little longer. Apart from these two problems, they didn't find any other issues.
Three:
According to this user, the main board was not mounted in a good position. Consequently, the USB ports were not aligned correctly with the case. However, he didn't want to return the inverter, he just removed the main board from the case and after resetting the inverter, it started working well.
Four:
As per this customer, the Beleeb pure sine wave inverter is very powerful. This is good for the price paid. He used this inverter with a 300W heat gun and some power tools, the inverter delivered steady performance. Further, he happily says that now he can run many power tools without any problems.
Pros
Pure sine wave output for sensitive devices
Affordable price
Multiple connection methods: dual USB and dual 110V AC outlets
Good for semi-truck, other vehicles, camping, household appliances and small electronic devices
Approx. 90% efficiency
Cigarette lighter connection
Sturdy case
Good protective capability
Cons
Short battery cable
According to a customer on Amazon the one USB port was slightly deformed but it worked for the purpose.
Some printing mistakes on top of the inverter
The advantages and disadvantages of Beleeb 600W inverter are mentioned above. Please read the list of pros and cons to get an overview of this inverter. According to me, it looks like a good inverter because it comes with several pros and a few cons. The 90-percent efficiency is good to run several devices using high quality pure sine wave current coming from this inverter. It also has good protection capability to protect the unit as well as connected devices from any electrical faults.
Conclusion
In short, the Beleeb 600W inverter review is based on product description, research on the web and users' reviews on Amazon and other selling platforms. According to my finding the inverter looks good from all aspects because it comes at a low price, has useful features and wider applications. According to Beleeb inverter review, it looks sturdy internally and externally. We shouldn't forget that it delivers pure sine wave current, which is ideal for those power sensitive devices.
You may often need to connect devices like laptops, smartphones, computers etc. For such requirements, the affordable inverter can be the best buy without any doubts.