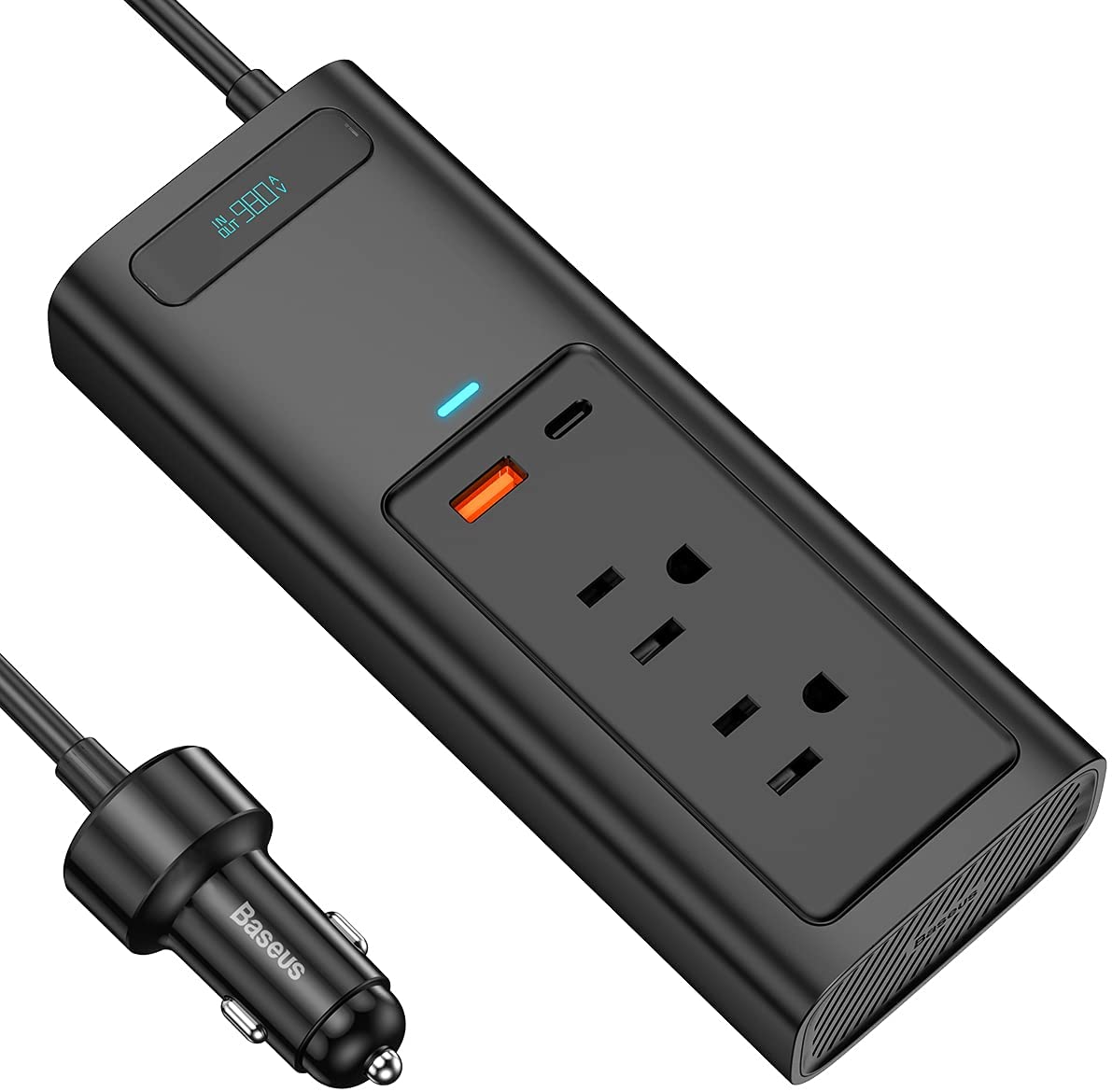 Baseus power converter is available in two colors such as grey and white. Depending on your preference, you can choose a color. The price does not differ too much based on the color you choose.
If you are looking to buy a slim size power inverter that is ultra-compact also, please choose the Baseus 150W power inverter.
The 12V DC to 110V AC converter has many connection sockets. It has two AC 110V sockets, dual USB ports with fast charging ability. It also features a Type-C USB port. You can use all these connection ports to connect your devices.
Baseus 150w power inverter is a compact and lightweight unit that measures 65.7 x 6.8 x 3.7 centimeters and weighs just 380 grams. The power inverter comes included with a 40-cm cable. The high grade portable power inverter has a special design that entices people. The lightweight power inverter is easy to use and great for the portable inverter needs.
The portable Baseus power inverter is not only portable, but also protective because it is made of PC and ABS plastic materials. The high-class insulated plastic materials can greatly reduce temperature and withstand shortages. On the other hand, the 110V AC power inverter has built-in fuses that handle all the power fluctuation issues such as over-voltage, under-voltage and short circuits.
In fact, the little power inverter is perfect for too many applications because it is perfect for travelers. The 150W power inverter is good for most vehicles such as RVs, trucks, cars, boats and fulfilling emergency power needs. If you own it, you will not find any difficulties for charging your USB-enabled devices such as tablets, iPhones, cameras etc. For the operational safety, the Baseus 12W power inverter features a built-in on/off switch. So, this on/off switch is not only a safety switch, but also a handy switch to control the power inverter.
From BASEUS, you can expect professional response. That is why; BASEUS products are very popular and affordable too. The 12V power inverter comes with an 18-month warranty and after-sales assistance. In case, you encounter any issues in this power inverter, you can contact the Baseus customer care team for the immediate solutions.
Pros
Fast charging USB and USB-C ports
Ultra-compact and ultra-lightweight product
Low price
Instructions are easy to understand and follow.
Cons
Some users say that it needs to be more durable.