Before describing the best AIMS inverters, please learn a little about the AIMS brand, origin and founder of the company. According to my finding, AIMS power inverters are made in Reno, Nevada. The founder of AIMSCorp is Bruce de Jong. He has been designing unique inverters and power generation equipment since 2001. AIMS offers a wide range of inverters to its global customers. The company not only makes powerful inverters, but also makes solar systems and various electronic accessories.
In fact, AIMS inverters are very popular globally because they are uniquely built to deliver the performance you need. Surprisingly, AIMS has too many inverter varieties based on the wattage. Whether you need a low-wattage or high-wattage inverter, you will surely get one from AIMS. However, the prices of these AIMS power inverters are slightly higher than inverters from other brands.
AIMS 2500W Power Inverter Charger
For heavy appliances, you can consider buying this AIMS 2500W power inverter. With this power generator, you will not get any difficulties for supplying electricity to your household electronic appliances. This is not only a power inverter, but also a battery charger with a transfer switch.
Based on the features and capabilities it boasts, it can be the best inverter to power on microwaves, fridges, computers and other household devices. The 2500W inverter has 7500-watt surge for 20 seconds. As said earlier, AIMS inverters are uniquely built, which you can see in its serge wattage. Most inverters on the market have at least 200% surge capability but this one has 300% surge capability.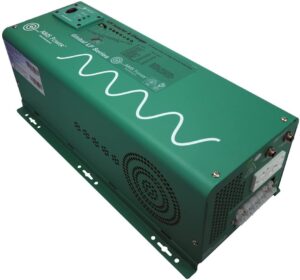 Some unique features of AIMS 2500W Power Inverter are 300% surge capability, multi-level 85A charger, LCD remote console and thermal fan. In fact, the power inverter carries only essential features that make it affordable, convenient and widely suitable.
The Uses of AIMS 2500W Inverter
According to the manufacturer, this is a reliable power inverter, which is right for medium-size vehicles and distant places. Additionally, it is reliable because it supplies pure sine wave electricity, which is good for sensitive devices.
The 2500W inverter has 7500W surge capability, which means if you require more than 2500W power, it can supply up to 7500W power for 20 seconds. Since, some heavy appliances such as fridges, power tools, high-power fans, and computers require good amount of electricity at the start-up, so this 750W surge capacity is very useful in those situations.
Amazingly, AIMS 2500W power inverter features an 85-amp charger, which is good to charge batteries and use them for backing-up those appliances and devices for emergency.
What Users Say
As per an Amazon customer's review, the inverter is very powerful, which is easy to set-up and easy to operate. The unit doesn't take too much electricity when it is on the lazy mode. Further, it delivers silent operation even when the fan is running. The user was able to operate a 1000W microwave and a 1500W heat gun simultaneously. According to him, he didn't find any problems even on the full load. It powers on various devices faultlessly. Concisely, what he paid for what he got.
According to another customer on Amazon, he is using this AIMS inverter in his boat. The inverter mechanically switches to shore power depending on the viability. Because, he has a small battery bank so he has to depend on the shore power too.
Further, he says that the main problem is the #0/4 wiring, which is a little expensive; rather it should be #0/2 even with a smaller inverter. Alternatively, he changed the alternator to 130-amp. Now he can easily operate refrigerators, microwaves, coffee machines, some power tools within the 2500W inverter's total output power.
Pros
Good performance
300% surge capacity
It can power on multiple appliances at the same time.
You can connect with even gel batteries as well.
55W consumption in the idle mode
More than 88% nominal efficiency (peak)
It supplies clean sine wave reliable electricity.
Load-based fan for the protection
Solidly built
Cons
Warranty related information is not clear.
According to an Amazon customer, the charging function stopped working after six months.
Based on the strengths and weaknesses, the AIMS 2500W power inverter looks good from all sides. With this inverter charger, you not only operate multiple appliances simultaneously, but also carry it anywhere you go and use it depending on the power requirements. You can see it has 300% surge capacity, which is good to supply start-up electricity to some heavy appliances.
For the safety of connected appliances and devices, the AIMS inverter is capable to supply sine wave clean electricity, which is considered good quality electricity to operate sensitive devices. Additionally, it is fully protected because it has built-in thermal fan to provide the cooling sufficiency to the entire system.
AIMS 5000 Watt 12 Volt DC Power Inverter
Earlier, I reviewed and described AIMS 2500-watt power inverter. Now I will write on AIMS 5000W power inverter, which is highly rated on numerous selling platforms. Since, this inverter has substantial customer base, I decided to include it in the list of best AIMS power inverters.
Impressively, the AIMS 5000W power inverter is in its newest addition after various considerable modifications. In this upgrade, this inverter has become an industry leader with many appropriate changes. First, the size of this AIMS inverter is smaller than the previous one. Second, the unit weight is considerably reduced to just 18 lbs and length is reduced to just 17 inches. Which means it has now smaller footprint than the previous version, which was also the best-selling 5000W inverter on various selling platforms. Additionally, major changes have been made on input terminals and the external design. Excitingly, the cost of this inverter is not changed even after so many improvements.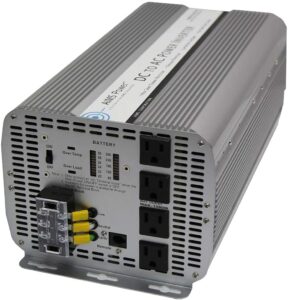 Users' Thoughts on AIMS 5000W Power Inverter
According to numerous reviews on Amazon and other inverter selling platforms, they are able to power on various electronic tools, heavy fans and home appliances without any issues. They have also used this AIMS 5000W inverter in their full-size cargo van successfully. Astonishingly, the inverter is very easy to setup and connect with your recreational vehicles. Even, you can connect this power inverter with several home or office appliances at the same time.
Many users use this 5000W power inverter for backup power because it is very important for them to have power backup for the situations when regular electricity suddenly disappears. Amazingly, this inverter works like a portable inverter that is very useful for not only homes, but also for offices, camping, vehicles and other occasions where you need emergency power backup. Additionally, it is not only capable for supplying 5000W continuous sine wave electricity, but also handy for many uses.
On a precautionary note, please ensure to use the specified inverter cables. Otherwise, you may get a low-voltage alarm frequently.
Features of AIMS 5000W Power Inverter
Voltage & amperage meter on front side
5000W sine wave power
Expanded AC receptacle
AC hardwired output above 1500 watts
Elective remote control
DC 12V to AC 120V
#4/0 cables required
Prime features of this AIMS 5000W inverter have been mentioned above. From the list of features, I can say this power inverter is also uniquely built just like the earlier mentioned AIMS 2500W power inverter. You can see, it has both voltage and amperage meters that display accurate information on the voltage and amperage uses. Additionally, the AC hardwired output above 1500W is also a good capability in this inverter, which needs to be there because you often need to connect appliances that require more than 1500W electricity.
Pros
Easy to install
Reliable sine wave output
Voltage and amp meters
Upgraded version
Appropriate price
Many happy users at Amazon
Positively and highly rated at Amazon
Good for powering on heavy appliances
Extra mechanism for output above 1500W
The SCRs are rugged.
Cons
The cooling fan should be more robust.
Remote control is problematic according to some customers on Amazon.
According to many customers at Amazon, poor customer service
Some users complain that it goes into overload mode without any loads.
Before buying a product, pros and cons should be considered and one should make their decision based on the particular's pros and cons. In fact, pros and cons give an overall picture of a product. In case, you don't have much time to read the complete reviews and product description, please scan at least the pros and cons.
In this AIMS 5000W power inverter, it has both pros and cons. Based on these advantages and disadvantages, it is recommend to buy because it delivers clean power (sine wave electricity), which may not be harmful to the connected devices. From the pros list, I'm able to see too many good things, which are in favor of this product, and I'm sure the customers will get benefited from these advantages.
However, as any product may have some cons, so this product has also some cons. Please read the list of cons before you make your buying decision. Well, it is not clear that these cons are user-specific cons or the product's fault, you may have to make your own investigation.
AIMS 4000W Inverter – Pure Sine Power Inverter Charger, AIMS PICOGLF40W12V120V
In the best AIMS power inverter review, I already described AIMS 2500W inverter and AIMS 4000W inverter. Now, please check this AIMS 4000W Inverter, which comes with remarkable features and competencies. It is highly capable, protective, feature-rich, versatile and reliable.
The Potency of AIMS 4000-Watt Inverter
As revealed, this AIMS inverter outputs 4000 watts constant electricity. Not only this, it supplies 12000 watts surge outputs for 20 seconds, which is good for those appliances needing too much power at the start-up.
To protect the appliances attached with the AIMS inverter, the unit is capable to deliver AC 120V clean power (pure sine wave), which is highly demanded today. In fact, most appliances and electronic devices are compatible with pure sine wave power today. Additionally, AIMS PICOGLF40W12V120V is not only an inverter, but also a battery charger. It is also a smart battery charger, which works with various battery technologies including the lithium battery. It has 115A battery charging capability.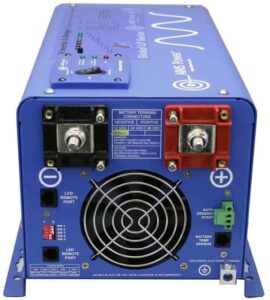 Convenient Features
As stated earlier, this is a feature-rich inverter. Of course, this is a feature house; loaded with advanced features, which provide convenience, protection, versatility and ease-of-use.
Some prime features of AIMS 4000W inverter are auto-gen start, electricity conservation mode, an advanced sensor for the battery temperature, AC connection socket, charging control dial and optional remote control. With all the features mentioned above, you will not get any discomfort with this inverter.
Highly Protective
Well, protection comes first. Understanding this fact, all the AIMS inverters and other AIMS products are designed. Because, it is very important to safeguard the unit as well as connected appliances, it needs to be much protective. Thus, the AIMS 4000W power inverter is protective against over temperature, voltage instability, surplus burden, short circuit and various other temperature related things.
Additionally, in the protection features, it has a voltage alarm to notify you when the voltage gets abnormal (too high or too low). Further, it has an internal fuse to deal with the voltage irregularity and cooling fan to keep the entire system cool, mainly at the heavy load time.
Numerous Uses of 4000W Inverters
Since, this is a 4000-watt AIMS power inverter, so it has various applications. You can use such powerful inverter in boats, large vehicles, and mobile businesses. Additionally, this is a good inverter for industrial uses as well. Such heavy-duty inverter/battery charger is a good assistant for backup power too. Even, you can connect it with your solar system or use it in your home to operate several home appliances simultaneously.
Pros
Good surge capability
Detailed user manual
Good for powering on heavy appliances like refrigerator, microwaves etc.
Pure sine wave output
You can use in heavy vehicles like trucks, RV etc. also.
It comes with ground and neutral wires.
Compatible with generators as well
Competitive price
Too many happy customers online
Cons
Heavyweight (approx. 70 pounds)
The cables are not good according to some customers on Amazon.
The advantages and disadvantages of AIMS 4000W inverter give an overall picture of the product. You can see this is the inverter, which comes with wider scopes related to the uses. Astonishingly, such powerful inverters are built with features in demand. Personally, I liked its surge capability because this capability is very relevant in such heavy-duty inverters. You often need to operate appliances that require too much starting power. To solve this problem, you have the surge power that will supply for 20 seconds.
Moreover, the AIMS inverter is not only advanced in the output power, but also superior in quality. Yes, this is a high-grade inverter, which is based on the latest-gen technology. Consequently, it is capable to supply clean electricity to the connected appliances.
In fact, you may rarely find a product that doesn't come with disadvantages. Thus, honoring this fact, this power inverter also comes with some disadvantages. In my views, these disadvantages can be ignored because they are not related to the performance or you may spend some more money to upgrade them.
Concluding Thoughts
To conclude, AIMS is a reliable inverter manufacturer. Thus, most of AIMS Power Inverters are of exceptional quality and performance. In this AIMS inverter review, three power inverters are reviewed, each of them is selected after extensive research. In case, you don't believe me, fine. Please visit any shopping portal and read reviews posted by existing customers of these AIMS inverters. Then, you will be in a better position to take your buying decision.
All of these AIMS power inverters deliver pure sine wave current, which is very good to run electric-sensitive devices and appliances.
Since, these AIMS inverters deliver higher wattage, so they are very good to operate heavy appliances including refrigerators, power tools, kitchen appliances, home appliances, office appliances etc. Even, you can use these inverters in your vehicles such as RV, trucks, delivery vans etc.