If you want to power appliances with less than 2000W input power requirement, please read NGNWOB 2500W Power Inverter Review.
Most of its users are happy, so you will also be happy with the performance of this 2500W power inverter.
Personally, when I buy a product, I pay attention to the brand popularity, brand establishment and overall reputation of the brand. So, with this notion, although the brand is new but it started getting attention. Therefore, I thought that it would be a good deal because this 2500W NGNWOB inverter sells at a reasonable price. I am not sure if the price is increased after few months because the product is in its uptrend.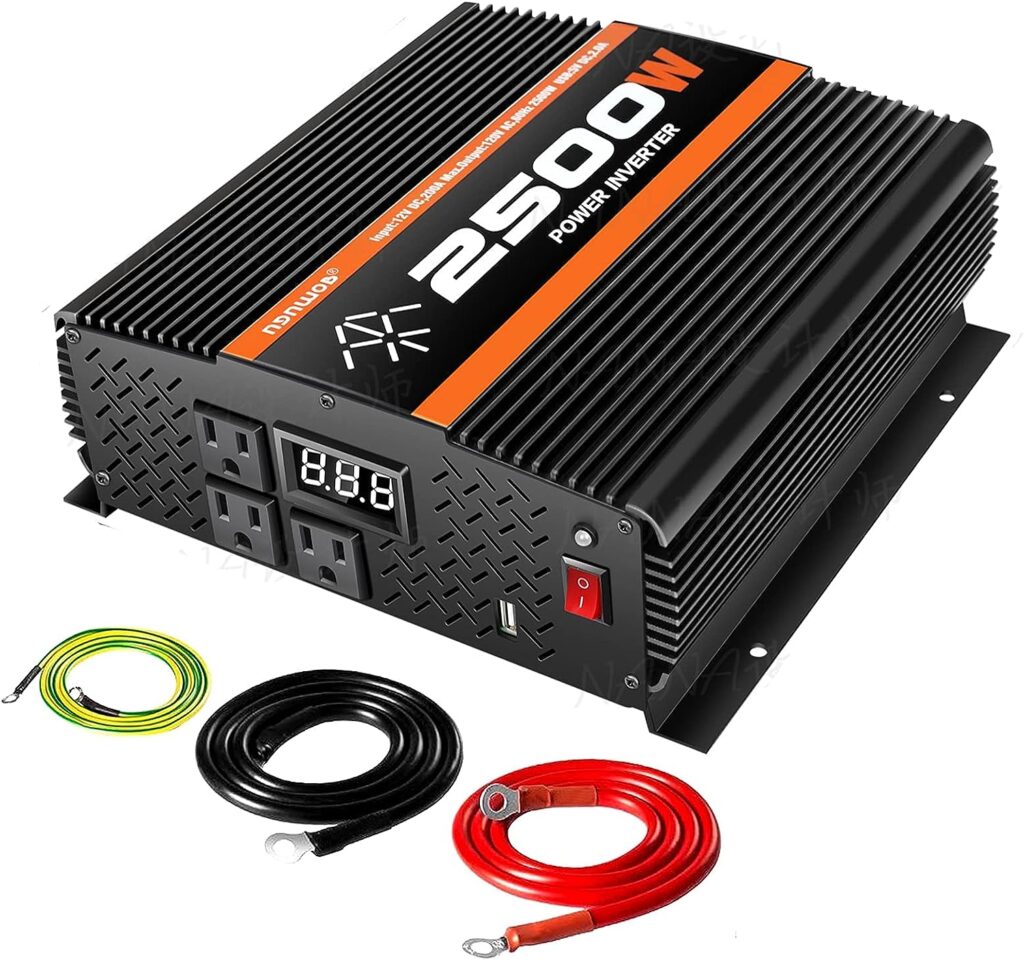 The NGNWOB power inverter is advertised as a great vehicle inverter. So if you want to use this inverter to power those appliances in your RVs, trucks then it can be a good buy for you. I read some reviews where some users mentioned that they are using this power inverter with a solar panel too. Therefore, it has a wide range of applications as per your needs.
As per the NGNWOB power inverter review, it is available in three output sizes such as 750W, 1700W and 2500W. You can go with any of them as per your requirement.
Great Cooling Performance & Connection Outlets
To keep the inverter cool, many factors are considered. These factors are the cooling fan, the shell material and the overall inverter's internal design. Luckily, this NGNWOB power inverter scores well on the parameters to keep the inverter cool.
First, it features smart cooling fans. These cooling fans only work when the temperature reaches certain pre-defined level.  To automatically run the fans, the temperature range is between 104 to 109° F. And, the good thing is that it doesn't give noises.
Second, the NGNWOB inverter features the aluminum alloy shell, which is very good to get rid of the heat build-up.
Third, the 2500W power inverter has three built-in cooling fans. These fans work together for the faster cooling performance.
Connection outlets – the NGNWOB power inverter features three AC 110V outlets and one USB port. Therefore, it is perfect for powering appliances in your vehicles like RVs, truck, car and more.
Key Features – NGNWOB 2500W Power Inverter
2500W output capacity
5000W surge capacity
12V input voltage
3 X AC 110V outlets
1 X USB charging port
3 X Built-in cooling fans
Aluminum alloy housing
5W idle power consumption
88% high conversion rate
Protection features: short circuit, overload, over-voltage, low-voltage & over-heat
50°C over-heat shutdown protection
Modified sine wave waveform
NGNWOB brand name
Made in China
The NGNWOB 2500W power inverter has a wide range of useful features. You can give a look at the features written above. It has total 4 output ports, 3 built-in cooling fans, 88% high conversion rate, aluminum alloy shell, 5w low idle power consumption, 50°C over-heat shutdown protection feature. And, it is a great modified sine wave inverter. However, a pure sine wave inverter is considered better than a modified sine wave in terms of the current quality.
PROS
Capable to run a 5000-btu AC unit
Fast shipping if bought from Amazon
For many customers, it worked as intended.
Configurable to a solar panel too
Great value for the price
Excellent customer service
Comes with all the accessories for an easy connection
CONS
The wires are a bit short.
It is a modified sine wave inverter, so it is not good for the sensitive devices.
A user complained that it was dead within one year.
For many users, it failed to give the rated 2500W output power; it is fine on less than 1500W load.
If you plan to buy this NGNWOB 2500W inverter, you can surely buy it. Please read the cons so that you would be aware of the disadvantages this inverter comes.
I see it does not have many disadvantages. However, the provided cables are short. And, a user complained that it lasted for just one year. It can't be a universal problem. It may be user's fault as well. The biggest con is that it does not deliver the rated 2500W power, however it can handle a 1500W load very well as mentioned by many reviewers. On the positive side, NGNWOB Power Inverter has many good things to offer you. First of all, the customer service is excellent, so if you stuck somewhere, don't hesitate to take the help from the dedicated customer service team.