If you are planning to buy a 100-watt solar panel, please check this ITEHIL 100W solar panel. The foldable solar panel has many capabilities that users always need it. You can use the 100W Itehil solar panel for homes, camping, vehicles and emergency power requirements.  It features USB 3.0 and USB 2.0 DC ports to charge those DC devices.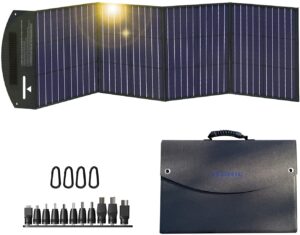 100W Capacity
As mentioned above, you get 100W output from this Itehil solar panel. The 100W power is sufficient to charge all those small devices, those USB-enabled devices. According to the manufacturer's claim, this solar panel is better than the traditional solar panels because it catches maximized sunlight and it works in the temperature range from -4° F to + 140°F.
Therefore, the Itehil 100-watt solar panel is perfect for any outdoor charging needs. You can buy this solar panel and enjoy uninterrupted electricity outside your home.
Connectable to Various Devices
It comes with the features that make it perfect for most devices. For the device connectivity, the Itehil 100W solar panel features many output ports. These DC output ports are 1 x USB 3.0 port with 5V output capacity, 1 x USB 2.0 USB port with 5V or 2A capacity, 1 x 18V DC port, 1 x DC 5521 to DC 5521 cable, 11 x adapters that can be used to charge various power stations, cell phones, digital cameras, laptops and other USB devices.
Incredible Conversion Efficiency
You are going to buy a 100-watt solar panel that has high conversion efficiency. It has high conversion efficiency because it is made of A-class monocrystalline silicon material. Therefore, the conversion efficiency of ITEHIL solar panel is up to 21.5%, while other similarly rated solar panels have only 18% conversion efficiency. For conversion efficiency, this solar panel is very good as you can see it comes with up to 21.5% conversion efficiency. Even at low-light condition, you will receive good output that can be far better than most polysilicon and amorphous silicon solar panels.
Waterproof Solar Panel Is Foldable & Portable
You are going to buy a waterproof solar panel because it is made of IPX4 Oxford waterproof fabric and zipper, which is also easy to clean. Also, the 4-fold solar panel when unfolded it increases the light area and conversion efficiency. The ITEHIL solar panel comes with a kickstand, which provides utmost convenience for the placement towards the sunlight.
The foldable solar panel becomes 20.47 x 14.17 x 1.97 inches when folded and 20.47 x 67.52 x 1.18 inches when unfolded. Most importantly, Japanese ETFE film has been used to make this solar panel that improves light transmittance and make it durable too.
Highlights
100W 18V solar panel kit
Monocrystalline solar panel
100W maximum power output
18V maximum power voltage
5.5A maximum power current
-4°F to 140°F working temperature
Foldable size: 20.47 x 14.17 x 1.97 inches
Unfoldable size: 20.47 x 67.52 x 1.18 inches
Output ports: 1 x 3.0 USB port, 1 x 2.0 USB port and 1 x 18V DC port
21.5% high conversion efficiency
Durable and waterproof
Portable briefcase design
Compatible with many devices
Easy to hand and easy to clean
Perfect for emergency power requirements
Some key features and specifications are mentioned above. You can see the powerful 100W solar panel from ITEHIL is a portable and foldable solar panel that has high conversion efficiency of up to 23.5%. The durable and waterproof solar panel is easy to clean and easy to mount.
Pros
Many customers say that it is a good quality solar panel.
People are buying multiple units because it delivers good performance.
Foldable and portable
It charges 12V battery at a fast speed.
The solar panel features various USB ports to connect the USB devices directly.
Perfect for outdoor activities
Appropriate price
It is sturdier than others on the market are.
The ITEHIL 100W solar panel comes with everything you need for installation and operation.
Cons
A little heavier than expected
Main pros and cons of ITEHIL solar panel are mentioned above. If you intent to buy this product, it is highly recommended to buy. You can see the foldable solar panel is very easy to carry and easy to install. Many customers are heavy with the purchase.
Conclusion
In short, the ITEHIL portable 100-watt solar panel is easy to use and a high quality product. It has earned impressive reviews and ratings on the Amazon shopping website. From my side, it is highly recommended to buy because it comes at an appropriate price.