Topsolar has many good solar panels. These solar panels are very popular on the market. If you need a 100W solar panel, the Topsolar 100-watt solar panel kit can be the best option because it comes with 12V/24V solar charge controller, solar cables and Z-shaped brackets for mounting.
You can find many good things in this Topsolar 100W panel that you may not find in a solar panel from other brands. The 100W solar panel has many applications. The users can use it for RVs, homes and back-up power. Of course, it may have many more applications. The good thing is that this panel is not much costly.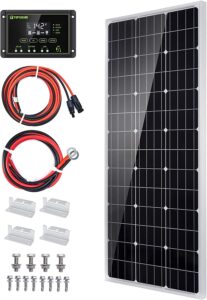 The Topsolar 100W panel with 12V/24V charge controller comes included with many accessories that help in easy installation. The solar panel kit has Z brackets (four pieces), a pair of red and black solar cable. The panel has mounting holes on the rear side that are very helpful for the easy installation.
Highly Protective Solar Panel Made of High Grade Materials
Topsolar 100W solar panel has 20A PWM controller, which is very good to keep the attached battery in good status. The PWM solar controller can aptly save the battery from over-charge, over-voltage, short circuit and discharge and other electrical effects. The 20A solar charge controller gives you 260W power on 12V system and 520W power on 24V system.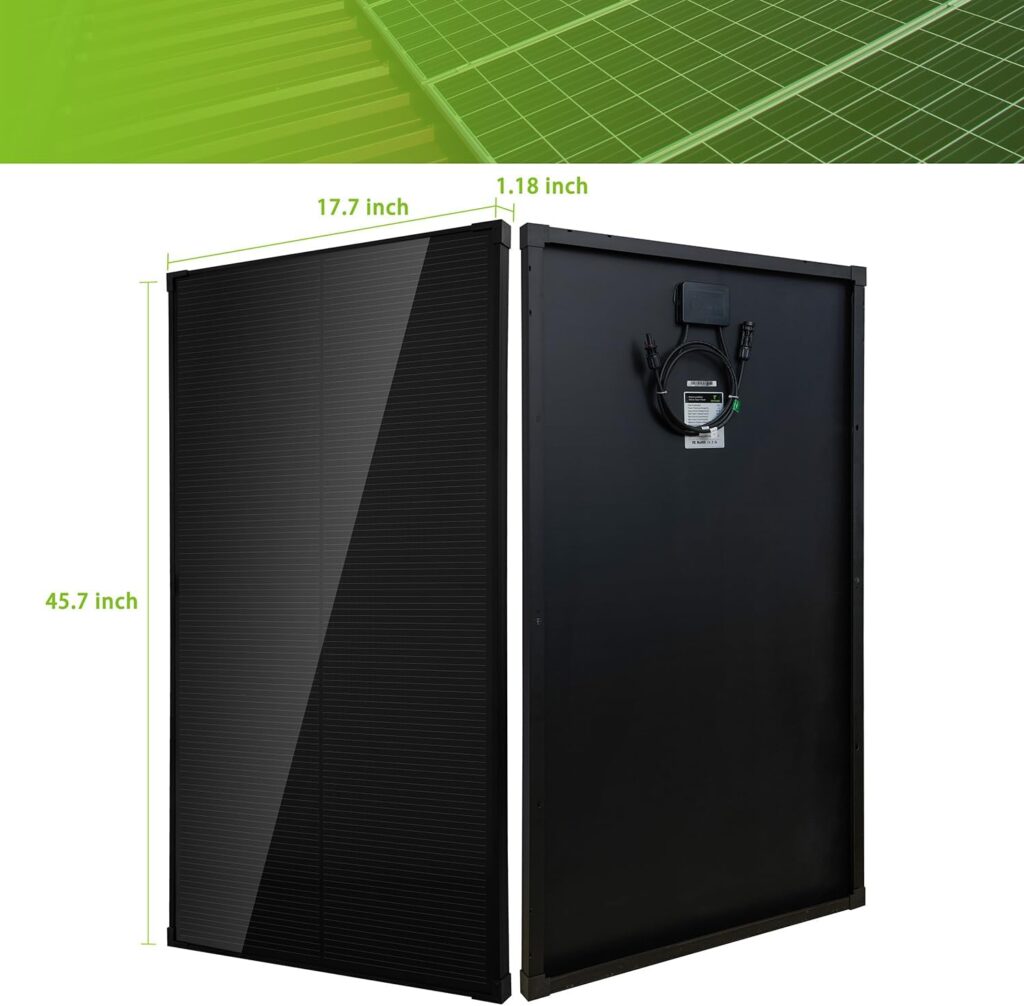 You are going to buy a good-quality solar panel that has good capacity to withstand wind (2400PA) and snow load (5400PA). The Topsolar panel has aluminum frame that is very good for the outdoor use because the frame is made of aluminum and tempered glass. According to the Topsolar manufacturer, it can last for decades so I think it is really a good deal.
Highlights – MonoCrystalline Soar Panel
Topsolar 100W panel is compatible with Sealed, Gel, Flooded batteries.
It is perfect for off-grid 12V solar system.
You can use it to charge many DC devices.
The 100W solar panel is perfect for RVs, car, boat, caravan, shed, cabin, gate opener and many others.
High-efficiency monocrystalline solar panel
The panel is made with strong tempered glass and aluminum frame.
Waterproof IP65 rated junction box
Highly protective against dust, water and other similar things
45.6 x 20 x 1.37 inches dimensions
15 lb weight
The solar panel comes included with 16 feet 12AWG solar cable and 4-piece Z mounting brackets.
Good output in low-light environments
It has monocrystalline solar cells
High module conversion efficiency
PWM advanced charge controller
The 100W solar panel by Topsolar has good features. It is lightweight, waterproof, portable and a high-grade solar panel. The monocrystalline solar panel is highly demanded on the market. The solar panel is very efficient even in low-light environment.
Pros
It comes with everything that needed for successful installation and operation.
The solar panel has USB ports for charging personal devices.
The kit saves you money and an opportunity to know a solar project if you are a beginner.
Many users say that the output is according to the specification so they are pleased with this solar panel.
It works great eve on days full with shades.
Con
Some customers say that it is a little difficult to connect the wire to the controller.
The pros and cons are to let you know what users are saying about this TP solar panel because these pros and cons are taken from users' reviews posted on various shopping websites. Impressively, the Topsolar 100w kit comes with all the accessories for a successful installation and operation. It also gives you USB ports to charge all those USB-enabled devices.
Conclusion – Topsolar 100W Solar Review
To conclude, Topsolar is not a new brand name, rather it is an established manufacturer of a wide range of solar products. This 100W solar panel is affordable, highly secure and easy to install. The good thing is that the solar panel delivers the output as described by the manufacturer that means, you will be able to get approx. 100W power from this solar panel.