WZRELB has become a popular brand name in very less period of time, so we should not ignore this brand. If you are looking to buy a reliable and affordable 24V power inverter, WZRELB 5000W power inverter can be the best power converter for you. It is a 24v power inverter that is ready to bear all the loads under the 5000 wattage.
The good thing is that the WZRELB power inverter is available in different output capacities such as 1000W 12V, 1500W 24v, 2000w 12v, 2500w 12v, 2500w 24v and this 5000w 24v pure sine wave inverter. Please remember that this review is about the WZRELB 24v 5000W power inverter, whose model number is RBP-5000245.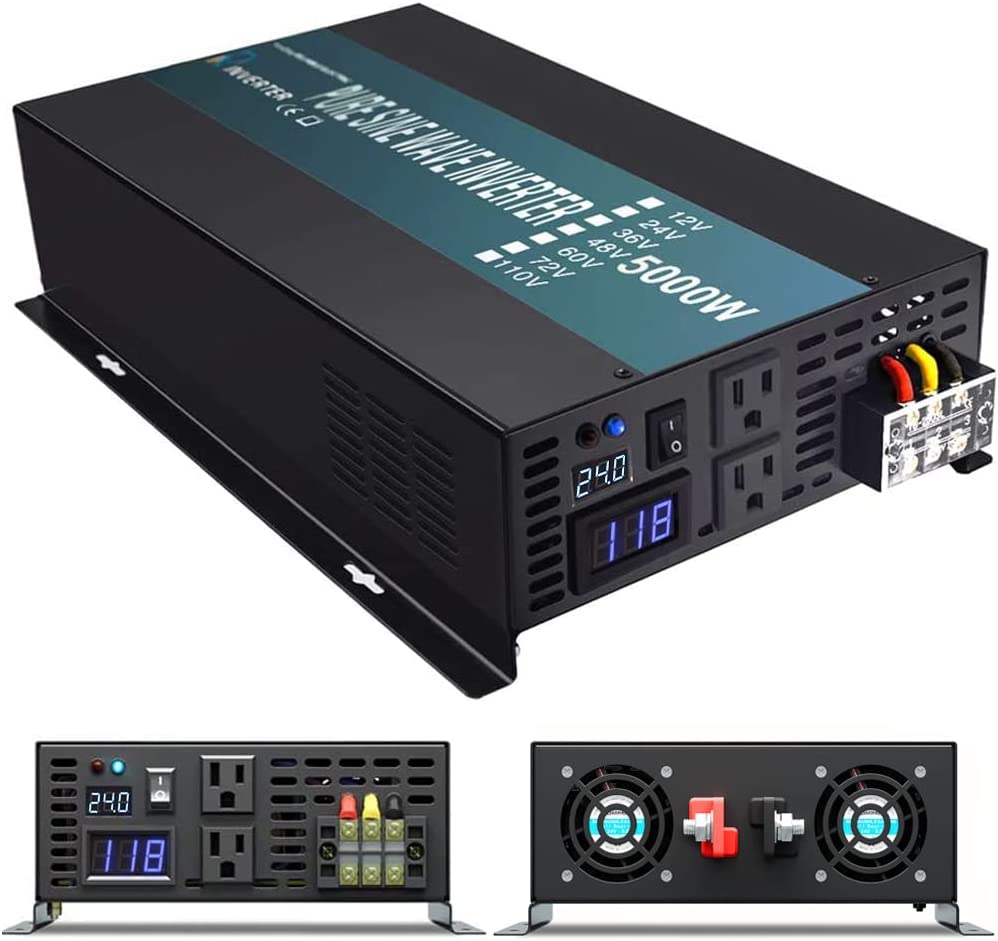 Key Features & Specifications – WZRELB 5000W Inverter
| Product name | WZRELB RBP-5000245 |
| --- | --- |
| Input voltage | DC 24V |
| Output voltage | AC 120V |
| Output wattage | 5000W |
| Brand name | WZRELB |
| Model number | RBP-5000245 |
| Color | Black |
| Safety protection | high/low voltage, overload, overheat, short circuit, reverse polarity, electricity leakage |
| Built-in cooling fan | Yes (Works as per the temperature) |
| Inductance | High grade copper inductance |
| Waveform | Pure sine wave |
| Item dimensions | 21.7 x 15 x 5.3 inches |
| Item weight | 18.81 lbs |
| Socket | 15A (USA type) |
| Efficiency | 85% to 90% |
| Idle mode current draw | 0.8A |
| Frequency | 60Hz |
| Country of origin | China |
| Availability | View on Amazon |
Key specs as well as features are written in the above table. Please refer to the spec table to understand its specifications and features. The WZRELB 24V unit delivers 5000w output power to run several home appliances as well as those appliances which are in your RV. It is a pure sine wave power electricity converter so you can easily power any device you have. The reliable WZRELB power inverter features 15A USA-type socket to connect various appliances.
WZRELB 24V Pure Sine Wave Power Inverter for Reliable Performance
You already know the importance of a pure sine wave power inverter. It is a kind of power converter that is highly rated to deliver the cleanest energy to the connected devices. In fact, there are some devices that run on clean electricity only. If you try to feed uneven or fluctuated electricity, the device may get damaged or it may not work properly, so the pure sine wave inverter is used.
The main work of this WZRELB 5000-watt power converter is to convert 24v dc (battery current) to 120v AC  (pure sine wave).
As per the manufacturer (WZRELB), it has 5000-watt continuous power and 10000-watt peak power. Here, please know that the output electricity from this WZRELB inverter is as good as grid electricity. People use such powerful inverters for electricity backup, home power supply, running home appliances, vehicle appliances and the emergency electricity needs.
Fully safe to use – the WZRELB 24v power inverter generator is fully safe to use because it has many safety features to get rid of excessive voltage, insufficient voltage, high-load, short circuit, high temperature, reverse polarity and more.
One thing I would like to mention is the word "reliable", which is attached with the WZRELB brand as the company name is Yueqing Reliable Electric co.,ltd. In fact, the WZRELB power inverters are naturally reliable, not because of the company name contains the word "reliable".
PCB (2mm thickness) – the 24v WZRELB inverter features extra thick PCB (Printed Circuit Board), which increases its load capacity. I want to emphasize on this that circuit board in an inverter is an important component because overall performance depends on the circuit board, so it should be stronger to handle the load.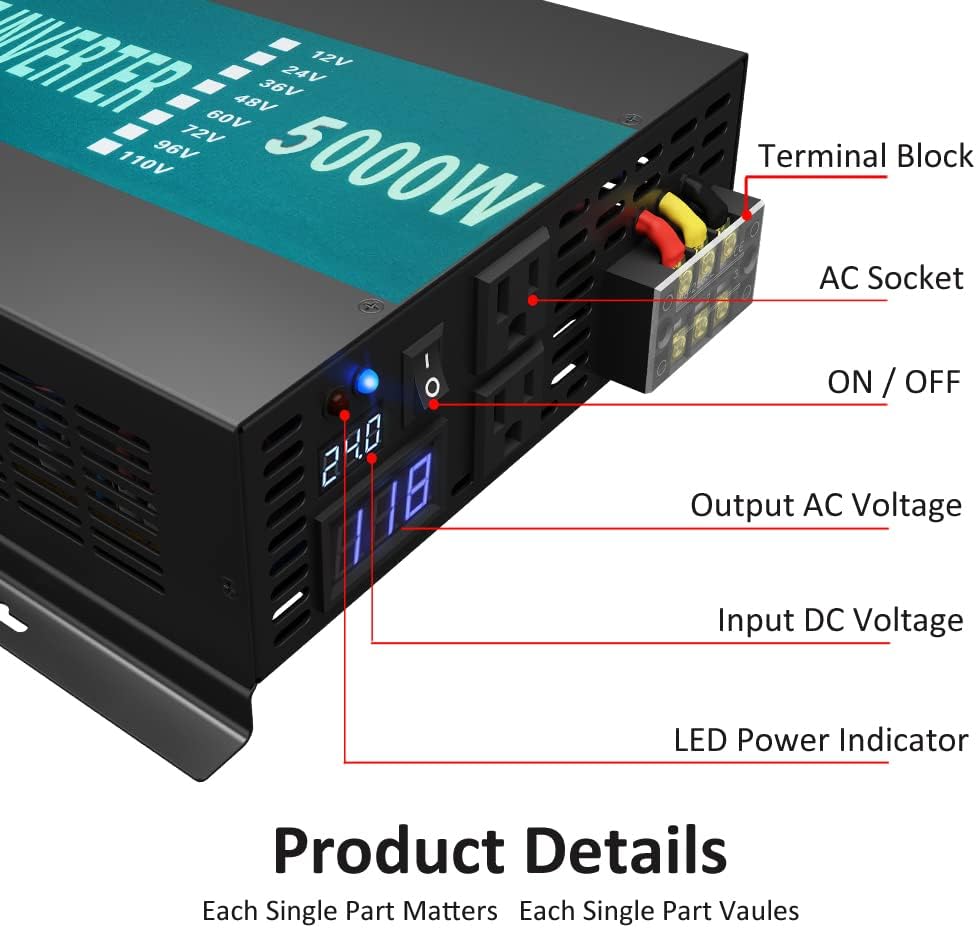 True sine wave electricity generation – the 5000W WZRELB reliable power inverter is capable to deliver the cleanest electricity because it uses the best quality copper inductance. The quality of electricity is highly dependent on the inductance. So, the good quality inductance is very helpful to provide the required safety to the connected devices.
PROS & CONS
Pros and cons are written below. The inverter has various pros like a low price, simple installation requirements, easy to use, remote control option and it is a lightweight product. Please note that some users complained that the power inverter fails to deliver the rated surge power.
Pros
Affordable unit
Very simple to install
Instructions are easy to understand and follow.
Easy to use
The remote works well.
Lightweight
Handles big appliances
Cons
For some users, it created a lot of noise.
Some users complained that they received damaged inverter.
For some users, it is impossible to contact the company.
It fails to deliver the surge power (10000w) as advertised.
WZRELB 5000 Watt Inverter has both pros and cons. Since it is a popular brand name that makes budget inverters, all the reviews written on various selling platforms are not true because its competitors have used some shady way to write false reviews. In this situation, for reviewers like me, it is difficult to filter the genuine reviews. However, I managed to do this and have written the pros and cons which are cited above.
On the positive side, this is a solid power inverter that is very good for running heavy appliances. It is also very easy to install with the help of easy-to-understand instructions. More importantly, the remote switch works perfect and it has various AC 120V sockets to connect your appliances. I would say that this is a lightweight power inverter that is very good for the heavy appliances.
On the negative side, customer service is not very helpful as reported by some users. Many users received defective inverters and they were very frustrated with the inverters. One more issue is that the fan noise is a bit high. Despite of these negatives, the WZRELB 24V pure sine wave power inverter can be the best value for the money.
Conclusion – WZRELB 24V Power Inverter Review
In a product review, the conclusion section plays an important role because in just few sentences, users are able to know the product. So, at the end, I will say that WZRELB is a popular brand name, so their power converters are also very reliable and performance oriented. This 5000W WZRELB inverter is solid enough and lightweight too. You can easily use this electricity converter to run heavy appliances like microwave ovens, washing machines, coffee makers, power tools and more. Of course, you can use this to run small devices because it delivers clean electricity, which is very good for the sensitive electronics.