Bluetti PV200 200W Solar Panel is a highly rated product. The 200W solar panel is compatible with many power stations such as AC200P, EB70, EB55, AC50S power stations. This unit has a foldable design and comes with a flexible kickstand. Such energy generation tools are perfect for emergency power requirements, power outage, off-grid supplies and outdoor electricity needs.
The Bluetti solar panel is made of Monocrystalline silicon material. It weighs 16.1 pounds and it is highly efficient up to 23.4%. Therefore, the highly efficient solar panel can produce good amount of energy in both the conditions, high light and low light conditions.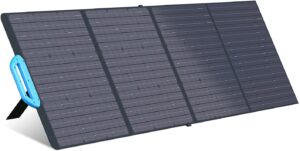 As mentioned earlier, the Bluetti 200-watt solar panel is compatible with many power stations. These power stations are EP500, AC50S, EB70, EB55, EB150, EB240 and AC200P.
Bluetti 200W Solar Panel is Highly Durable
The solar panel is made of ETFE material. This material is considered highly durable. The ETFE material is used on the surface only. Therefore, it becomes harder and scratch-resistant. More importantly, it is an IP65 waterproof product so it is very useful for camping and other remote area placements. This is a waterproof unit, yet it is not recommended to soak it in the water.
More importantly, the Bluetti 200-watt solar panel is both foldable and portable. When it is folded, it comes 23.2 x 24.8 inches in size and 16.1 lbs in weight. You will not experience any problems for carrying this folding solar panel. It is also very easy to setup by anyone at any place.
With the purchase of Bluetti PV200, you get accessories such as 120-inch cable, MC4 connector, adjustable kickstand and a user manual.
Highlights – BLUETTI PV200 200W Solar Panel
23.4% high cell efficiency
Maximized energy generation in a clear day
Highly protective against over-charging, over-current and over-temperature
Highly durable because it is laminated with ETFE material
IP65 waterproof junction box
Zipper pouch for storing cables and MC4 connector end
Perfect for remote locations, outdoor adventures and much more
Adjustable kickstand to get 30% more sunlight than laying flat
You can see the list of highlights. From the list of highlights, you can see that it is a highly efficient product. It can produce more energy in a sunny day. The Bluetti 200-watt solar panel is highly protective against over-charging and other electrical faults.
Pros
It folds down in a smaller piece.
The cells are wired horizontally so the weaker cells will not be excluded from the energy product.
High quality materials have been used to make this solar panel.
Many customers are happy with the purchase of this Bluetti 200W solar panel.
It delivers good energy production even in partially shaded day.
A well-built product, portable and lightweight
Cons
When unfolded, it is a little longer than Jackery panels and others.
No USB ports
Conclusion
At the end, the Bluetti 200W solar panel looks good from all angles. It is a solid product, has waterproof junction box. It produces more energy than other solar panels available on the market. The price looks very competitive to me. Many users are happy with the purchase of this Bluetti solar panel. Therefore, it is highly recommended to buy.