Topsolar 100W foldable solar panel is liked by many because it delivers good performance. The solar panel has 19V DC port, USB ports and USB-c port to charge several small devices. You can use the 19V DC port to charge portable power stations. This 100-watt solar panel comes with cables and connectors that facilitate easy connection.
The Topsolar 100W panel is both portable and foldable. When folded, the size becomes 9.84 x 7.87 x 2.36 inches. Therefore, you can easily pack it into backpack or trunk and go with it anywhere you want to go. This solar panel comes with many brackets so you can easily adjust the panel's angles according to your requirements.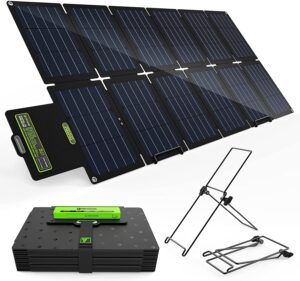 Today, most solar panels have monocrystalline solar cells. This panel has also monocrystalline solar cells that are good for the efficiency. Of course, you will be able to receive good power efficiency from this small size solar panel. Actually, monocrystalline solar panels are considered better than polycrystalline solar panels because it delivers good performance even in low sunlight.
More importantly, the long lasting solar panel is produced by Topsolar brand. This panel is completely laminated using an advanced lamination technology and with the help of durable ETFE material.
The foldable 100-watt solar panel is perfect for many power stations on the market because it is highly compatible with Jackery, Suaoki, Enkeeo, Goal Zero, Paxcess, Webetop, Flashfish and many others. Additionally, the solar panel has USB ports, type-c ports and other ports to charge mobile  phones, power bank, laptops, tablets and other devices. Where can you use this panel? Well, this solar panel is perfect for tent, hiking, trekking, climbing, drive travel, car, boat, rv battery, emergency power requirements and other purposes.