Renogy PHOENIX 246.24Wh/150W Portable Generator comes in an impressive design. The design is a shape of suitcase. Therefore, when you need to use this solar panel, open it just like opening a suitcase. When opened two faces of solar panels will catch sunlight for the energy generation.
This Renogy brand solar panel is available in different sizes such as 50W solar panel, Phoenix 100, Phoenix 200, Phoenix 300, Phoenix Elite, Phoenix Kit. This review is about the Renogy Phoenix Kit model, which is an all-in-one solar panel system. The solar panel is designed in a way that can facilitate mobile uses, off-grid applications and it can be a perfect tool for the emergencies.
The compact solar panel from Renogy is a lightweight product. It has 20W mono-crystalline solar panels and can expand up to 100-watt with additional paves.
Impressively, the Renogy portable solar generator comes included with 17.1Ah Li-ion battery. Therefore, you have unlimited power. According to the manufacturer, it has minimum inverter efficiency of 80%. It has maximum output power of 150-watt. It has output AC frequency: 60 Hz.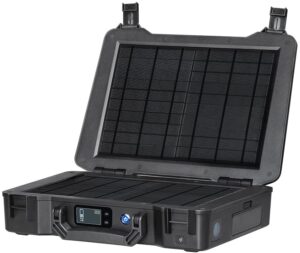 Highlights of Renogy PHOENIX
Lightweight solar panel features a strong handle.
Perfect for mobile and off-grid applications, remote areas, road trip, camping, hospitals and power outages
It generates 246.24Wh energy
The Renogy solar panel features multiple charging ports to charge devices.
LED flashlight
Expandable with a PV terminal
Charging ports – AC charging port, CIG charging port, PV charging port, DC ports, USB ports
The highlights of Renogy 150W solar panel kit have been mentioned in the above list. You can see the solar panel has a portable size and it is made in a suitcase design for the greatest level of portability. It features multiple charging ports including AC charging ports, DC ports, USB ports and many others. The solar system is expandable with a PV terminal.
Pros
Good build quality
It comes with many adapters for both charging and consumption.
The solar panel kit includes an internal charge controller.
For many customers, it is worth every penny.
Fast charging speed
Great compatibility with many devices
Renegy is a well-known brand for such solar products.
Cons
Some users experienced problems with the USB ports.
Customers faced heat issues because the internal fan did not work well.
For some users, the customer service was awful.
Expensive
The pros and cons of the Renogy solar panel have been mentioned above. I see, the solar panel has a good portable design but it has both pros and cons. Many customers are unhappy with the purchase while many customers are happy. Some customers faced problems with the Renogy customer service team. Based on the pros and cons, I will advise to research more on this product before you buy it.
Conclusion
In short, the Renogy 150W foldable solar panel has average performance. It has both happy and unhappy customers. Therefore, please check yourself and connect with the customer service team of Renogy before you buy this product. For many customers, this product was expensive so I will not say that it is an affordable product. Additionally, I will not recommend buying it because it has received many negative comments too.